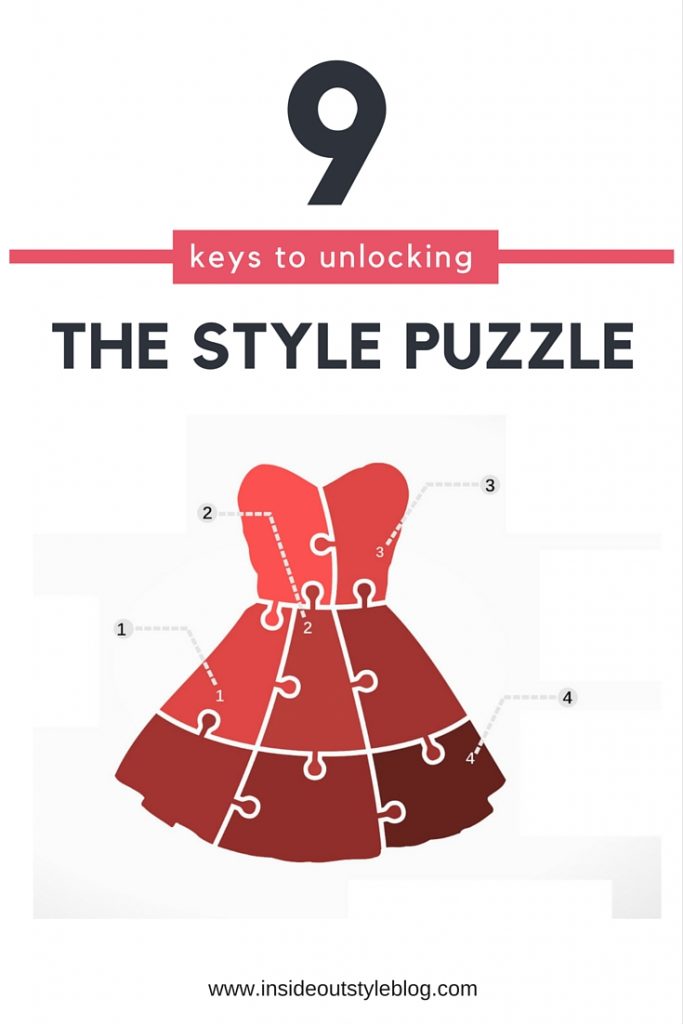 There is no one route to style. You cannot become instantly stylish just from understanding your body shape (sorry Trinny and Susannah, it's just not that simple). There is, what I call, the Style Puzzle, a group of elements when they all go together define your personal style.
These puzzle pieces are just the start too. You can delve into them and branch out to discover more and more!
First of all consider – What is Style?
1. Personality
To me, the personality element is the most important, it is all about being our authentic selves. Our uniqueness is to be enjoyed and displayed. We need to express who we are through everything we wear. It will tell us whether we want to stick to or break our "rules".
Why Personality is the Key to Style
What's Your Personality Style Quiz
How to Express Your Personality Through Your Personal Style
How To Answer Personal Style Quizzes To Reflect Your Personality Style
10 Ways Personality is more important than body shape
Creating Harmony with Your Personality
How to be More Creative with Your Wardrobe
How to Develop Your Personal Style
The Difference between Signature and Personal Style
What Did You Discover About Your Personal Style?
How to Find Necklaces to Suit Your Personality Style
What's Your Colour Personality
How Your Personality Influences Your Choice of Prints
Interpreting Personality Style
2. Defining Features and Face Shape
These relate to the harmony we display based on our facial appearance. It's something I go into much more fully in my 7 Steps to Style system. When we relate the shapes of the details in our clothing and accessories to our facial features, we create a harmony and resonance that is particularly pleasing.
What are your Defining Features?
Your 12 Point Plan to Creating Harmonious Outfits
How to choose the Perfect Neckline
How to Find a Flattering Hairstyle
How to Figure Out Your Face Shape
5 Essential Factors to Consider When Choosing Glasses Frames
Your Ultimate Guide to 17 Necklines and Which to Choose to Flatter Your Features
How to Choose Earrings to Flatter Your Face Shape
3. Body Shapes
Knowing your body shape will tell you where to put the detail and interest in your clothing. Where you want to look for horizontal lines to balance, or add verticals to elongate.
Body Shapes Explained, Defining Points
What does knowing your body shape really tell you?
Understanding Body Shape – The Waist
Take my Body Shape Calculator Quiz and download your free printable Body Shape Bible

4. Body Proportions
To me, proportions are more valuable than body shape. Proportions are all about balance (which is something we find most aesthetically appealing). Proportions tell you where to end hems, lengths of skirts, jackets, tops, sleeves and jewellery . They also tell you more about where to add detail and where to keep clean and have minimal attention drawn to areas of your body.
How to Measure Your Body Proportions
More Ways to Flatter Your Body Proportions
Body Proportions Explained – Long Rise
Body Proportions Explained – Small Bust but Long Decolletage
Body Proportions Explained – Large Bust
Body Proportions Explained – Short Mid Body
Body Proportions Explained – Short Body, Long Legs
Body Proportions Explained – Long Body, Short Legs
How to Use the Golden Mean when Dressing
Which are the Best Proportions to Flatter Your Body
How to Find Your Ideal Skirt or Dress Hem Length
Petite Proportions – Getting it Right
10 Ways to Make Your Legs Look Longer


5. Scale
Scale tells you how large or small your accessories and clothing elements need to be to create a harmony and balance.
3 Essential Elements when Choosing Flattering Prints
How to Understand the Elements of Prints
How to flatter Large Facial Features
6. Texture
There are so many different sorts of fabric textures. Thick, chunky, fine, furry, smooth, soft, buttery, just to name a few. The textures you choose will be influenced by your personality and your body shape, but also by your appearance.
Finding the Right Texture and Sheen for You
Using your Hair Texture to Choose Fabric Textures

7. Sheen
Another fabric element that reflects your personality as well as your natural appearance.
Incorporating Texture and Sheen into your Outfits
How to Wear Metallic Accessories
How to Add a Touch of Glamour to Your Everyday Style
How to Choose an Evening Dress that Will Last a Decade
8. Somatype
Somatype is the Greek word for Body Type. It relates to how your flesh is arranged over your bones. Are you hard and muscly, bony or soft and cushioned? Your Somatype will tell you which will be the most flattering and comfortable fabrics, both weight and drape to choose.
What Sort of Fabric Drape Should I Choose for My Body
Flattering Your Rounded Lateral Body Shape

9. Colour
It's not in the picture of the puzzle, but to me is an integral part of choosing a flattering garment for you. Colours either harmonize with your natural colouring, or they create a dissonance, which can be unpleasant, or even make you appear sickly.
Your Ultimate Colour Personality Dressing Style Guide
How to Combine Colours That Will Express Your Unique Personality
How to Wear Your High Colour Contrast When Your Personality Prefers to Blend-In
Your Ultimate 3 Step Process to Finding Your Ideal Contrast
The Power of colour and Value Contrast
Signature Colours and moreFinding Your Signature Colours
Understanding Colour Systems and Personal Colour Analysis
Using Simultaneous Contrast to Change the Way a Colour Looks
What is Monochromatic Dressing
Getting Your Contrast Levels Right
Understanding Colours – Tints, Tones, Shades
How Your Colouring Changes as You Age
Understanding Colour Properties
How to Work with Your Colour Palette
What's Your Best Neutral – Red Hair
What's Your Best Neutral – Grey Hair
What's Your Best Neutral – Brunette
What's Your Best Neutral – Blonde
7 Outfit Colour Schemes to Steal
These posts I've linked to here are just some of the many I've written on these various topics over the years. But as you can see, discovering what suits the uniqueness of you – comes down to way more than just understanding your body shape!
What have you found to be the most relevant information to finding your style?
Get this post and lots more useful posts free as printable PDFs here.