I was reading a post over at Privilege and Lisa mentions how
she prefers to wear neutral colours
rather than most of the colours of the rainbow, some light blues excluded. It led me to think about how different personality types prefer different colours.
So I thought I'd do a series of posts on choosing colours based on your personality (rather than just your colouring). No matter what your colouring, these personality traits can be expressed in a harmonious way with your colouring. Even if you do prefer neutrals, you will still want to choose the most flattering neutrals to enhance your skin, hair and eyes, rather than the neutrals that wash you out.
So thinking about personality, you may find that you tend to fall into one of the following groups when choosing colours.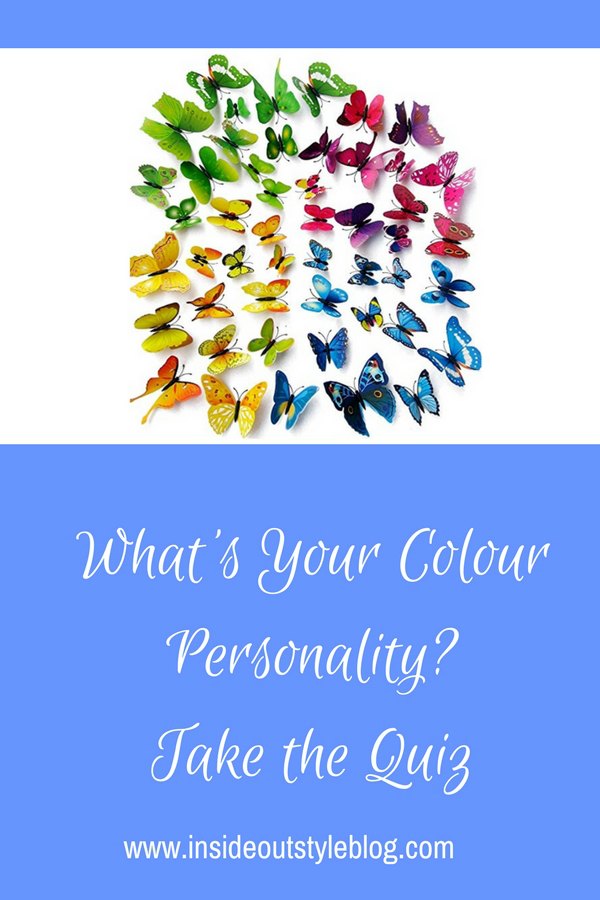 Quick Colour Personality Quiz
Choose one or two answers from the statements below (you may have a different answer from work to home, or depending on your mood).
So when you read the above statements which appeal to you the most?
You may choose one or more of the above. You may stick to a more limited range of colours or you may prefer to dip in and out of many different palettes (in fact Jill Chivers and I discuss the aspect of getting dressed based on colour first and why we choose the colours we do).
Personality Dressing Style Colour Choices
Your personality influences everything you choose in your wardrobe (it's why you love some things and hate others or just feel super uncomfortable when wearing some clothes where you feel that they are just not 'you'.
From prints to patterns – even whether you wear them – and if you do are you a floral or stripe or abstract print kind of woman.
The details – how large or small, delicate or bold.
The kinds of fabrics you choose, smooth or nubby, stretchy or stiff.
I could go on and on here (in fact I did write this post about how personality is more important than body shape here that you may find interesting as it expands on these points).
Understanding the influence of your personality really helps you define your personal style and inform your style recipe. Not only will understanding your personality dressing style help you in store, as you can immediately identify when a garment just isn't you (and you know why) so you don't buy it because you want "different" in your wardrobe as you're kind of bored with what you have. It informs all your choices and helps you feel like the very best version of you. This is why Personality is Step 1 in my 7 Steps to Style system, as I believe it is THE most important step in defining your style. You can find out all the body shape stuff, which hemlines and necklines flatter, which shapes are best for your body, but you'll still make purchasing mistakes as what colour should you choose? What about a pattern or solid? What kind of details do you like? These are not body shape related, but personality influenced.
Then you need to find out your ideal colour palette – from all the millions of colours in the world – which ones harmonise with your colouring and make you look lighter, leaner, vibrant, healthy and glowing? Your colouring changes over the years as do the colours that suit you best (started to go grey – yes that means that your skin is changing too, you can find out more about colouring and ageing here). Step 3 of my 7 Steps to Style program is dedicated to colour and finding your ideal palette, contrast and value – so that you look amazing and beautiful in your clothes. No matter where you are in the world, I've developed a system to discover your colours.
Within any colour palette that are colours that flatter, you will be more drawn to some than others and this is the impact of your personality. When you click through to the six personality dressing styles colour choices, you will see how from any palette, you can choose a range of colours to suit the inner you.
Discover the Personality Dressing Style Colour Choices
https://insideoutstyleblog.com/2010/04/colour-personality-6-playful-sportive.html