Yesterday I wrote about how fast your colouring changes as you age. In the the question, I was also asked if you can have a neutral undertone – one that is neither warm nor cool.
In my decade of doing image consulting and having draped countless people, I've never seen someone who is purely neutral. And I can tell you I've looked and draped a lot of people!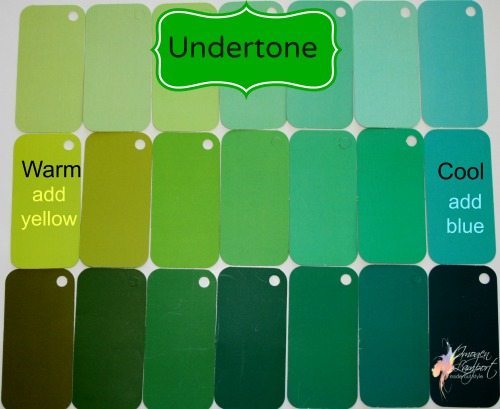 When you think about undertone, you need to think about it being on a continuum. From the very warm through the just a little warm, to the just a little cool, to the very cool. It doesn't matter if the colour is light, medium or dark, it can still be warmer or cooler.
So back to the question at hand. The kinds of colours that aren't particularly warm or cool, are those that are closer to the middle – they have been warmed up or cooled down in their undertone more slightly.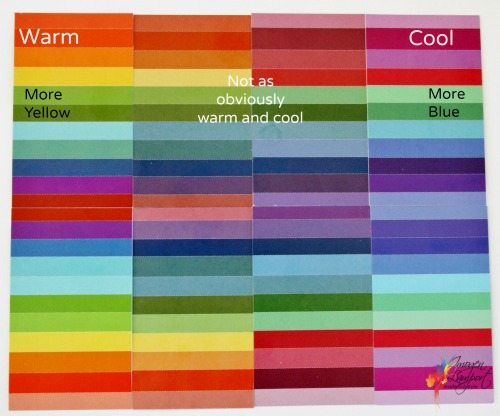 You will see that the colours through the middle of the picture above are also more muted than the ones on the left and right edges. As we lose our clarity of colour as we age, we need to soften down the colours that we wear. When we are making a colour softer, we add the complementary colour (the one opposite on the colour wheel – so orange to blue, or yellow to purple etc.) This not only greys the colour down, it also either warms it up slightly, or cools it down (depending on which side of the colour wheel you're mixing in). So the more greyed down colours tend to be closer to the middle of that warm <———————->cool continuum.
The colours that suit those who are not extreme in their warmth or coolness will usually be softer and smokier. They won't be obviously warm or cool (most people who aren't trained to look at colour, would have to compare them to other colours to figure out if they are warmer or cooler – this is why having a colour swatch is so handy – it's your comparison tool).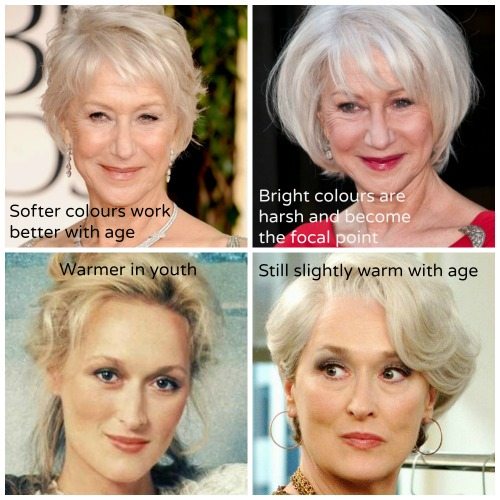 In the pictures above – you can see Helen Mirren needs softer colours in her clothing and makeup now that her skin is ageing. Meryl Streep was warm (though probably never super warm) in her youth, but even with age her skin retains some of it's warmth, it's just softer and slightly less warm than it was when she was young.
As far as grey hair goes – usually if you have warm colouring, your hair will grey in a more yellow grey way, whilst if cool, in a silver/white way. But sometimes I do see people with cool grey hair and still warm skins.
Interestingly and a little unusually, I've seen a few clients over the years who as they have aged, have lost the warmth of undertone in their face, but retained it in their arms and hands (which is why I don't look at wrists, arms and hands when doing colour analysis). It's the reflection of colour onto the face that matters most as that is your communication centre, where we are looking when we speak to you, not your wrists! Then I just advise to wear the cooler colours around their face and silver/platinum jewellery there, but then wear gold jewellery on wrists and hands.
Plus, once you've gone through the grey stage to the all white stage – you can start to brighten slightly again (though not the really bright colours, usually those with a high tint (lots of white added) not smoky (lots of grey in the colour).
I hope this has helped you understand colour properties a little more. Let me know your questions!