One of my lovely readers asked that I post something to help her – she has a small bust but is proportionally long through her decollete and was wondering what she should wear.
What's a long decolletage? Well, it's a long proportion between the base of your chin and the peak of your bust – it's long if it's more than one head length.

4 Tips to Flatter a Small Bust and Long Decolletage
1. A Great Foundation – Get the girls up high – a good supportive bra, even if your bust is small, will make your waist look longer and slimmer and will make your bust look less low.
2. Have a Party – Fill the space with detail – look for frills round your neck, choose collared shirts or higher necklines rather than open necklines.
3. Accessories are Your Friend – If you're wearing an open neckline fill the space up with jewellery. Unless you've got a dramatic personality, choose a piece that is made up of multiple small pieces rather than one large solid piece.
4. Strap Up – Avoid spaghetti straps, they don't take up enough space and will make your bust look very low, instead look for a wider strap.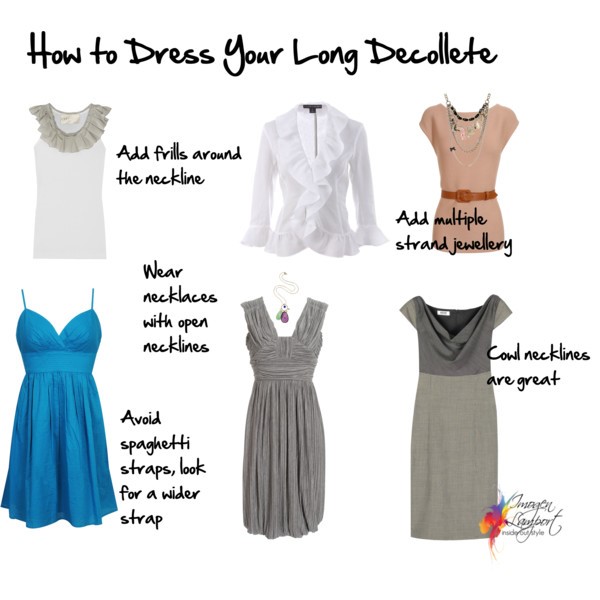 Then you can read my tips on what to wear for the most common proportional variations.
And if you want to discover your body shape – which is different from your body proportions – you can do my
free body shape quiz
and then download your Body Shape Bible (or if you'd like my professional opinion on any of these matters, you can get that as part of my
7 Steps to Style program
.
Then get more tips on dressing your proportions with these posts: