Following on from my blog post on Understanding Colour – Tints, Tones and Shades, Sherilyn asked me:
When considering what colors look best on a person, (I look best in tinted colors) should one go outside that range for contrast…say a tinted blue blouse with a chocolate brown suit….or should one try and stay with in their best range a tinted blue blouse with a mint suit? Sherilyn
Tips on How to Mix and Match Colours
Whether you want to mix tints, tones, pure colours or shades, you want to think about mixing colours of a similar value (lightness or darkness) and those with the same colour properties (tints with tints, shades with shades, toasted with toasted). By mixing colours with similar properties (or resonance) together, you are creating a harmonious colour scheme.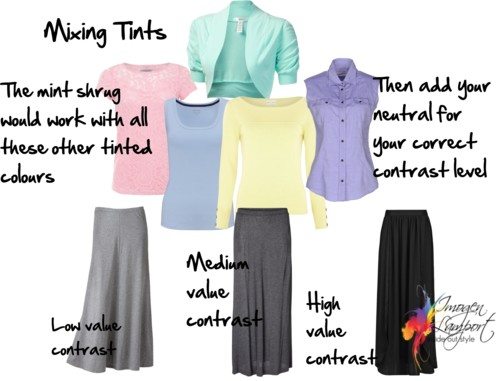 As you can see from the picture above you want to mix all light colours together and then create your contrast level using a neutral. Below are options of mixing pure colours, toasted colours and shades – just to help you get a visual picture of how colours with similar properties work so well together.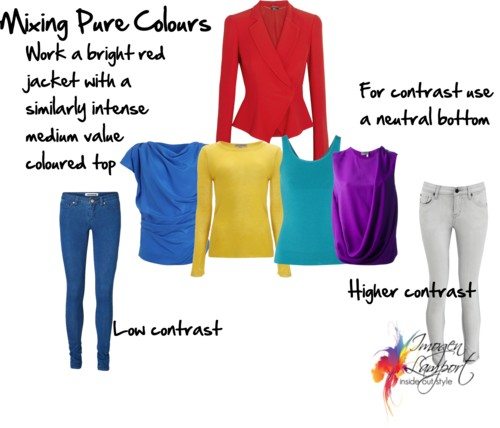 Pure colours are bright and look best with other more intense colours and neutrals.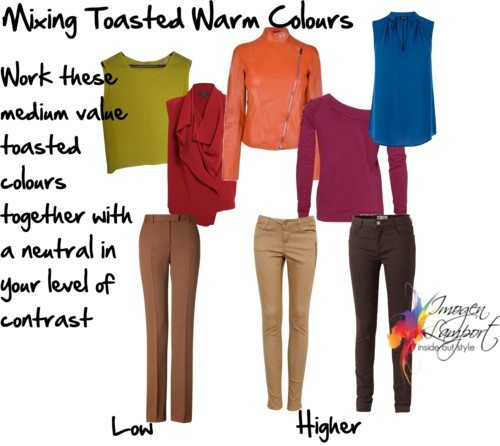 Toasted colours are warm but softened by brown (take that pure bright warm colour, pop it in the toaster and soften the colour down a touch).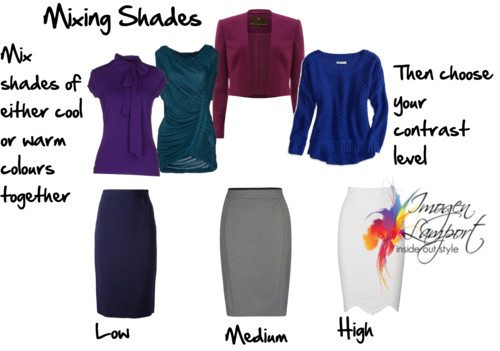 Shades are colours with black added.
You can see that by mixing colours with a similar property, they look much more related and harmonious, rather than mixing a tint with a shade or a pure colour with a toasted colour, it just won't work as well. In fact, that is one way of creating a colour scheme that clashes.
If you want to know the colours that suit you best, why not do my 7 Steps to Style program that includes a personal colour analysis from me (no matter where you are in the world). You'll discover if you are better in tints, tones or shades. Whether you have a warm or cool undertone, plus you ideal contrast levels so that you can create outfits that harmonise with you and make you look fabulous.