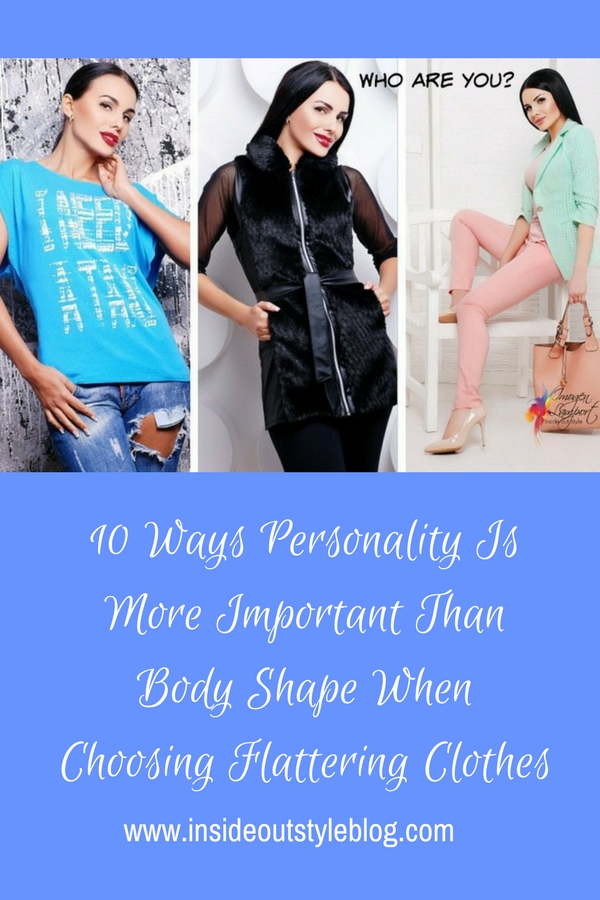 I've been working as an image consultant (personal stylist) for well over a decade now and I realised in my training that personality would be an important factor in dressing, but probably not the full extent to how important it is when choosing clothes to flatter a client (or for yourself).
Like many of you, when I considered learning more about myself (and then learning about everybody when I did my personal stylist training) I thought that it was all about my body and colouring and had no understanding of how much personality influences what you wear, what you feel good in, and what gives you confidence. The likes of Trinny and Susannah (authors of The Body Shape Bible: Forget Your Size Discover Your Shape Transform Yourself
) had led me to believe it was all about body shape, the be all and end all of the flattery equation. How very wrong I was. What I have discovered and has been hammered home to me over and over by every client (and my own experiences) is that personality is the number one key to finding clothes that make you look and feel good. Body shape is just one tiny element of the whole puzzle, but nowhere near as important as personality.
Personality Style
Personality is key when choosing:
Print and Pattern (or none)
Fabrics
Shoe styles and comfort levels
Accessories – jewellery, glasses, handbag, belts etc.
Hairstyles
Makeup
Underwear (can you believe it!)
Detail on garments
Colours and how you wear them
The scale of details and accessories
Sure your body shape will tell you where you should put the detail (whichever sort you choose, based on your personality) and where you need to look for vertical or horizontal details in clothing. But that's all it tells you. It doesn't tell you:
If you should wear stripes, checks, florals, abstract prints or animal print (that choice comes down to your personality).
If you should wear knits or wovens, fabrics made from natural fibres or synthetics (that's personality).
If you would feel best in a loafer or a pair of knee high boots (ummm, personality again).
The styles of jewellery you choose – cut diamonds or polished turquoise?
How much time you're prepared to spend on your grooming, hair, makeup, nails, and if you should be sporting red lipstick or a subtle lip gloss, cos that all comes down to your, you guessed it, personality.
What kind of underwear do you choose? Lacy? Microfibre? Cotton? Patterned? Plain? I can tell something about your personality from the underwear you choose!
How about that garment detail? Do you like a little velvet ribbon detail at the neckline of your tee? Maybe you like embellishment which sparkles? Or are you a fan of the polo style tee?
You may have a colour palette and know all about what your ideal contrast levels are, but you love to break all your rules. Or you may just wear the more pastel parts of your palette, or maybe it's the brightest, boldest mid-tones that rock your world. Neutrals more your cup of tea? Well, of course, all these decisions come straight back to your personality.
Average kind of size but love a big bold pattern or collar? That too, my friend, is personality based. Maybe you prefer really delicate jewellery? Maybe a diamond can never be big enough and you're happy to wear a rock the size of Australia – all down to personality.
As you can see, so much of what you choose is not based on body shape (or even many of the physical elements of you) but down to who you are on the inside. When we dress to highlight ourselves in an authentic manner, we feel the most comfortable and confident. Part of the reason in the Evolve Your Style challenge I push people to try something different or new is that they may discover they do or don't like something (it's a bit like trying new foods, you don't have to like everything, but you may discover a new favourite). In the end, when you analyse what you do and don't like, it will come down to a feeling so often. How you feel in those clothes and accessories, not just, does this flatter my body. This is your personality talking to you. Ever had that experience in a store where you try something on and think "It's just not me"? Well, that's your personality talking. The question is, do you know what is "me"? Learning all about what you do and don't love, and the breadth of personality style can really help you when choosing garments so that you don't end up with things languishing in your wardrobe unworn. It's the most common reason (other than fit) for why we buy but don't wear garments.
What have you discovered about how your personality influences the styles of clothes you choose? What do you love and hate? What mistakes have you made purchasing clothes that you now realise are down to your personality?
If you want to discover in-depth exactly how to express your personality through your clothing and accessories (find out why you do like certain styles of clothes, detail in clothing, textures, fabrics, prints and patterns), this is Step 1 of my 7 Steps to Style program and it alone will save you thousands of dollars over your lifetime in ill-advised purchases as you will really understand your style and be able to make better choices based on personality alone. Find out more about the program (and what the other steps are) here.
More Tips for Understanding Your Personality Style
How to Interpret and Choose Prints and Patterns For Your Personality
How to Choose to the Scale of Details and Accessories Based on Your Personality
How to Choose Accessories to Match Your Personality and Occasion
How to Combine Colours That Will Express Your Unique Personality