Textured fabrics can be anything from lace to cable knits, devore velvet to quilted fabrics.What is best to do is match your level of texture, in your hair and skin, to texture in fabrics.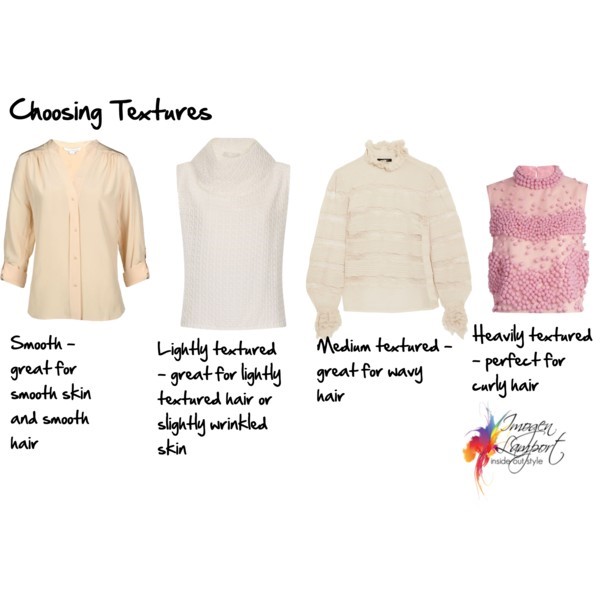 Tips on Choosing Textures
So someone with straight smooth hair and fine smooth skin will look best in flat or fabrics that match their personal texture.
Someone with curly hair will look best in textured garments like boucle or a velvet devore, which has a curved appearance.
Got more controlled but curly or wavy and shiny hair? Then sequins are perfect for you!
Someone with short spiky hair will look best in a tweed or some other sort of straight texture.
Does this make sense?

The controled curl of the model's hair here works really well with the texture created in the garment by the floral motifs and folds of fabric on this top. Yet the fabric is still smooth which reflects her smooth skin, and the smoothness of her curl.
Too much thick texture (like chunky knits) will make you look chunkier, and are best on the very slim person, whilst fine textured garments work fine on the more curvy body as they don't add bulk.
If you have textured skin (aka wrinkles) you will look best in a lightly textured garment, rather than one that is smooth and flat. So the older we get, the more textured our fabrics need to become, to match our natural texture. Also, grey hair tends to be more wiry and create more natural texture.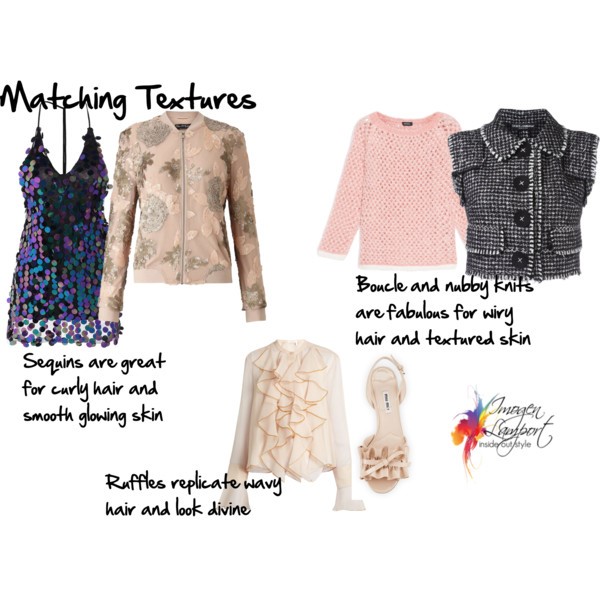 Ruffles replicate wavy hair and create a beautiful harmony.
Wavy or smooth, choose your texture as it relates to your hair!