Question regarding DRESSING UP/DOWN: I have many cardigans – cotton, colourful, not v structured, they are pretty but casual. If I was to wear any of these with something elegant, such as a top and a skirt, both made of satin, the cardigan would not dress the top and skirt down, it would simply look out of place and the outfit wouldn't look v harmonious. I have similar trouble with a highly elegant jacket and a simple cotton T-shirt/dress underneath. The jump from causal/comfy to dressy seems just too great. I've always had trouble regarding this, I do like 'elegant' : my style/personality is undoubtedly dramatic but somehow I am also drawn to anything beautiful and feminine. The impression I would usually like to create is stylish and classy. But I generally need to tone down most outfits, as wearing something that is perfect for the theatre is too dressy for every-day life, even at work.
In short, the biggest problem I've had concerning dressing up and down is which materials really go together. Any tips most welcome, thanks so much in advance, as always.
As soon as I read this question I realised that it has to do with the concept we call Levels of Refinement. It relates to fabrics as well as accessories and style of clothing.
There are 3 levels of refinement:
Level 1
More formal wear – from business formal clothing to evening wear. Fabrics that need special care (dry cleaning is a clue)! Jewellery that is very sparkly or formal. For example: silk, satin, superfine wool suiting, fabric with sheen or shine or that are see-through. Diamonds, pearls, fine bejewelled sandals.
Level 2
Everyday smart clothing that isn't too bulky. Fabrics that can be laundered easily at home. Jewellery that is appropriate for every day wear. For example: stretch dark denim, high quality cotton, cotton/elastane, viscose, merino wool, ballet flats, pumps, Gucci style loafers.
Level 3
Outdoor leisure – fabrics that are bulkier or chunkier or very informal. For example: Polar fleece, corduroy, distressed denim, lower quality cottons, gym wear, sneakers, birkenstocks, crocs.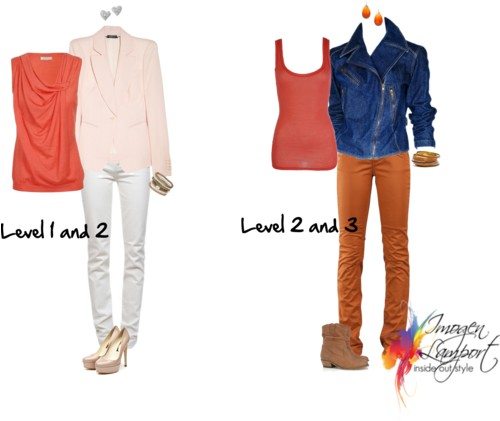 You can wear Level 2 with either Level 1 or Level 3 items, but you can't mix Levels 1 and 3 (unless you have a creative or rebellious personality style). This is why your less formal cotton items don't work with your more formal satins or fine jackets. This is why sneakers don't work with suits, and pearls and a full face of makeup look silly at the gym.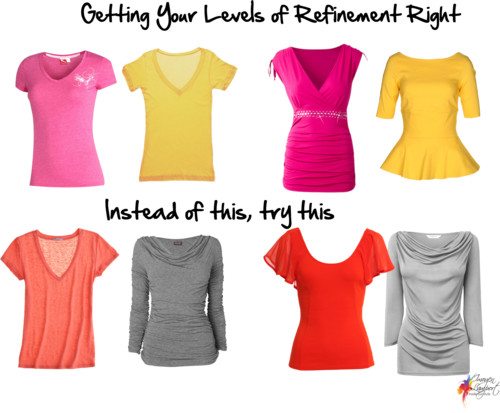 To upgrade the level of your t-shirts – go for a cotton/elastane mix rather than just a pure cotton, and ensure they they are very fine in their texture. Look for tops with some detail at the neckline as this will give them top a more formal appearance and so work better with your jackets.
A fabric like grey marle (bottom row of the pic above 2nd from the left) is associated with sporting clothes, so is a lower level of refinement than the grey top on the right which has a slight sheen and a smooth surface.
With your satin skirts – think about finding a viscose or cashmere cardigan rather than a lower level more casual cotton one so that you more closely match your level of refinement.