Body Proportions
There are body shapes (X, A, H, I, O, V, 8) which tell us where to add detail and where to use horizontals to balance or draw attention, and where to use verticals to elongate. Then there are body proportions, which tell us where to end hems of sleeves, tops, jackets, skirts and pants, and how long necklaces should be. If you're not sure of your proportions, watch the video here.
There are 3 common body proportional variations:
Balance with a short mid-body
The Balanced Upper and Lower Body, but with a Shorter Mid-Section
This is a pretty common body proportion variation. Many women don't have either super long legs or a super long body. They have fairly even upper and lower bodies (a titch of a difference doesn't really matter), but what they do have is a short waist and short thigh proportion which shortens their mid-body area.
Often the top of head to bust peak is long, and knee to the ground is also longer, while the middle of the body is overall shorter in comparison.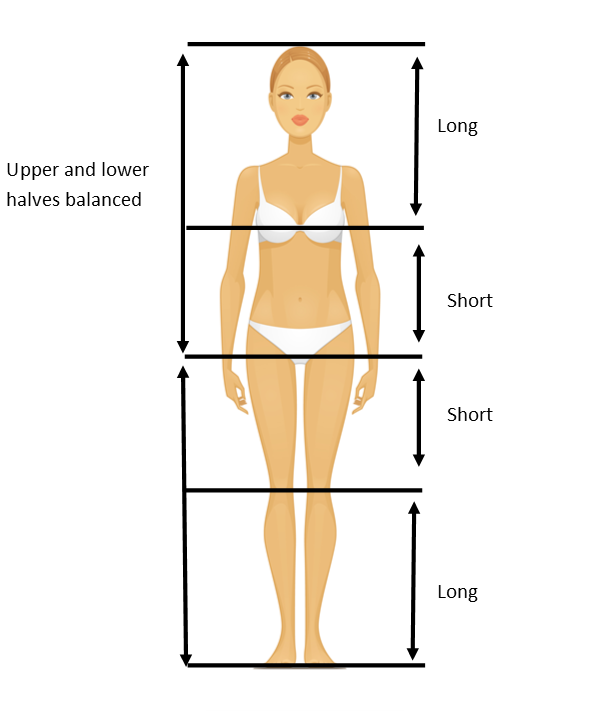 If you have a long chin to mid-bust point and long knee to the sole of the foot proportion, but your thigh is short as is your waist, and if both halves of your body are relatively equal, then you may have a balanced body, but with a short mid-body.
How to Flatter Your Shorter Mid-Body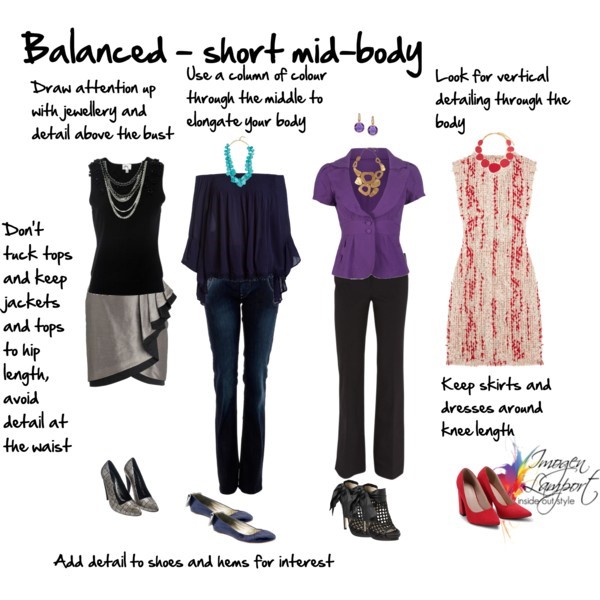 You want to create balance with your longer proportions. To do this you want to create the illusion of elongation through your shorter sections and then use detail and interest in your longer sections.
Since you have a long decolletage, play it up, wear great jewellery, or put interesting detail and necklines on to draw attention to it.
As you have longer calves, draw attention to your feet with fabulous shoes. Skirt hems can also be detailed to draw the eye to this longer proportion.
Keep your shorter mid-body clear of detail. Avoid wide belts. Use empire waist garments to create the illusion of a longer waist.
Use vertical detailing through your body to elongate – think about an open jacket or cardigan which creates long vertical lines through your body.
Wear a column of colour on the inside, that is a similar top and bottom colour (in value, aka depth of colour) so that you don't draw an obvious horizontal across your mid-section further shortening it down.
End skirts and dresses on or at your knee, no longer than just under the knee (unless it's a maxi length) as this will create the illusion of longer thighs and legs.
If you do tuck in a top (not highly recommended for your shape) blouse, blouse, blouse it. The top needs to be more voluminous and full so that it's easy to blouse it over the waistband of your pant or skirt.
Wear a mid-rise pant or jean as it balances your body.
If you want to know more about dressing your body shape and proportions and would like my professional opinion on identifying what works for you, you can get this as part of my
7 Steps to Style program
– learning all about what suits your body is just one of the 7 Steps in the program and will help you identify where you're going right and wrong in your current wardrobe so that you stop making costly shopping errors in the future.

More Tips on Dressing Your Proportions