Texture in fabrics is something I've talked about in my post T is for Texture as well as How to Choose a Flattering Texture. Today I want to share two outfits that I've worn recently. One includes textured garments, the other outfit has only smooth fabrics and I'm going to reveal why each works based on my hairstyle of the day.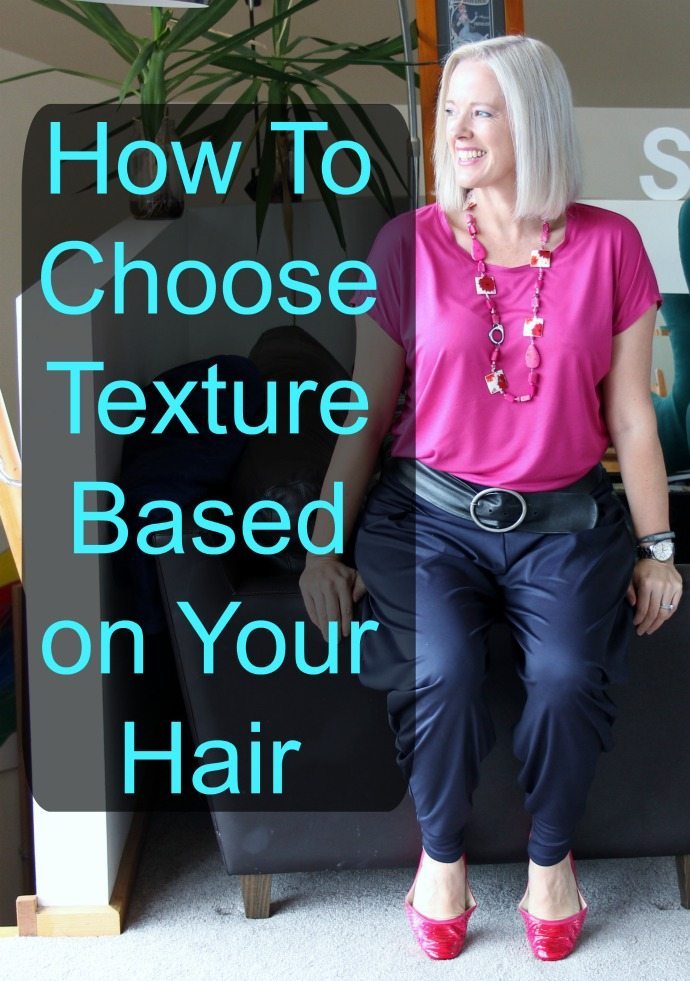 As most of you are aware, I mostly wear my hair smooth (that's the Classic element of my personality coming out). I feel messy when it's not smooth. Most of my clothes are also smooth (and may even have an element of sheen which matches my face which tends to be on the shiny side).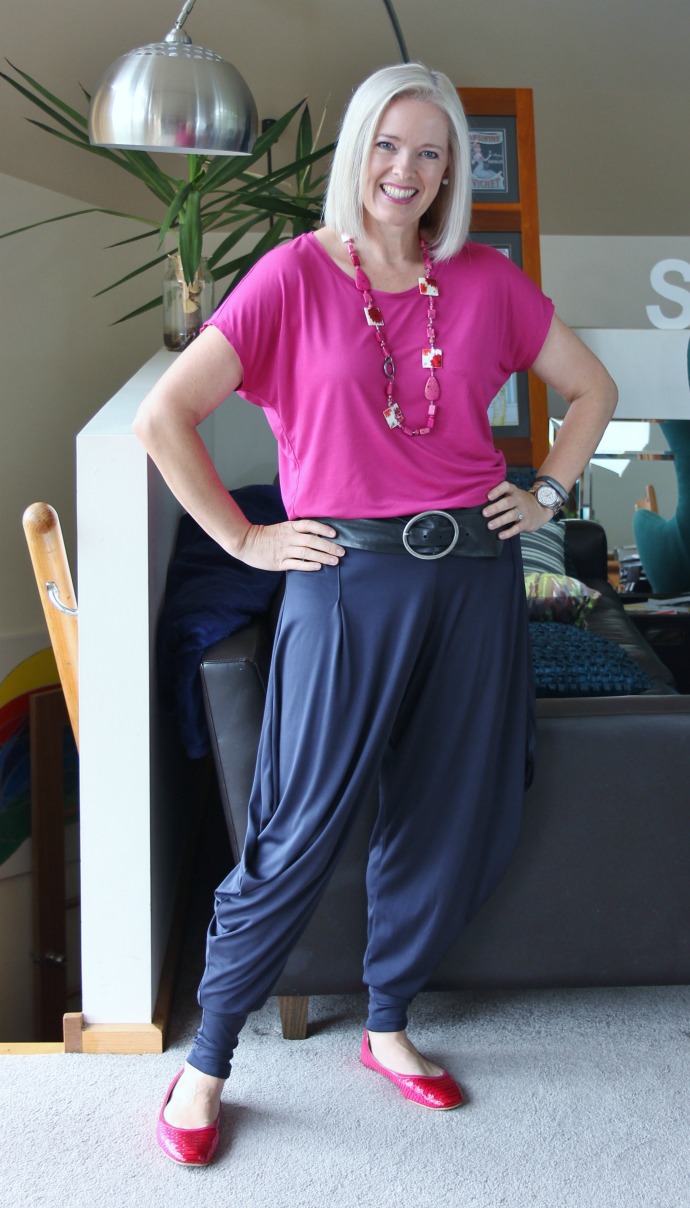 I love the contrast between the pink and navy (it's a little Dramatic) and repeating the shoe colour in the top and necklace means that I've got that important visual grouping happening.
Now my hair is actually wavy naturally (well more kinky than wavy), and occasionally I wear it washed and then left to dry naturally (though it always makes me feel a bit messy – that's that Classic part of my personality as I mentioned before).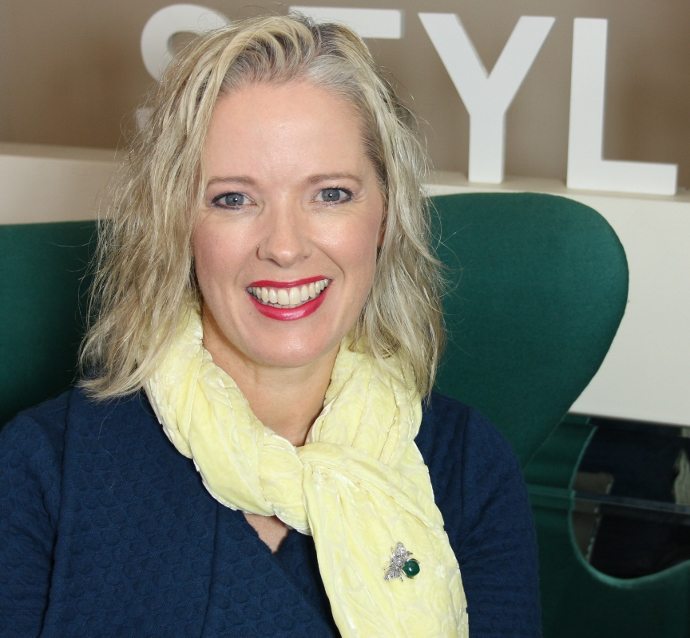 When I'm wearing my wavy, textured natural hair, then I know I need to wear some texture in my outfit as otherwise I really will just look messy or sloppy.
Here I've got a little frill on my boots, a spotted textured jacket, and a burnout silk velvet scarf with a wavy fringe that replicates and harmonises well with my wavy, textured hair.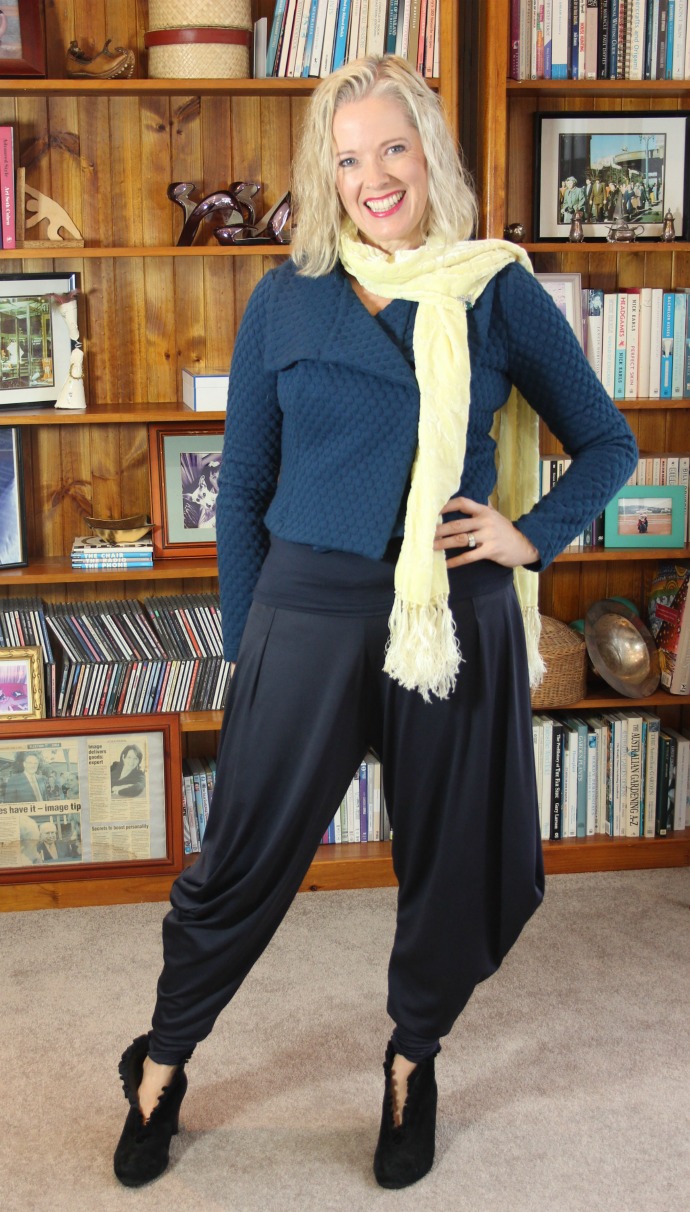 The smooth fabric of my harem pants works with my smooth, slightly shiny skin (and they are super comfortable which work with the Relaxed and Creative elements of my Personality Style).
The frill on the boots makes them more Feminine which adds an important element of my personality style to the overall outfit.
Changing your hairstyle can change the fabric textures that harmonise with it. It's something to consider when choosing clothes and looking for the harmony that will really make you shine. This is something I go into more depth in 7 Steps to Style too.
So tell me, is your hair smooth or textured? Do you prefer smooth or textured fabrics?