Following on my series on Body Proportions – today we're looking at the dressing challenges of those with a shorter body and longer legs. Not sure of your proportions? Then watch the video here on how to measure them.
If you have a shorter body and longer legs, you may often have slimmer legs and keep more weight on your body, frequently this body proportion has a short waist and it's easier to put on weight here.
Finding the Balance
The thing to think about is elongating your body, but not at the expense of over shortening your legs. Balance is the ideal.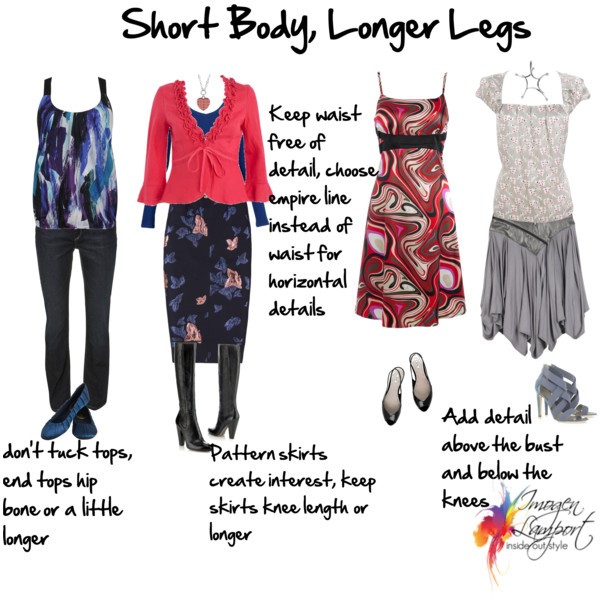 Dress Your Portrait
You may still have a balanced chin to mid-bust point proportion and if you do, or even have a longer proportion here, add detail with interesting necklines and jewellery above the bust. Adding detail above the bust always draws attention and creates a focal point here that stops the eye from wandering all over (
read about how imperative this
is when dressing, no matter which proportions you have).
Short Waist Tips
It is likely you will be short from mid-bust to waist – your rib cage most likely sits almost directly on top of your pelvis with little gap in between, this is why you don't have a defined waist, as there is no space to create one. If this is you, avoid any waist detail, bypass the waist and definitely don't add horizontal detail at this point. Instead wear empire detail, just below the bust, which will give you the illusion of a longer waist.
I used to think that if I just lost enough weight I'd have a waist, I've discovered that I just don't have one, as my rib cage sits right on top of my hips with only a miniscule gap! There is no space for a defined waist on my body!
Where to End Your Tops and Jackets
Skim over your waist and end tops no shorter than the hip bone. Avoid multiple layers of tops (which can look great on those with a longer waist), instead, make sure your top layer ends at the same point or longer than your under layers.
To Tuck or Not to Tuck? That is the question!
Don't tuck if both items are fitted. If you have a soft blousy top, you can tuck and then blouse your top over your waistband to make it high hip length (not waist length). If you are very slim you can belt with a belt at the waist. Interestingly sometimes a wider belt works better than a narrow one, but I suggest trying different width belts out on your body. Otherwise if you wish to belt make it a hip belt. Get more tips on
how to define a short waist here.
Ideal Pant Rise
Mid-rise or low-rise pants are best for you, avoid high waist garments as they will further shorten your body.
Trouser Length
Because you have longer legs, you get to play more in the playground of pant length. You can wear 3/4, capri, 7/8 as well as full length pants more easily. But do remember that shorter or cropped pants do cut down the length of your legs.
Flattering Slimmer Longer Legs
If you have slim legs, feel free to look for interesting pocket detail on skirts and trousers. Skirts can have pattern, or other detail such as ruffles or braiding at the hem. Shoes can be low or high vamp. You will have an easier time of carrying off a flat shoe than your shorter legged friends.
Want to Understand More About Dressing Your Body?
If you're not sure of your body shape and proportions and would like my professional opinion, you can get this as part of my 7 Steps to Style program (plus a whole lot more, a personal colour analysis, how to express your personality through your clothing so you feel confident and gorgeous, more on your lifestyle and wardrobe needs as well as understanding how your values interplay with your personal style).
More Tips on Body Proportions