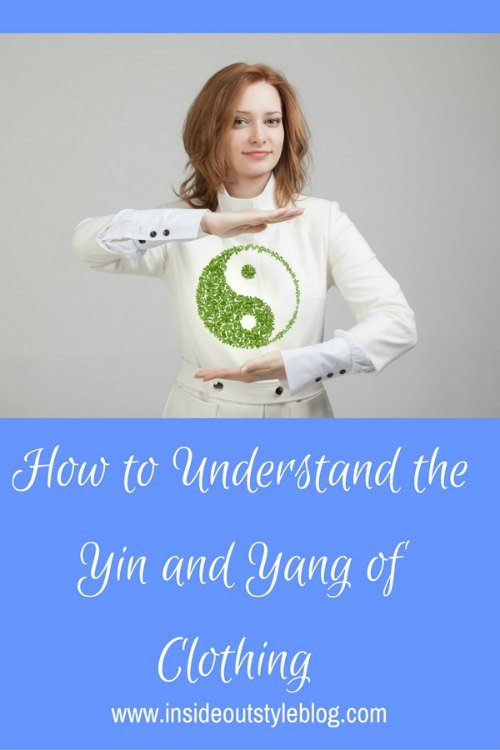 Have you ever considered Yin and Yang (or Receding and Advancing) in relation to your clothes? I first read about this concept in Judith Rasband's Wardrobe Strategies for Women

, and realised that it relates to all personality style and why each style communicates in the way it does.
Understanding Ying and Yang of Clothing
It's a powerful tool to help you understand what your clothes are communicating. You can use these concepts to help you:
Create harmony with your personality.
Create balance with your physical appearance
Communicate a message with no words.
In this first post (I can feel a series coming on), I'll show you how to interpret the yin and yang of clothing and design (though you're already reading it, you just didn't realise).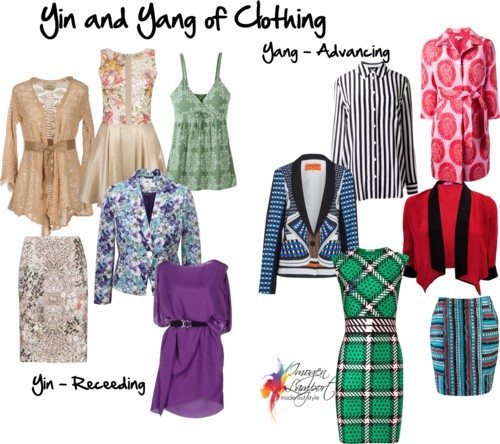 Yin (Receding) Elements of Clothing
Curved lines
Broken lines
Thin lines
horizontal lines
Curved shapes
Small shapes
Low contrast colour combinations
Muted/smoky colours
Soft textures
lightweight fabrics
Thin fabrics
Matt fabrics
Sheer fabrics
Natural flowing patterns
Dense all-over patterns
Yang (Advancing) Elements of Clothing
Straight lines
Solid lines
Thick lines
Vertical lines
Angled Shapes
Large shapes
Bright colours
High contrast colour combinations
Crisp fabrics
Heavyweight fabrics
Geometric prints
Abstract prints
Large scale prints
Repeating patterns
Thick fabrics
Shiny fabrics
Opaque fabrics
When you consider these elements, you can start to see how much our clothing is communicating without us realizing.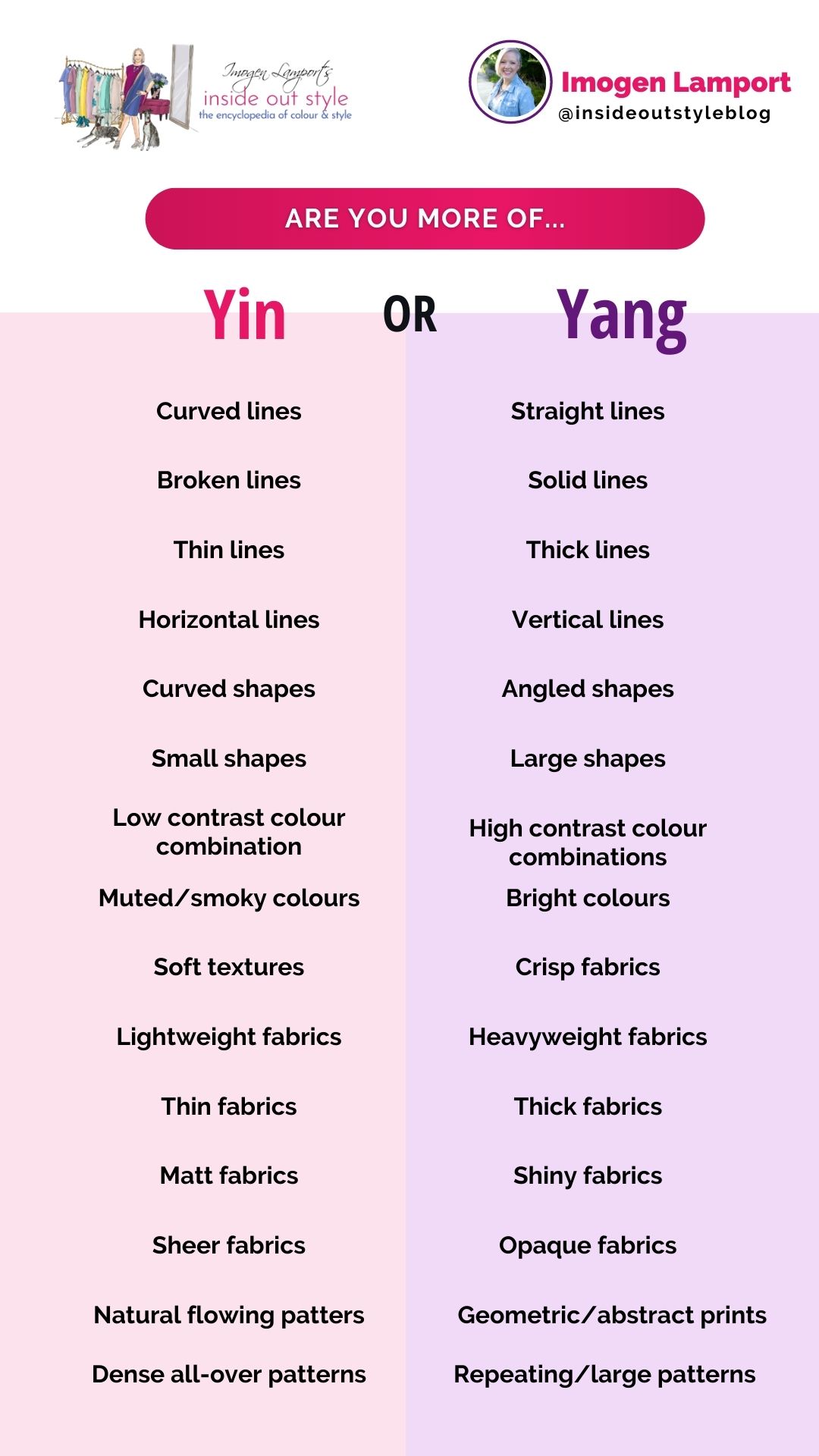 As you can see from these few pictures, Yin elements are softer and less dominating, while Yang elements are strong and draw attention.
When thinking about how these elements communicate. The Ying elements are better to communicate that you are:
Warm
Nurturing
Gentle
Felxible
Subtle
Informal
Open
The Yang elements communicate that you are:
Intense
Bold
Deliberate
Decisive
Direct
Business-like
Closed
Of course there are many garments that have a balance of Yin and Yang elements.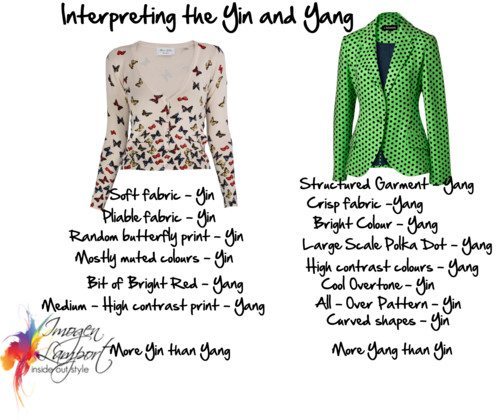 Here for example, are two similar shift dresses, yet they communicate very differently.
If you worked in a corporate environment, which would you wear to work? The dress on the right – right! You didn't even need to think about it – but here is why: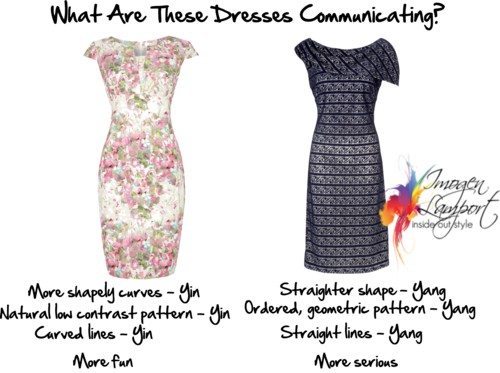 The one on the right will help you present a more business-like appearance, that dark serious colour with a high contrast pattern, the straighter, less feminine shape and the ordered pattern (says you have an ordered mind). The one on the left will make you appear warm and nurturing, informal and gentle but lacking in business expertise and you wouldn't be taken as seriously because it is lighter in colour with a lower contrast with a natural pattern and those extra curves in the structure of the dress highlight your femininity.
Further Reading on Yin and Yang
How to balance your yin and yang
Yin and yang of clothing design
Identifying yin and yang elements
Creating harmony with your personality
How to express the right message
How to resolve style conflicts
How to make an outfit more yin or yang
Your voice and movement and how they influence your style
How to use colour to communicate
6 Essential tips for wearing sheer fabrics
How do your clothes make you feel?
Communication, introversion and others focus