When you are thinking about putting outfits together, there are lots of things you need to consider to create harmony with your natural appearance. Just to name a few:
Now, this can start to feel kind of overwhelming which is why I think what's most important is to figure out the 3-5 guidelines that you decide are the most important for you to include in your outfits.
That said – for me personality is the number one that just can't be ignored. This is because, if you don't feel comfortable in your clothing, if it doesn't feel like "you", if you feel like you're wearing a costume or that your outfit is making you stand out in a way that doesn't sit well with you, you'll never feel confident and that will show in your body language and self-esteem.
This is why you always want to take personality into the style equation and work out how to work with your guidelines around your personality style.
One question that has come up for some of my 7 Steps to Style program members since they have found out their Style Type (it's your authentic style DNA), is how to balance their need for blending-in with their high colour contrast – that can easily make them "stand out".
And yes, high colour contrast – particularly in brighter colours – will stand out (though it won't stand out anywhere near as much on someone who has high colour contrast as it will be in harmony with their natural appearance – have a look at the pics of Nicole Kidman in this post – so you can see that going neutral – doesn't make her 'blend').
High Colour Contrast Outfit
When a high colour contrast just feels "too much" for your personality …. what to do?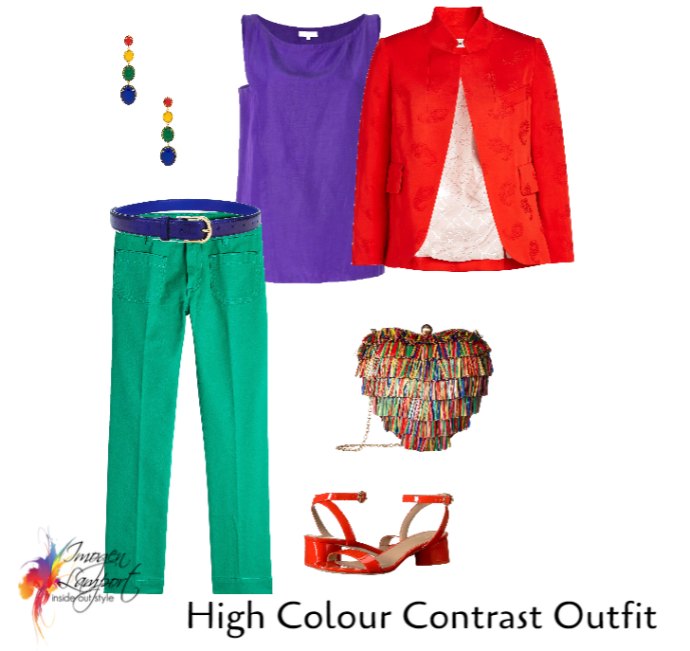 Here is a high colour contrast outfit – that uses colour blocking – when this is not a current fashion trend (and it comes and goes over the years), it can feel way too obvious to wear for those who have a more quiet personality style and who like to blend into the crowd, rather than stand out and be noticed.
So how to make this outfit retain its colour contrast, yet become more subtle?
It just takes a little substitution and a change in proportions.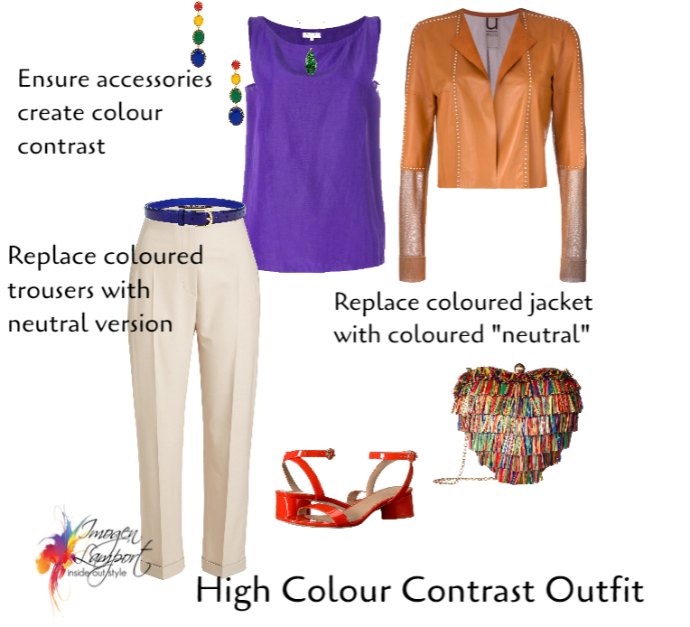 Here I've replaced the coloured trousers for a neutral and replaced the orange jacket for a camel one (and camel is a 'coloured' neutral so still helps to retain the feeling of colour contrast with the purple top.
This really makes the whole outfit feel much more subdued, yet retains its high colour contrast (and I've added in a contrasting green necklace just to ensure you see the colour contrast in the portrait area).
Now around 60% of the outfit is neutral (and so less obvious) and 40% is coloured (which is required for colour contrast).
The accessories in colour bring in that necessary coloured element but are much smaller proportionally so don't stand out.
Keep the colours close to your face, below the waist – neutral will work easily, just as someone who doesn't have high colour contrast, can wear that high colour contrast below the waist and get away with it!
Wearing Colour When You Like to Blend In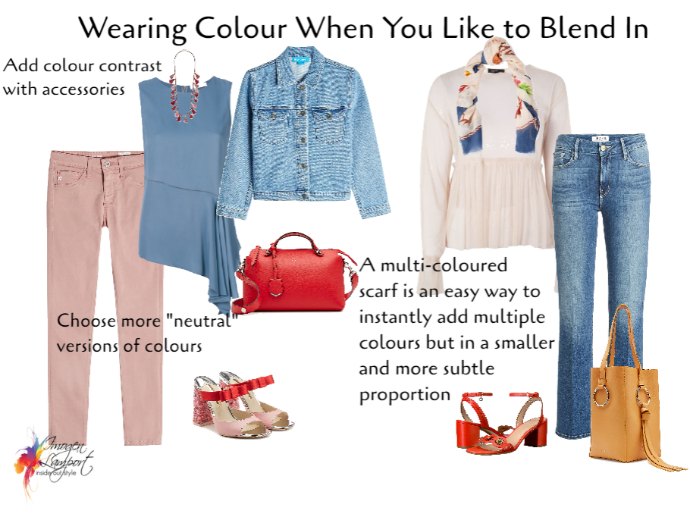 Here are more coloured outfits that include a higher colour contrast – but again feel more subtle and subdued. This is because I've gone with more greyed down or "neutral" colours (denim and a pink beige) and then added the colour contrast in with the accessories.
What about if the toned down colours drain you of life and you need the brighter bolder colours to make you shine, but still you want to look more subtle?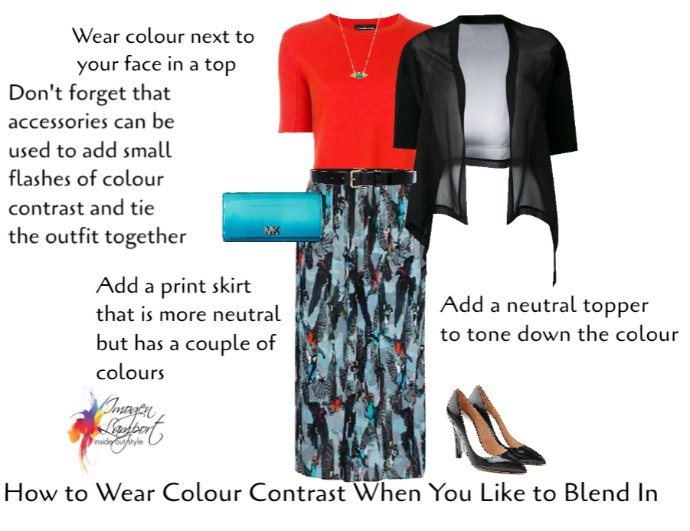 Instead of head to toe colour, just one coloured garment in a bold and obvious colour, then add a topper in a neutral (this will make the proportion of obvious colour smaller) and then I've found a print skirt that is more neutral than coloured, yet still has some colour contrast (blue and orange – complementary – which is a high colour contrast) and have added small pops of those colours in the accessories).
Built-in Ideal Colour Contrast
Alternatively, why not look for garments and accessories that have your ideal colour contrast built in – sometimes it can be enough – particularly when the base of the pattern or garment is neutral.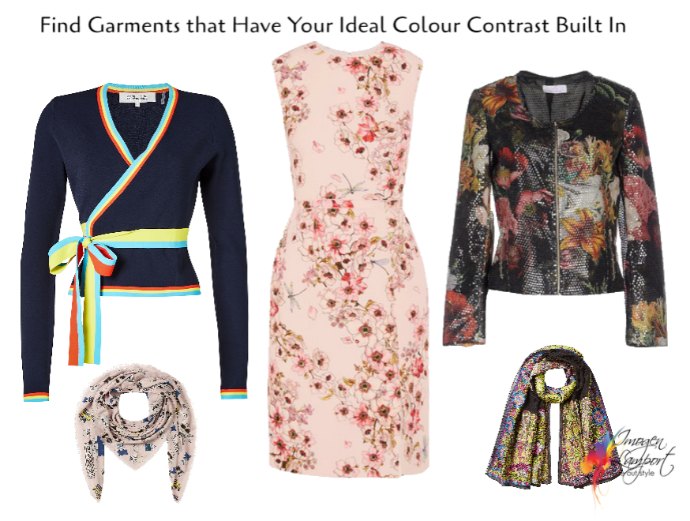 This is particularly easy to do in prints and patterns, but even detail elements of garments can do this for you!
Not sure of your colour contrast or even which colours are ideal for you? You can get my professional opinion (and a personal colour analysis) on these factors that influence your style – as well as so much more (body shape, face shape etc.) – all part of my 7 Steps to Style program.
More Tips on Colour Contrast
How to Find Your Ultimate Colour Contrast – Your Three Step Process