Creating contrast with texture and sheen can make an otherwise simple outfit have a bit more depth and look more elegant. Think about the dichotomy between soft and hard, polished and dull, flowing and structured. If everything is the same, what makes an outfit interesting?
Texture
Texture is just one element of the style puzzle – when deciding what to wear. But it can make a difference to how an outfit relates to and harmonises with your appearance and provides a backdrop for your natural inner beauty to shine through. Did you know that some textures will look more harmonious on you and others less so? Choosing a texture relates to your own level of texture – so someone with straight smooth hair and fine smooth skin will look best in flat or fabrics that match their personal texture. Someone with curly hair will look best in textured garments like boucle or a velvet devore, which has a curved appearance. Jill Chivers of 16 Style Types and I discuss how to choose the most flattering textures and sheen levels for you to make you look your most fabulous.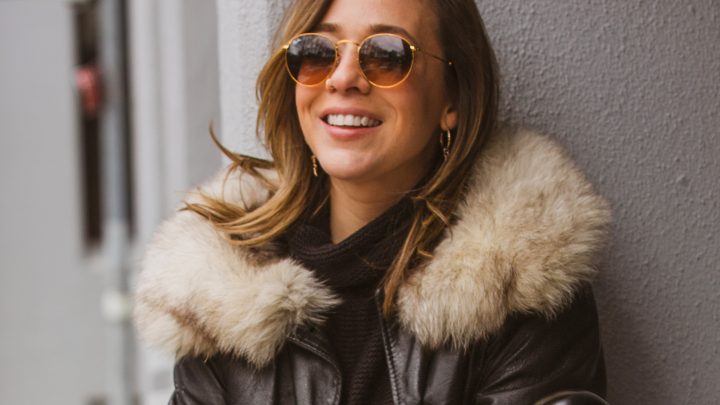 Textured fabrics can be anything from lace to cable knits, devore velvet to quilted fabrics. What is best to do is match your level of texture, in your hair and skin, to texture in fabrics. When your skin and hair is smooth in texture, you will look overall better wearing smooth or low textured garments. But that can become dull, so how do you find textures that will harmonise with your natural appearance and still look great?
As most of you are aware, I mostly wear my hair smooth. I feel messy when it's not smooth. Most of my clothes are also smooth.
Choosing the texture of your garments based on your hairstyle to create harmony and balance with your natural appearance. Changing your hairstyle can change the fabric textures that harmonise with it. It's something to consider when choosing clothes and looking for the harmony that will really make you shine. This is something I go into more depth in 7 Steps to Style too.
Fabric Choices
Along with texture and drape, another element of fabric is the sheen. Some fabrics are matte – they don't reflect light and appear to absorb light – these fabrics are the most SLIMMING fabrics as they don't draw attention to your body.
Faux fur vests can be a tricky trend to wear as they add some bulk to your frame due to their highly textured nature. But if you feel the cold like me, they really do keep you warm and toasty. The chunky texture of the vest will make your top half look bigger so styling is all about getting the balance of proportions right.
Sheer fabrics have a light and floaty feel which are great for summer. They can be feminine and flirty, or downright sexy, depending on what and how you're wearing them. Sheer fabrics are a great way to wear a colour that is less than stellar for you. The ability to see skin, or another colour through them can soften down the colour and make it more flattering.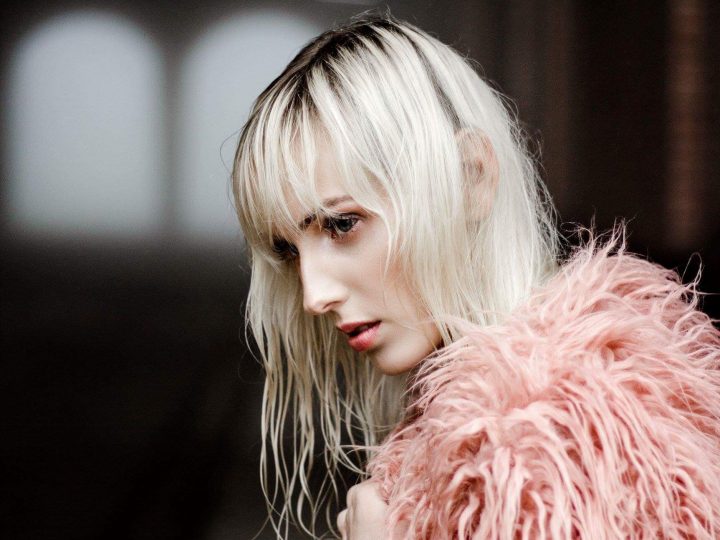 Working with your skin characteristics
Matching your own personal matte, sheen or shine that you have in your hair and skin to at least part of your outfit creates a harmonious look. Shiny fabrics draw attention and make an area look larger, so shiny fabrics are best on parts of your body where you're happy to have a focal point. Matte fabrics are more receding and so make you look slimmer.
One of the things I've noticed about myself, and I'm a shiny person. Shiny skin needs sheen and shine in makeup, jewellery and fabrics. If you have shiny skin like me, you will tend to need a slightly brighter colour in our fabrics particularly when the fabric is a matte finish.
When you are deciding which kinds of fabrics suit you best, have a look in the mirror at your face and hair, what are you seeing – shiny reflective surfaces, a slight sheen, or a more matte appearance? You will often find if your hair is quite textured or your skin textured or dry you will appear more matte, whilst if you have smooth flat hair you will see more shine.
As always, expressing your personal style is the most important part of getting dressed. If you don't care to think about texture, that's your personal style making a statement! No matter what you decide to wear, it'll always be 100% you. You can find out more about this and so much more about what suits your body shape, colouring, proportions, personality and so much more in my 7 Steps to Style program.