What is Fabric Drape?
Which kinds of fabrics should you look for?
Why is this question even important? Doesn't it just matter that the style suits your body shape?
Sadly the answer is that you need to take into consideration both the drape of the fabric and the style – this is why people will often tell me that a certain style doesn't suit them, even though the guidelines say they should. Often it's because the garment they have tried that was in the recommended style is in the wrong sort of fabric for their body type (or somatotype).
There are three main kinds of fabric drape:
Fluid – chiffon, silk, viscose, crepe
Medium Drape – most denim, many woven cottons
Stiff – think taffeta, coated denim, bengaline, organza, duchesse satin
What is Somatotype?
Now choosing the drape of fabric is about body type, (or somatotype – that's Greek for body type) – ectomorph, mesomorph, endomorph, and this is not necessarily obvious from apparance, but from 'feel'.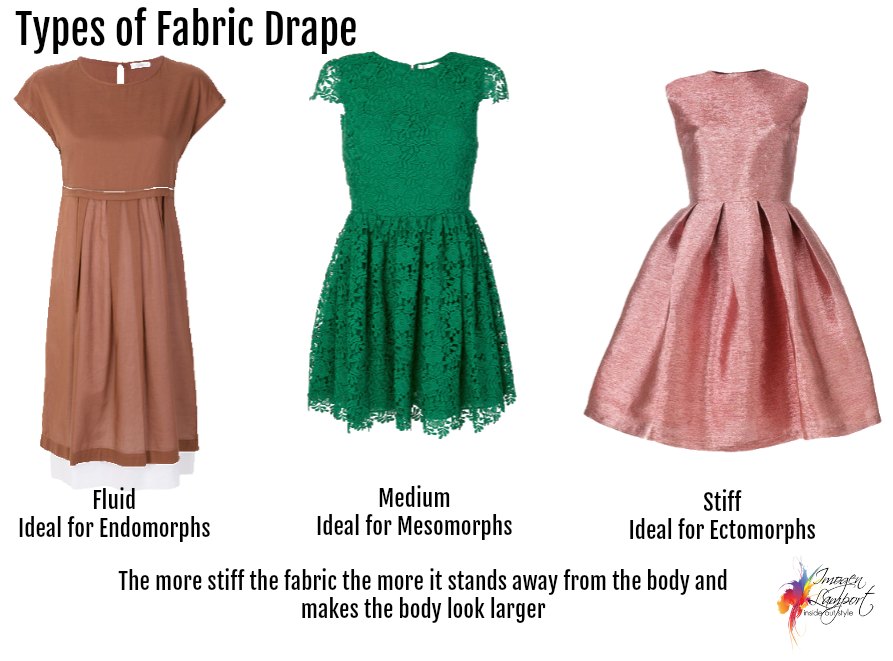 Ectomorph Body Type
Someone who is skeletal (ectomorph) needs a stiffer more structured fabric, because if you put them in a highly drapey/floppy fabric like chiffon, it makes the jutting bones appear more prominent. The stiffer fabric will stand away from the body and create more structure and be in harmony with their harder frame. On an ectomorph, a very fluid fabric will look floppy and without substance.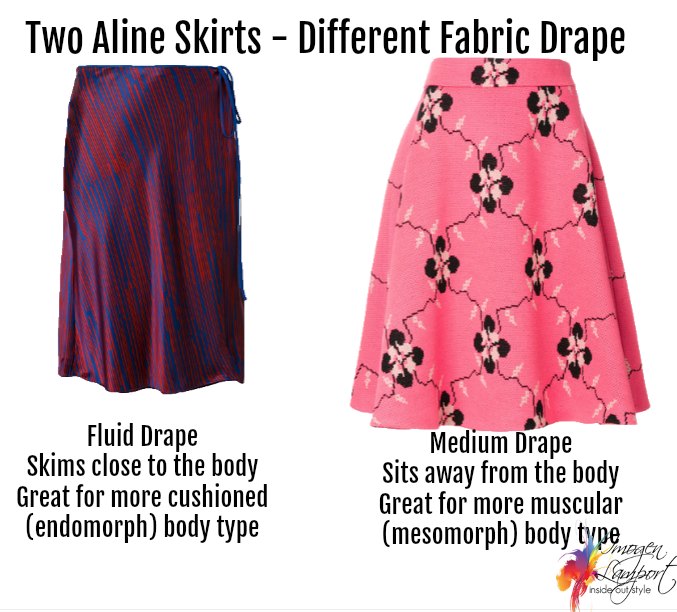 Mesomorph Body Type
If you are more muscular (mesomorph) – you need some stiffness, and some drape in your fabrics – denim is often a favourite fabric for the muscular type (there is a firmness to the flesh when pressed with an open palm on the tops of thighs and tops of arms).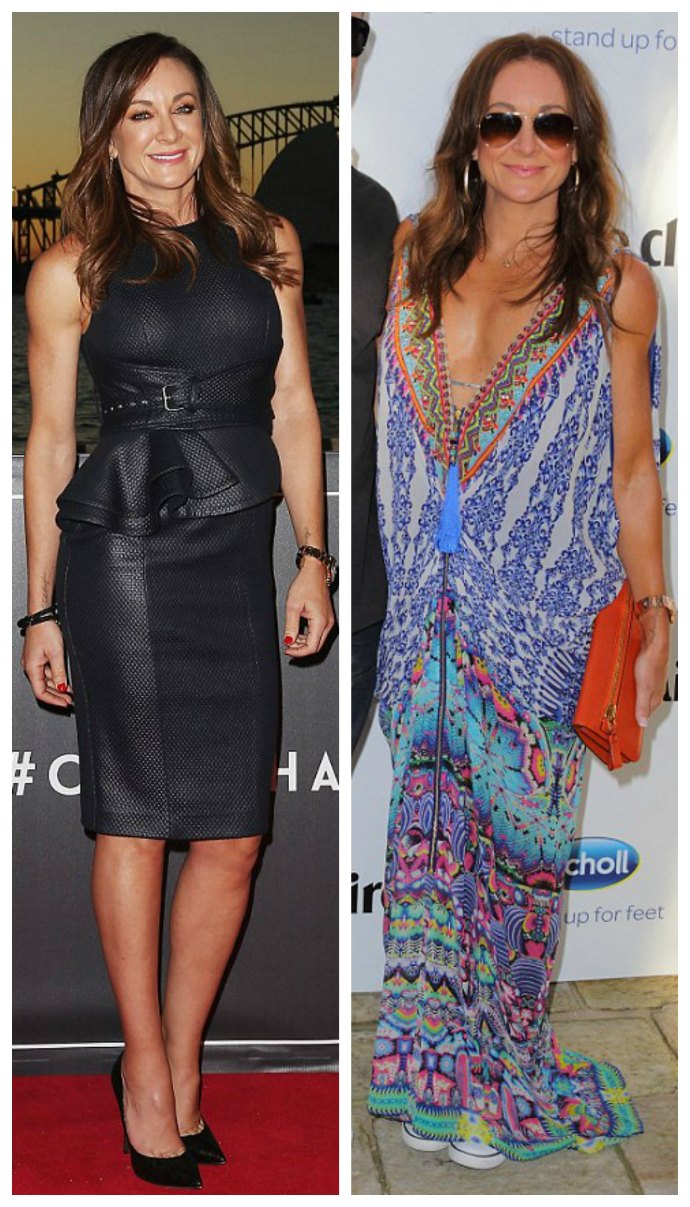 Here is an example of the same body type (muscular mesomorph Michelle Bridges) in a stiff fabric – that works well (left) and then in a fluid fabric kaftan (right) that looks floppy and well, just plain wrong on her hard and musculr body.
Endomorph Body Type
Someone who is cushioned (endomorph) has a kind of squidgy feel when pressed, and needs a fabric with more drape – now drape is not about the thick or thiness of the fabric, but of the way the fabric falls, so they need clothes that drape more closely to the body, skimming without clinging to create the best silhouette (the cushioned person often finds jeans very hard to buy and they don't find them comfortable to wear for long periods).
Even with a frill, a softer, fluid fabric frill will fall closer to the body and create less bulk. A stiffer fabric will stand out from the body and work well for someone who is naturally very slim or has a harder body.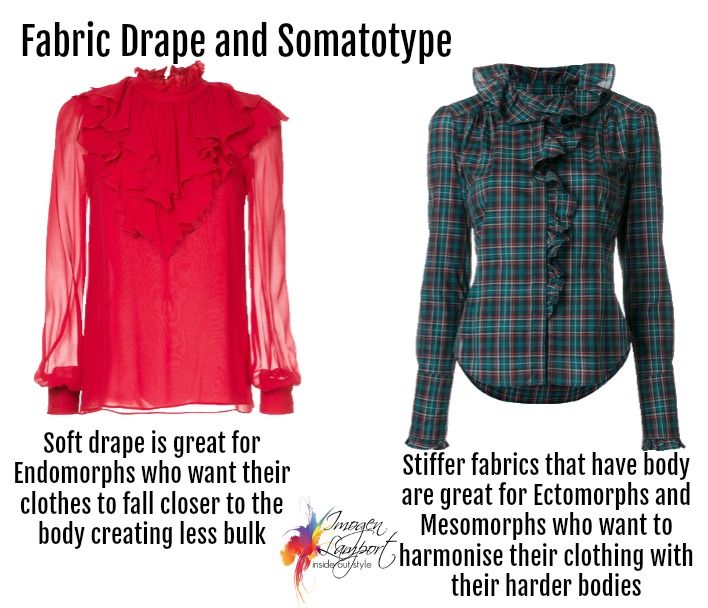 Combination Body Types
Many people are a combination of body types – so maybe ectomorph on top and mesomorph on the bottom etc. It's common in people who run (work out their thighs but not upper body so much). Therefore, need to look for different drape fabrics for top and bottom, or split the difference and go for a medium drape all over.
Discover Your Body Type
Want to know more about what suits your body? All those details that go into a garment that are right for you? You get my professional opinion on your body shape and colouring as part of my
7 Steps to Style program
– the most complete and comprehensive style program that is designed to assist you in really understanding what works for you and your unique personality and body.
More Tips on Choosing Flattering Fabrics
https://insideoutstyleblog.com/2008/08/how-to-choose-a-slimming-fabric.html