How do you pick a print that is flattering for you? There are just so many prints to choose from – florals, stripes, animal, abstract, geometric, checks, paisley, ikat… the list goes on and on. So how do you make the right choices when prints and patterns come in a myriad of colours, scale, contrast and styles. Let me share an experience with a client that may help you too.
I was out shopping with one of my lovely clients. She wanted some blouses and dresses that were more 'fun' than her current range of tops in solid colours. How did I help her choose a flattering print? I made sure that the print followed these 3 guidelines.
1. Colour and Contrast of Prints
Knowing her colour palette meant picking up all the options in the store that had her colours in them was easy, but also one of the keys to picking the right prints is also working with your natural level of contrast.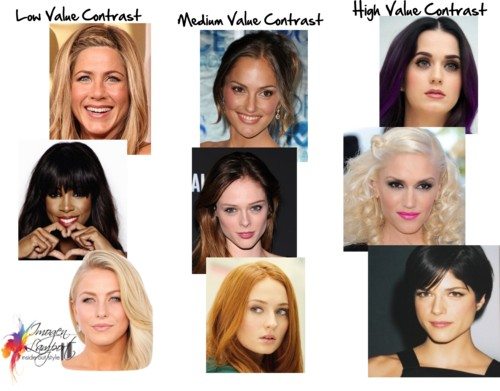 My lovely client is a fair skinned blonde with pale green eyes (similar to the woman on the bottom left of the image above), giving her a low contrast, thus the low contrast prints were the most flattering on her.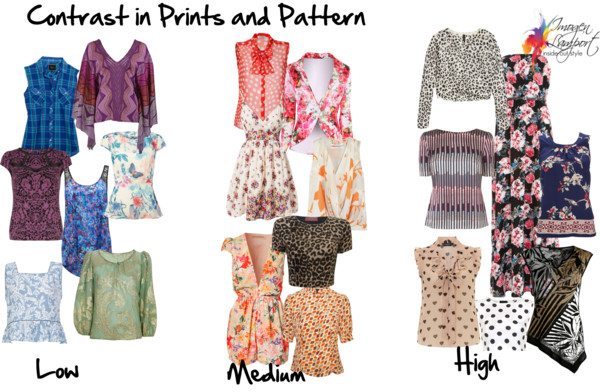 A low-value contrast print has not a lot of difference between the lighter and darker elements of the print. As she was fair – an overall light value print was the best choice for her as it related well to her ideal value (find out about that here).
You can see in the image above, that the low-value prints are more subdued in feel, whilst the high-value prints on the right are bolder and more dramatic too!
2. Personality of the Print
All clothes communicate and what image consultants have discovered, is that different prints express different personality traits (and communicate in different ways – this relates to the concepts of Yin and Yang – which you can find out about here).
My client's personality was Classic Feminine, so a smaller more delicate print worked best on her.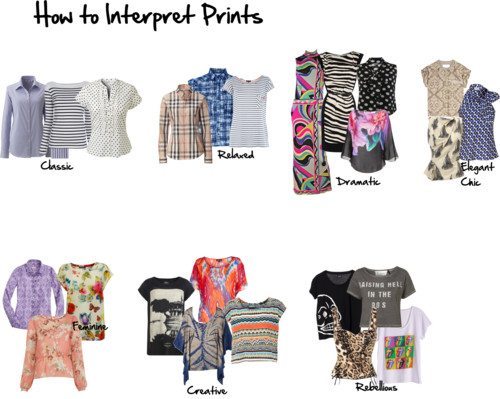 What do each of the personality dressing styles choose for their prints?
Classic –Vertical stripes and small/fine geometric prints
Relaxed –horizontal stripes and checks
Dramatic – bold, high value contrast prints – animal prints are often favoured
Elegant Chic – repeating patterns, geometrics and stylised prints
Feminine – small, delicate curved prints such as florals and paisley
Creative – wearable art, abstract and ethnic inspired prints and patterns
Rebellious – skulls, slogans, pop art and animal prints
3. Scale of the Print
Do you have big or small bone structure? How about your facial features? Are they larger, medium or smaller? Are you tall, average or short? All these questions impact on the scale of your ideal print (find out more about identifying your scale here – it's also part of my 7 Steps to Style program if you'd like my personal opinion on this – along with your colouring and body shape – plus so much more).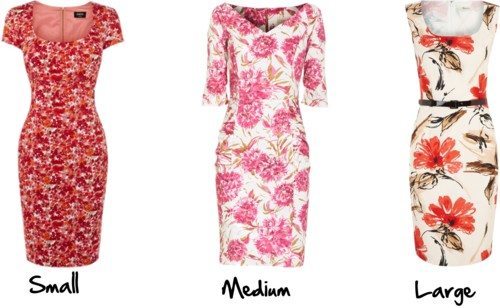 Her body scale was medium – so medium contrast small prints to lower contrast medium prints were the most flattering. (The contrast of a print will make it appear larger or smaller)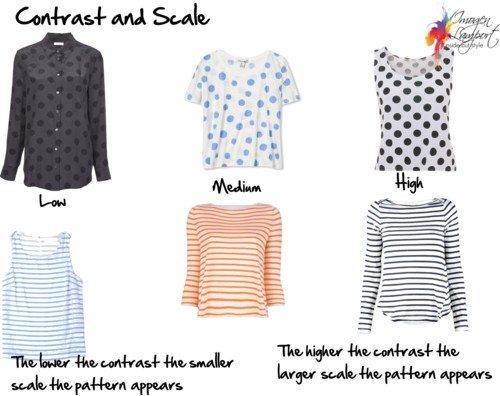 So as we shopped, we selected prints for her that fit her needs and physicality – low contrast, light value, medium scale floral and curved prints which she now loves and add interest and figure flattery to her wardrobe.
Can you identify the prints that will work best for you now you have this information?
Here are some more useful posts on choosing prints
How to pick a slimming print
How to pick prints – angular or curved
Understanding the elements of prints
How to find a pattern that won't date quickly
How to flatter patterned skin
Using patterns to inspire colour schemes