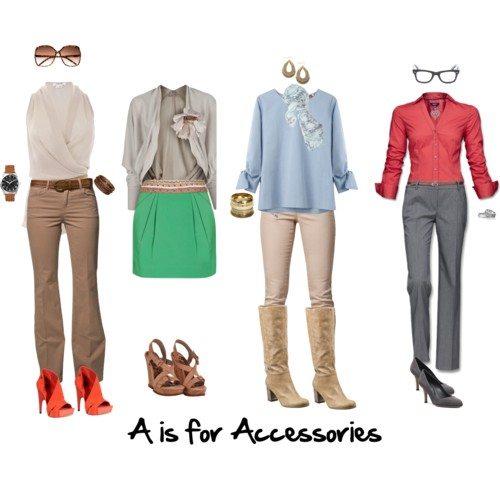 One of the secrets to stylish dressing is to use illusion (using line, design, fabric, colour, scale, texture, sheen), and distraction (detail).  When you get all the elements right for you, the effect is magical.  One of my favourite ways to create distraction (which is an essential part of the magicians arsenal) is to use accessories.    So how best to use accessories to create the focal points you want?  Let's look at the basics:
1. Glasses – highlights face/eyes – ensure the frame style is current, suits your colouring, face shape and facial features.
2. Earrings – highlights face – drawing attention to the face, which is the communication centre, is ideal as when people are looking in your eyes, they're not looking at your thighs!
3. Necklaces – highlights decolletage and torso – draws attention upwards, length of necklace will change where the focal point sits.  Above the bust draws up to the face low pendants that hang below the bust draw attention to your stomach.  Large pendants above the bust will make your bust look smaller.
4. Brooches – highlights decolletage – great for people with short or thick necks who don't like necklaces.  Wear high on your shoulder if you're petite to draw attention upwards.
5. Watches/bracelets – highlights wrists, forearms, hands –  wear only on one side if you're an A, 8 or X shape so that they don't widen your hips.
6. Rings – highlights hands and fingers – great if you're expressive and wave your hands around when speaking.
7. Belts –  highlights waist and/or hips – fantastic focal point creator if you have a define waist (A, 8, X shape) or want to define a long waist (some I, V and H shapes) or wear lower on your hips if you're short waisted.
8. Scarves – highlights neck, decollatage and torso- depending on the fabric, length, shape and weight, can be used to draw attention up, like a necklace, or create vertical details to elongate your torso.
9. Shoes – highlights feet, ankles, calves – if you want to look taller, blend shoes to trousers or skin.  If you want to create a focal point choose an alternate colour shoe to make your feet a feature.
Why not grab your copy of my accessories ebook for lots and lots more ideas on how to best use accessories.