There are so many different accessories to choose from when adding that finishing touch to your outfit. Accessories are the icing on the cake – they add the interest and detail, a touch of sparkle or sheen that grab the light or texture and colour that may otherwise be lacking in your outfit.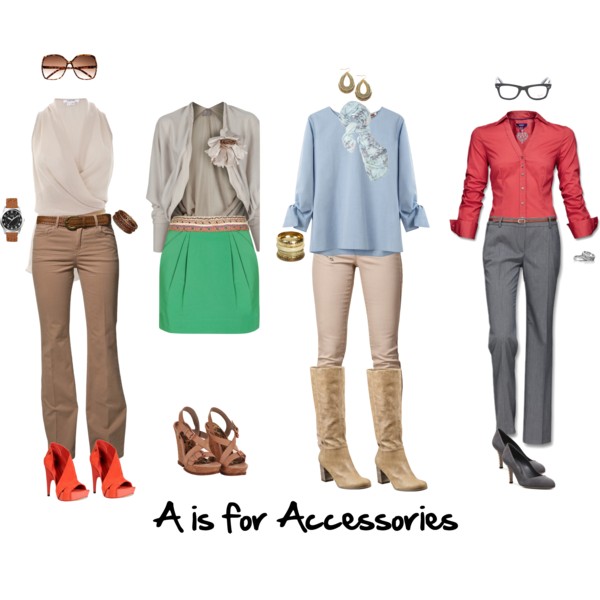 One of the secrets to stylish dressing is to use illusion (using line, design, fabric, colour, scale, texture, sheen), and distraction (detail). When you get all the elements right for you, the effect is magical.
One of my favourite ways to create a distraction (which is an essential part of the magician's arsenal which I wrote about here) is to use accessories.
So how best to use accessories to create the focal points you want? There are so many possible accessories to consider – let's have a look at my top 10 that you may want to consider.
Top 10 Accessories and Tips on Accessorizing
1. Glasses
Eyeglasses highlight and draw attention to your face and eyes – ensure the frame style is current, suits your colouring, face shape and facial features. Sunglasses are an important accessory that will protect your eyes from harsh UV rays. Remember when considering what colour sunglass lenses to choose, to go with a colour that works with your natural undertone – so for sunglasses – go browns/tortoiseshell lenses if you have a warm undertone, and greys/blacks/blues if you have a cool undertone.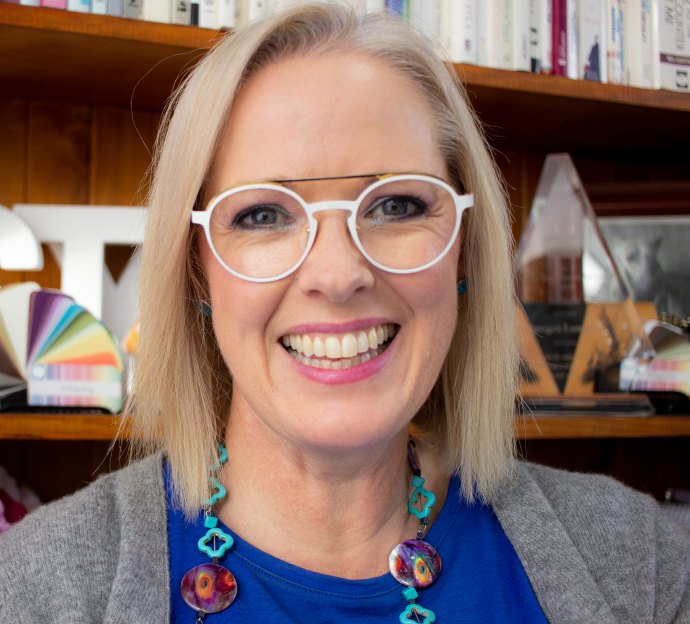 Glasses as a signature style accessory
5 essential factors when choosing glasses frames
How to choose flattering glasses frames
7 Tips to Choose the Right Sunglasses
2. Earrings
Earrings are a great way to draw attention to and highlight your face, which is what I call your communication centre. It's an ideal place to create a focal point as when people are looking in your eyes, they're not looking at your thighs!
When thinking about choosing a pair of earrings, you may want to think about shape and size, how well they suit your defining features and also how they may relate to your face shape.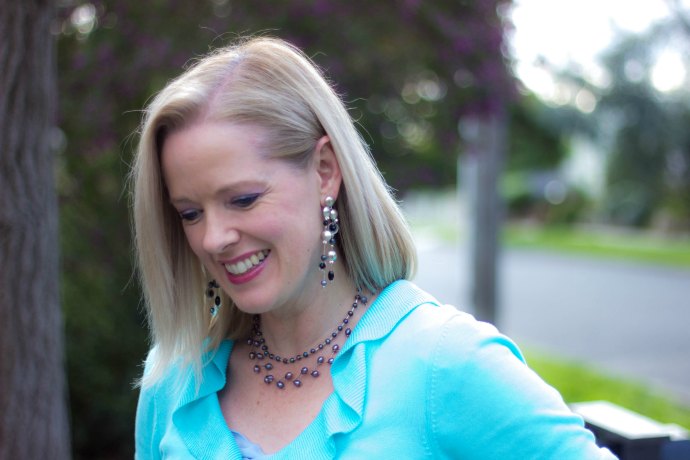 How to choose earrings to flatter your face shape
3. Necklaces
Necklaces are great to highlight your decolletage and torso and to also draw attention upwards. The length of the necklace will change where the focal point sits, from low down on the stomach to right up on the neck, depending on its length and design details. A quick tip is that if your necklace sits above the bust, it will draw attention up to the face, while long low pendants that hang below the bust draw attention to your stomach. Large pendants or necklaces that sit above the bust will make your bust look smaller. Here you can discover 6 simple ways to know if your neckline needs a necklace! The shape of your neckline will dictate the shape of the necklace – check out my quick visual guide here.
How to choose a necklace to work with a pattern or print
How to choose the right colour necklace
5 Quick tips for choosing necklaces
How to choose a necklace to work with your neckline
4. Brooches
Brooches are great for highlighting your decolletage as they draw the eye up above the bust. The higher you place them the taller you appear. They are a great necklace alternative for people with short or thick necks, or those who just don't like necklaces. Wear high on your shoulder if you're petite to draw attention upwards.
I love that you can wear them in many ways, on collars and hats, to hold a scarf onto your outfit as well as the traditional lapel!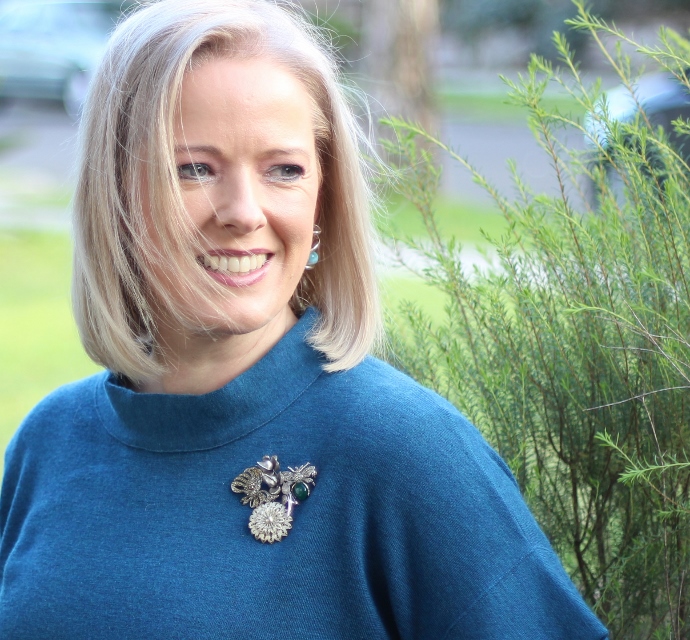 11 Ways to style brooches
5. Watches and Bracelets
Watches, bangles and bracelets all highlights wrists, forearms, hands, they are veritable candy for your arms! Depending on your body shape, you may want to wear only on one side if you're an A, 8 or X shape so that they don't widen your hips by drawing a horizontal line across your body.
It's a rare day in warmer months that I'm not sporting some kind of arm candy! Bangles and bracelets can be great linking pieces in your outfits.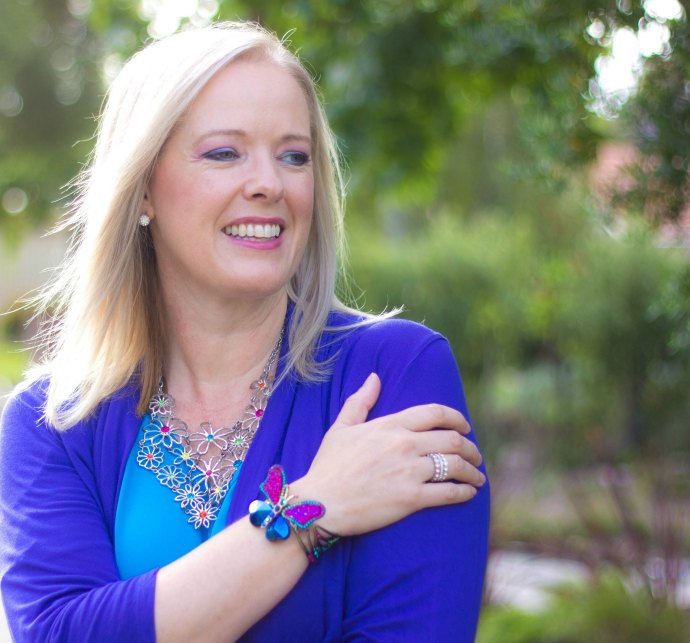 Which watch to wear
How to mix metals and stack bracelets
6. Rings
Rings highlight hands and fingers and are particularly great if you're expressive and wave your hands around when speaking and have a nice manicure.
When thinking about what kind of rings to choose, you may want to consider how your personality can be expressed by a ring (often it's this kind of small detail that makes an outfit). A statement ring can be a great talking point as well – if you're looking for ways to start a conversation!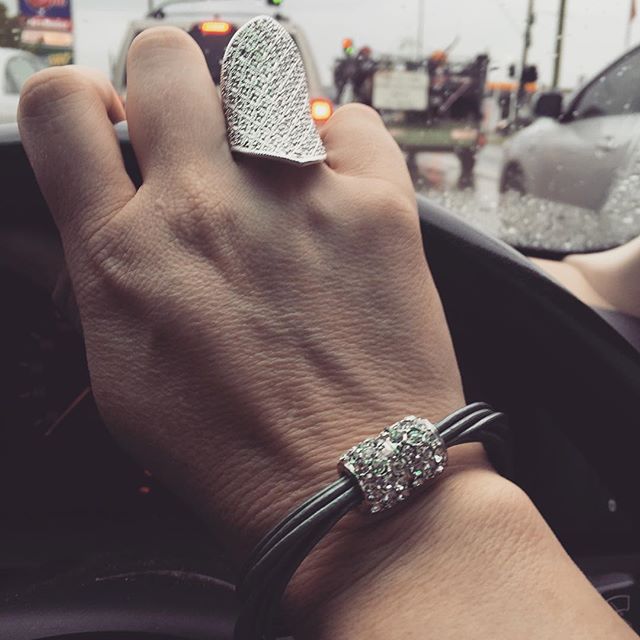 How to choose the scale of rings
7. Belts
Belts will highlight your waist and/or hips depending on where the belt sits. It's a fantastic focal point creator if you have a defined waist (A, 8, X shape) or want to define a long waist (some I, V and H shapes) or wear lower on your hips if you're short-waisted. Remember that often the cheap fabric tie belt that comes with a garment should be tossed in the bin and replace with something better (read why here).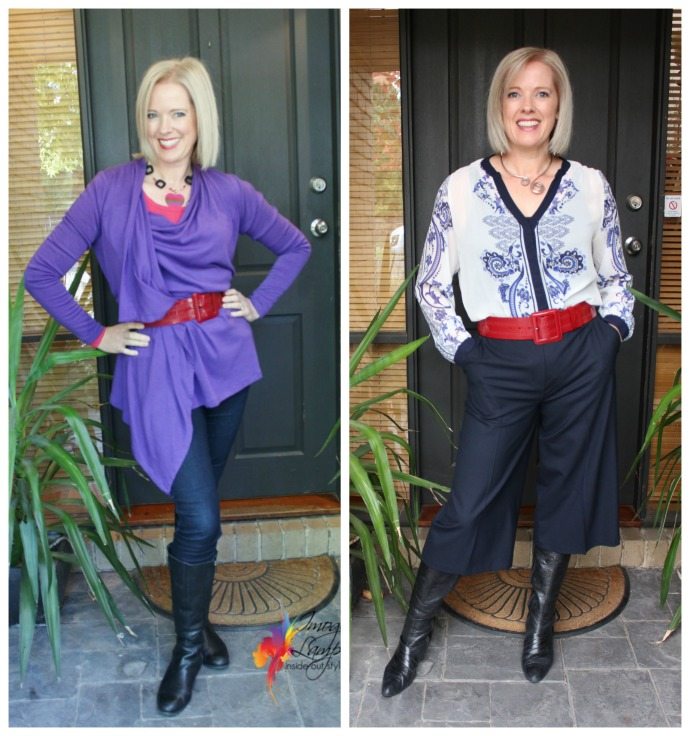 Belt or not? Body shapes that look best in belts
Belting over or under jackets and cardigans
Belting when you have a short waist
How to wear a belt when you don't have a waist
Why not wear a scarf as a belt
8. Scarves
Scarves are a brilliant accessory as they come in all shapes and sizes. They can be warm and snuggly, or lightweight and decorative. Scarves highlight your head, neck, decolletage and torso- depending on the fabric, length, shape and weight and can be used to draw attention up, like a necklace, or create vertical details to elongate and slim your torso.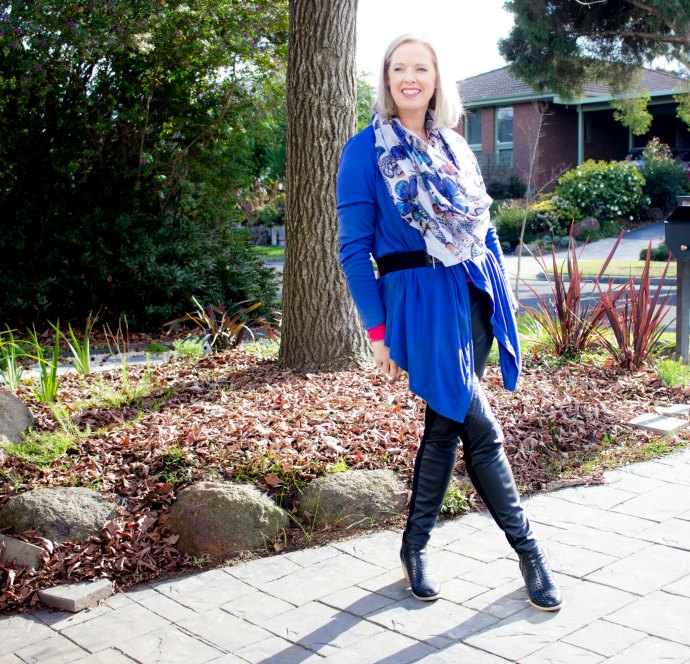 8 Ways to wear scarves the Nina Proudman way (Offspring TV show)
How to combine patterned tops with scarves
How to wear scarves when you're busty
9. Shoes
I don't think anyone goes out of the house without this essential accessory. Shoes highlight your feet, ankles and calves. So if you want to look taller, blend shoes to trousers or skin. If you want to create a focal point choose an alternate colour shoe to make your feet a feature.
Shoes can really make an outfit! Just think about how a pair of sneakers makes an outfit very casual, whilst a pair of stilettos dresses it up.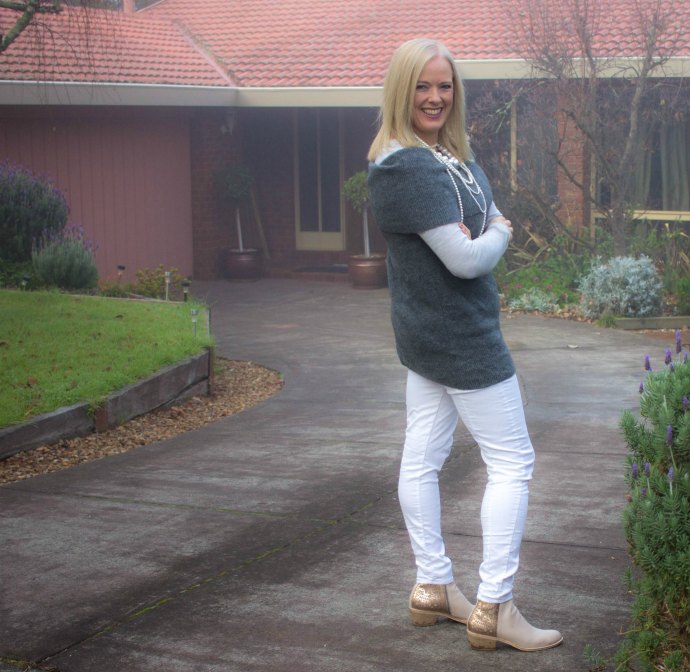 How to have the perfect wardrobe of shoes
How to choose shoes with style when you have foot issues
6 ways to choose shoes to go with your outfit
What's the personality of your shoes?
3 tips to choosing shoes to flatter a sturdy ankle
How to interpret the formality of your shoes
10. Hats
Hats are a great accessory to wear when it's not and you need to protect your skin from the sun or when it's cold and keeping your head warm makes you feel so much more comfortable. Or you can just wear a hat for fun and to add an interesting and more unusual accessory to your outfit. Hats come in all shapes and sizes – and they can communicate personality too.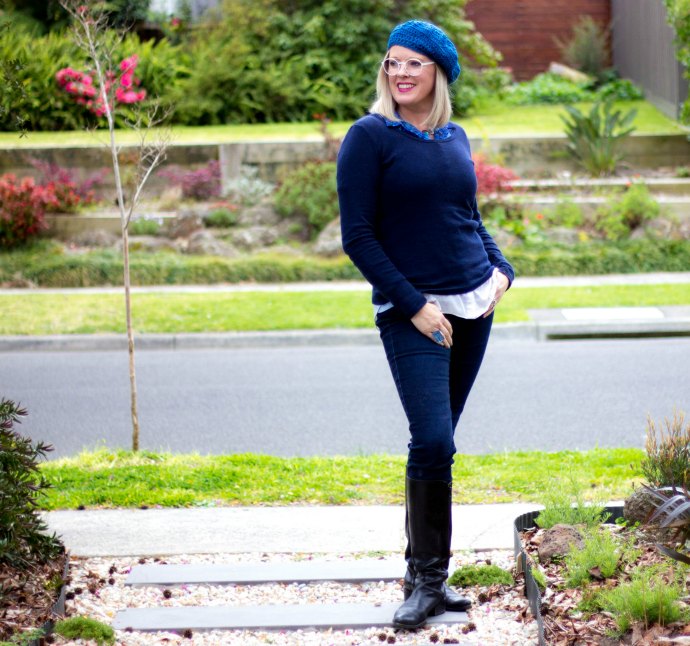 How to choose a hat to flatter
How to accessorize with scarves, hats and gloves
Why not grab your copy of my accessories ebook for lots and lots more ideas on how to best use accessories.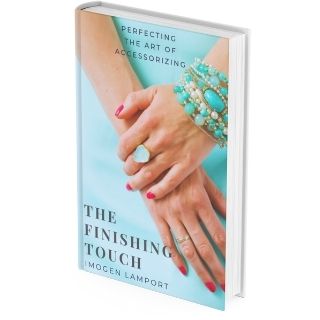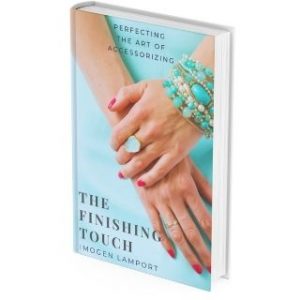 Which accessories do you never leave the house without putting on?
More Style Tips
Brilliant Tricks of the Clothing Magician – How to Highlight and Camouflage for Figure Flattery
How to Choose Accessories to Match Your Personality and Occasion