Recently blogger
Embellissiment
asked how to choose a watch to go with outfits, and whether watches are 'jewellery' or something else.
Basically, I think that watches are an accessory but like a shoe, a more basic, every day essential accessory (yes I know that your mobile phone has a clock on it, but a watch is so much more convenient and stylish, and the batteries don't run out so often).
I love watches, in fact it has always been my 'treat' to myself to buy a watch as a celebration when I get a new job, with my first pay. Each watch then tells me about a stage in my life, and reminds me of a job I've had.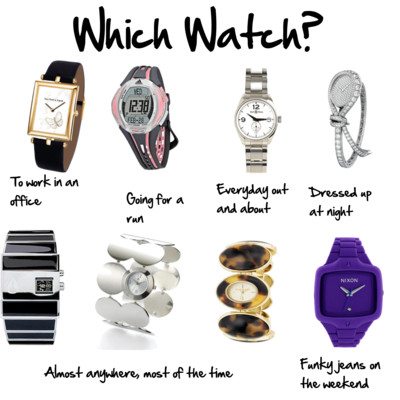 There are some basic rules to follow (that is if you like rules).
the more sporty the watch, they're made for sport and very casual clothes
bright colours spell fun, keep them outside of work time, unless you are a professional clown
classic shapes and styles work with a professional wardrobe – if you wear a suit to work, look for a classic, high quality watch to match your image
a plain analogue face with a metallic band can be worn almost anywhere (except when dressed up to the 9s)
diamond encrusted watches are made for nighttime glamour
watches that have the appearance of braclets and bangles are a great way to add some personality to your outfit, whilst still being a practical piece
if your personality is rebellious or unconventional, throw all the rules out and wear whatever style you like, as long as it's an expression of who you are on the inside!