What about bead or chain necklaces? Are they a no-no or can a busty gal get away with them too? I like pendants once in awhile but I have a lot of beads, pearls, and chain necklaces that I like to wrap around my neck once or twice. Thanks for the advice!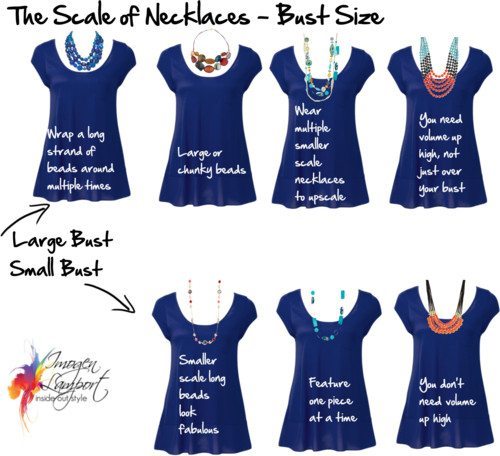 The scale of the necklace and the size of the beads will make all the difference to whether you make your bust look larger or smaller.
Large Bust Minimize
1. Wrap long strands of beads or pearls around your neck multiple times to take make a shorter necklace that adds volume above your bust, taking up more space than just one strand.
2. Look for larger or chunkier beads in your necklace to balance your large bust.
3. If you have lots of slimmer, longer necklace, why not layer them over each other to take up more space and create a larger scale appearance.
4. You want the volume of a long necklace to start at your neck, this will help draw the eye upwards, even though the necklace will drape over your bust.
Small Bust Maximize
1. Delicate pieces won't make your bust look smaller.
2. Feature one piece at a time.
3. You don't need the necklace to be voluminous at the neck, you can have feature beads over your bust area to add volume to your chest.
So as you can see, you can make your bust appear either larger or smaller, depending on the scale of the necklace, the area it takes up, and where the details feature on the necklace.