Iwas recently asked by a reader for tips on wearing brooches so here they are:
11 Ways to Style Brooches
1. Wear it up high on your lapel or shoulder. Often when we put on a brooch we do so from the angle of looking down (kind of how our head and neck works really) but instead of looking down and pinning on, try looking in the mirror to find the best placement for your brooch. If you want to look taller, high up is better. If you want to draw attention away from your bust, higher up is better. Higher up is better – enough said!
2. Make a statement. If you have a wider or shorter neck, a brooch is a great way to draw attention up to your portrait area (that's right, think about dressing your portrait area first, rather than your stomach/hips/thighs/butt) which will draw attention to your face (and away from that stomach/hips/thighs/butt). Find a larger scale brooch to make a statement – there are so many amazing brooches available to choose from.
3. Wear it in the middle – traditionally we choose to wear a brooch on one or other shoulder, but how about wearing it in the middle of a high necked top such as a halterneck style – like a necklace just without the chain!
4. Pin it to your blouse collar. This can look great with a smaller more delicate brooch. It doesn't have to be on a jacket lapel.
5. Put it on a chain and wear it as a necklace. Alternatively, attach it to a wide velvet ribbon and tie it choker style.
6. Use it to "tie" a scarf. Avoid bulky knots and use a brooch to hold a scarf together.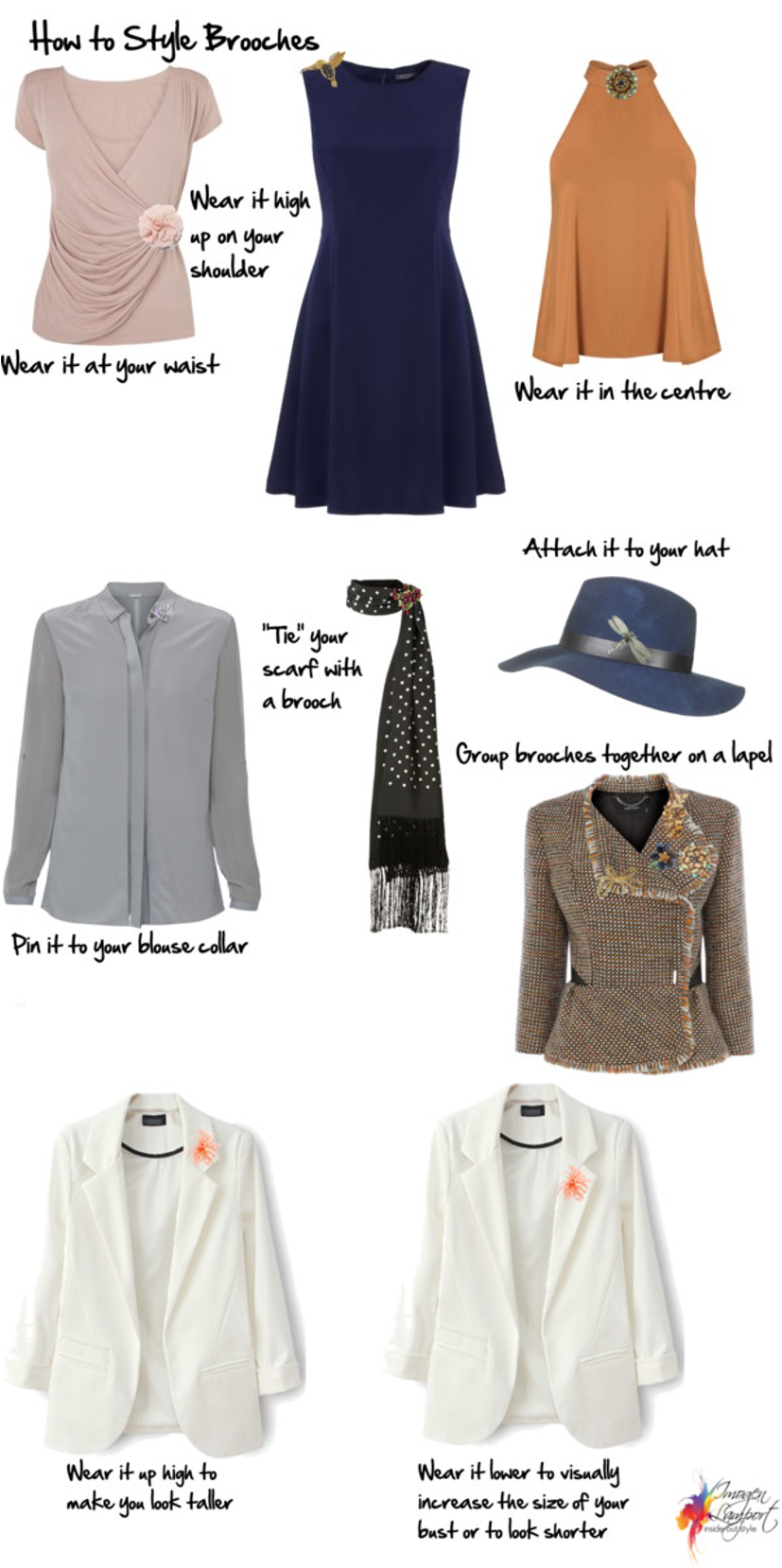 7. Wear it at your waist. A cross over top or cardigan can be clipped together with a big statement brooch
8. More than one at a time. Just like necklaces, you don't have to stop at one at a time. Group similar styles of brooches together on your shoulder or lapel.
9. Wear it as a belt buckle. This requires a large scale brooch to adorn the buckle.
10. Attach it to your clutch. A fabric clutch can be accessorized with a brooch.
11. Put it on your hat. This is particularly great for larger brooches, or clustering of brooches on a felt hat.