What are the Rules of Belting?
Belting is common on dresses and some coats, so when styles of dress that include belts are in fashion the question is should you follow this trend or ignore it completely and if you don't want to ignore it, how do you make it look as good as possible on you? So let's answer the question, to belt or not to belt?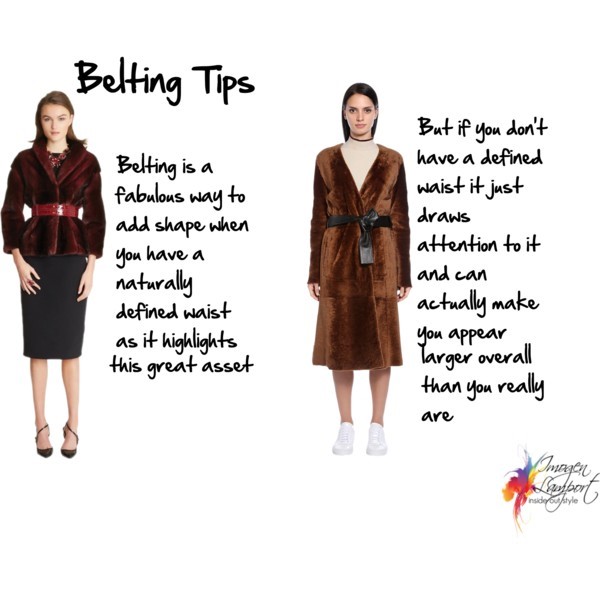 Notice in this example above on the left the belt is at the waist. It's only a good option if you've got a tiny waist, and a long body, otherwise it will just draw attention and make you look thicker through the middle. You can see that the woman on the right where the belt doesn't make much of a dent in the sides of the coat, the belt makes her look wider (even though I'm pretty sure these two models would be similarly slim).
If you have an
8 shaped body
(where you have the 'shelf' hip and your bottom, not your thighs is the widest part of your body), then this belting (above) is an option.
If you have an
X
or
A shaped body
(where your widest part of your lower body is your upper thighs), and a longer waist, then opt for a belt that dips down at the front and is higher on the sides.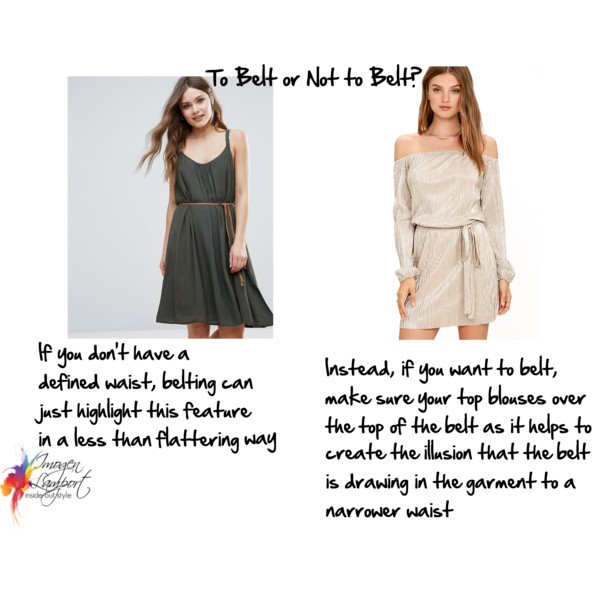 If you have an
H shaped body
(where your shoulders, waist and hips are a similar width and a shorter torso), it's generally best to avoid belting, or if you really want to, it needs to be an
angled belt that sits on your waist a the sides
, but goes down lower at the front, or you can belt and blouse so that you don't really see the belt as the blousing helps to give the illusion that your waist is narrower than it really is.
Want to know what your body shape is? You can take my free body shape bible calculator quiz here, or if you would like my professional opinion, you get this as part of my 7 Steps to Style program.

More Belting Tips and Resources