How do you know if your outfit needs a necklace or not?
The first place to look is at the neckline of your top as it will give you the answer to this question.
1. Your Top Is Densely Patterned
Does your top have a dense pattern, one that has little 'negative space' and is an "all over" kind of pattern. This sort of pattern may create enough interest in your outfit to create enough of a focal point that you don't need a necklace, or even that a necklace could be distracting from the print.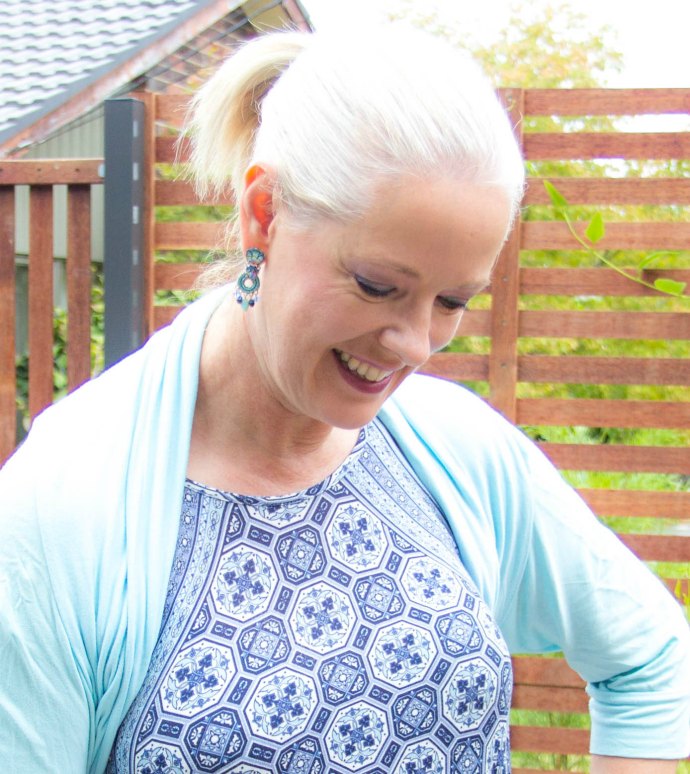 Here is an example of a busy dense pattern that just doesn't need anything extra added to it (though I do like to wear a more feature earring with this sort of print).
There are ways to choose necklaces to go with prints and patterns (get my tips on this here).
Dense Print or Pattern – No Need for a Necklace
2. The Neckline is High
Very often, when you have some sort of higher neckline (turtle neck), high, necklaces just don't sit well on them.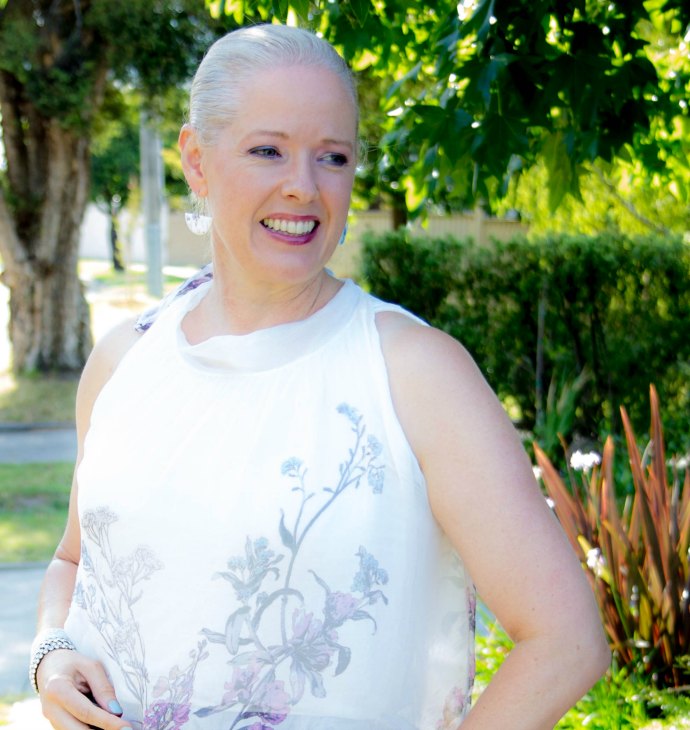 This top has a neckline that would be crushed by a necklace. It is the feature (along with the pattern) and needs nothing strung around it. Again, as it's a more simple neckline and I want to draw attention up to my face, I'm using a feature earring to do this.
High or Feature Neckline Shape the Doesn't Play Well With Necklaces – No Necklace
3. Neckline Has it's Own Feature or Embellishment
Has the neckline got built-in embellishment of some kind? Is it jewelled or studded? Does it have some sort of embellishment already?
This neckline, though simple, has a little embellishment and it's enough to mean that the top has enough detail that adding a necklace would detract from this built-in feature.
Built-in Embellishment or Feature Detail – No Necklace
4. Neckline is Plain
So your top is a solid colour and there are no extra details or embellishments? Then this is the time to add in that accessory. Whether it's a lower neckline or a higher one, you need to create a focal point and a necklace is a fast and easy way to do this.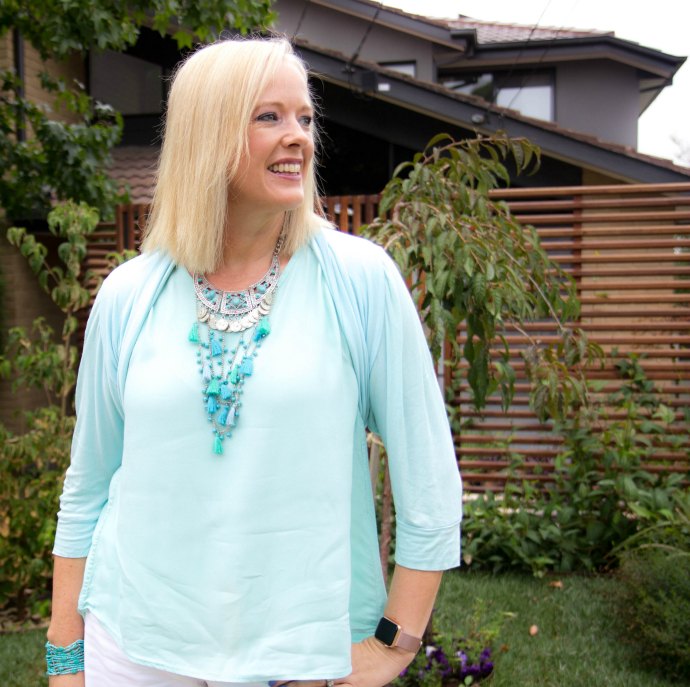 Here in this solid coloured top, no embellishment anywhere, this neckline is calling out for a statement necklace.
Plain, Solid Top – Needs a Necklace
5. You Want to Distract from a High Neckline
A high neckline makes a bust look larger, so if you can use a necklace to drape down and create a focal point that is lower and so, particularly if you have a larger scale necklace, create a distraction from the size of your bust (as a large scale necklace will make you bust appear smaller – discover more tips on dressing your larger bust here).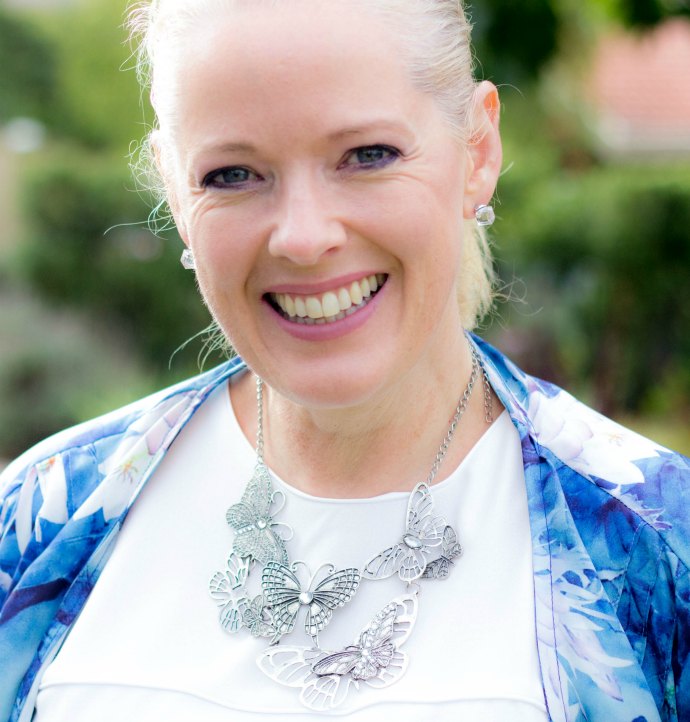 This larger scale butterfly necklace distracts attention from this high neckline top.
High Neckline and Large Bust – Say Yes to the Necklace
6. You Want to Change the Shape of the Neckline
Don't love the neckline? Sometimes a neckline shape may be not the best for you, but you otherwise love the garment, this relates to your defining features (more on that here). For me, really sharp V necklines don't work that well as I have a curved jaw and so the sharp V is not in harmony with this feature. What to do? Use a necklace to distract and cover the less-than-optimal neckline shape.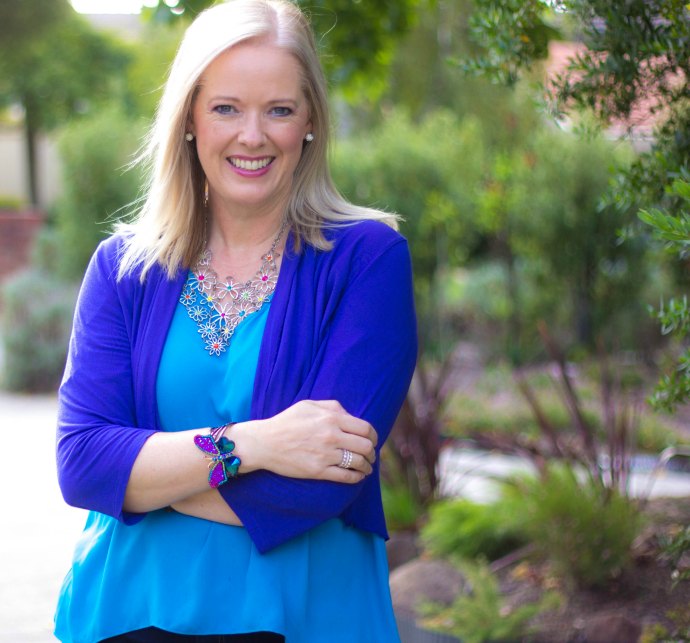 By draping this curvy shaped flower necklace over the top of this sharp V neck, it makes the V less apparent and sharp against my curved jawline creating harmony and balance with my facial features.
If you want to know more about your defining features an optimal necklines, you can find out this and so much more in my 7 Steps to Style program.
Unflattering Neckline – Wear a Necklace
There you have it, 6 simple ways to know if you should add a necklace or not to your outfit! You can also use scarves instead of necklaces if these suit your style too (or in winter when you need the extra warmth).
More Tips on Choosing Necklaces and Necklines
Understanding Balance Points and How They Influence Your Choice of Neckline