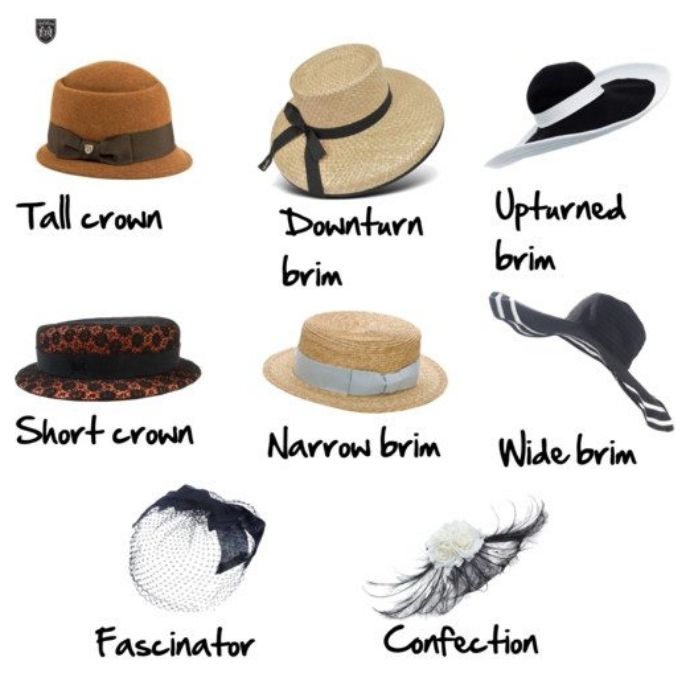 Firstly you need to know what your face shape is – you don't need to be overly specific, just about the length to width ratio – for more information on figuring out your faceshape which you can do by reading here.
There are two major points of a hat to consider – the crown and the brim.
Tall crowns will make you look taller.
Wide brims will make you look smaller.
Downturned brims will make you look shorter.
Upturned brims will make you look taller.
Wide brims will protect you from the sun more.
Wide brims and shorter crowns suit longer face shapes.
Short Faces need taller crowns.
Deep crowns – ones that your head fits right into, rather than the hat being perched on top of your head and full of air, suit long faces and should be avoided by short faces who need shallow crowns (the ones that sit up high on your head).
Berets work better on shorter faces shapes than longer ones.
Peaked crowns (like in a Fedora style) work well on shorter faces shapes as they give the illusion of more length.
Hats should generally be worn on an angle rather than just plopped straight onto your head. But try them forward, backwards, angled, to see what suits your face shape and hairstyle.
Many hats are made to be worn angled onto the right side of your head – so if you have a part on the left side you may need to swap your part over as the hat should sit on the side with your part so your hair volume balances the hat.
Hair Tips for Wearing Hats
A quick word on hairstyles – generally hats work better if your long hair is tied back, or with it straight and smooth tucked behind your ears. Too much volume from long hair can overwhelm.
And how to avoid hat hair? Make sure your hair is completely dry before you put on your hat. You will get some indentations, so try wearing a style, whether tied back or smoothed down that doesn't look odd with a flattened top. After you take off your hat, turn head upside down and run your fingers through your hair to try and get a little volume back into it.
More Tips on Choosing and Wearing Hats
How to Create a Spring Racing and Melbourne Cup Outfits on a Budget