When thinking about putting together an outfit once you've got the basics sorted (find out more about my Outfit Formula and choosing the best neutral basics for you) you may want a uniting or linking piece that ties other elements of it together.
This may be a garment or accessory that contains elements such as colours that are contained in other parts of your outfit already and it links the outfit together as a whole.
Sometimes these linking pieces may even relate back to your own unique features – such as your curly or two-toned hair – and I'll show you some examples of this in a minute!
Your linking piece will want to replicate elements of your existing outfit or personal features – creating a harmonising whole. Your linking pieces will use one or more of the following elements to create unity:
colour
texture
finish
pattern
A great linking piece is working with the principles of coordination – which are – volume, related shapes, related lines and the level of refinement.
Let's look at some examples.
Using Shoe Colour to Link Elements of Your Outfit Together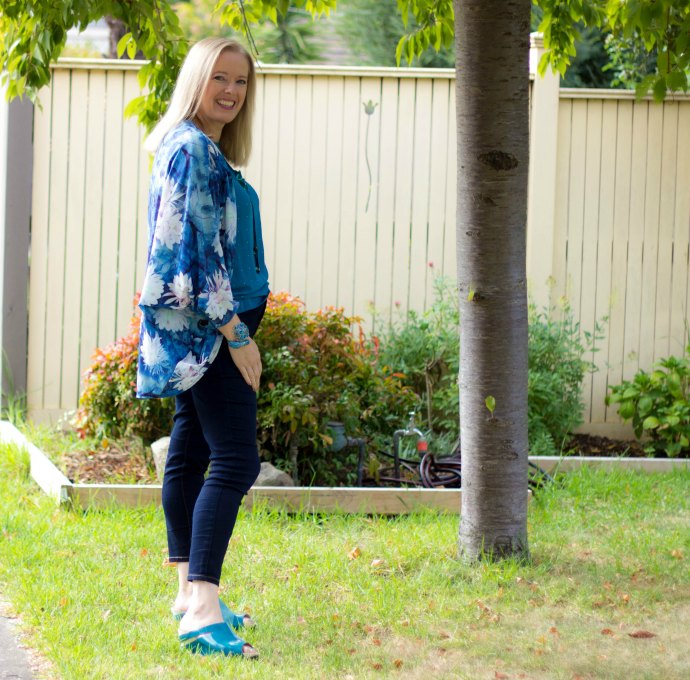 Here I've repeated the colour of my top in my shoes which links the shoes back up to the rest of my outfit creating harmony.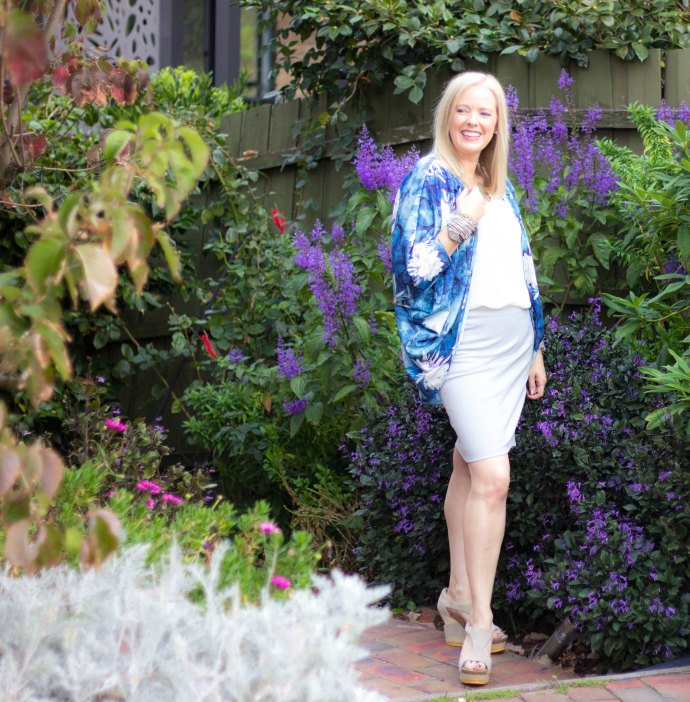 Same kimono – different outfit- and different shoes! This time I've linked the shoe colour to my hair colour (visual grouping) so there is a relationship between the shoes and the rest of my outfit.
Using Jewellery Colour to Link Outfit Elements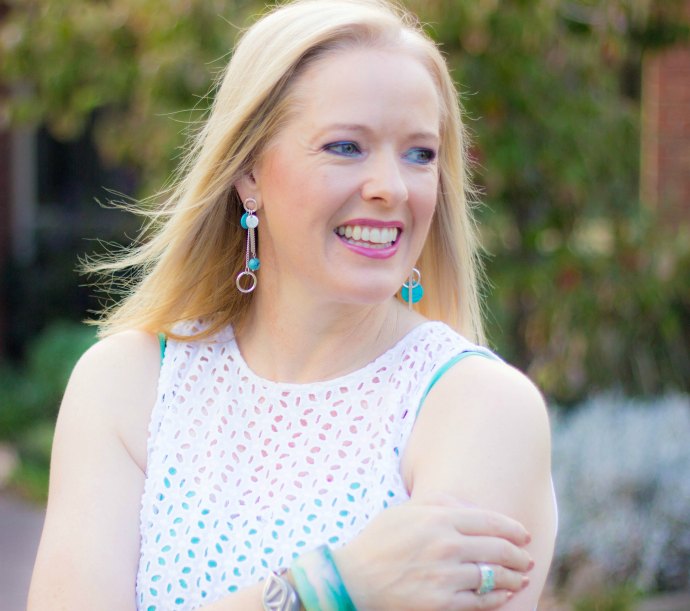 In this outfit – I've linked my jewellery (earrings, bangle and ring) colour to the colour of my cami, that you can see through the holes in my white top.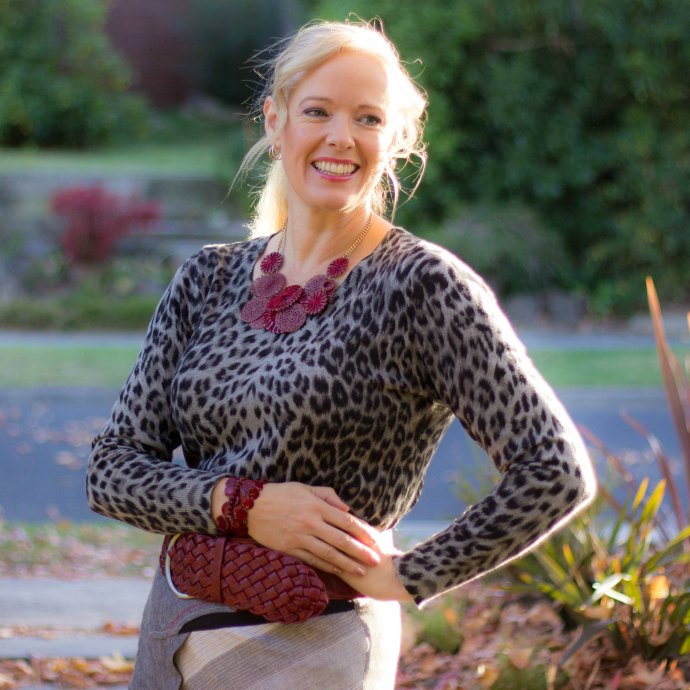 And here I've linked all my accessories in red together (another example of visual grouping) to create a more coordinated whole.
Related Shapes and Textures Link Items Together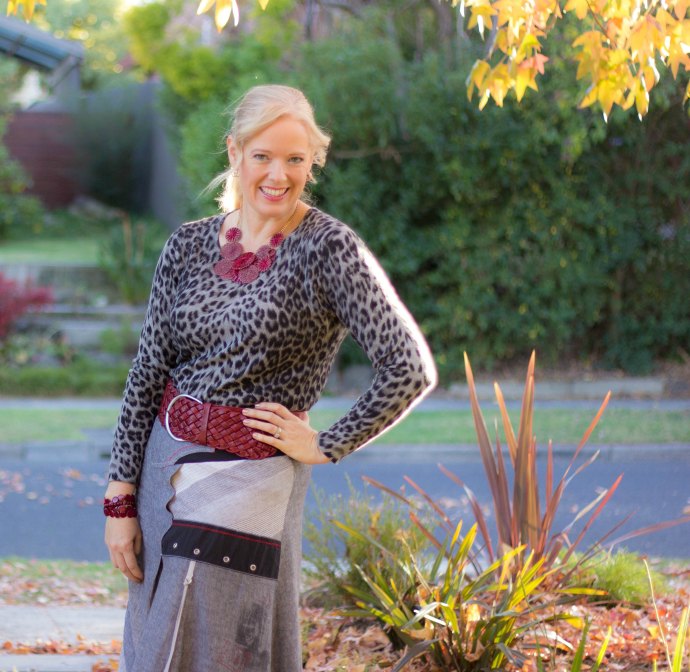 What you may also notice about this outfit – is that I've curled my hair (instead of wearing it dead straight) to go with the curved leopard print pattern on my top. The necklace made from multiple circle elements relates and harmonises with the curvey rounded shape of the leopard print too (a sharply angular necklace just wouldn't have related at all). And then the round elements on the bracelets also relates to the elements in the necklace and the curve of my curled hair.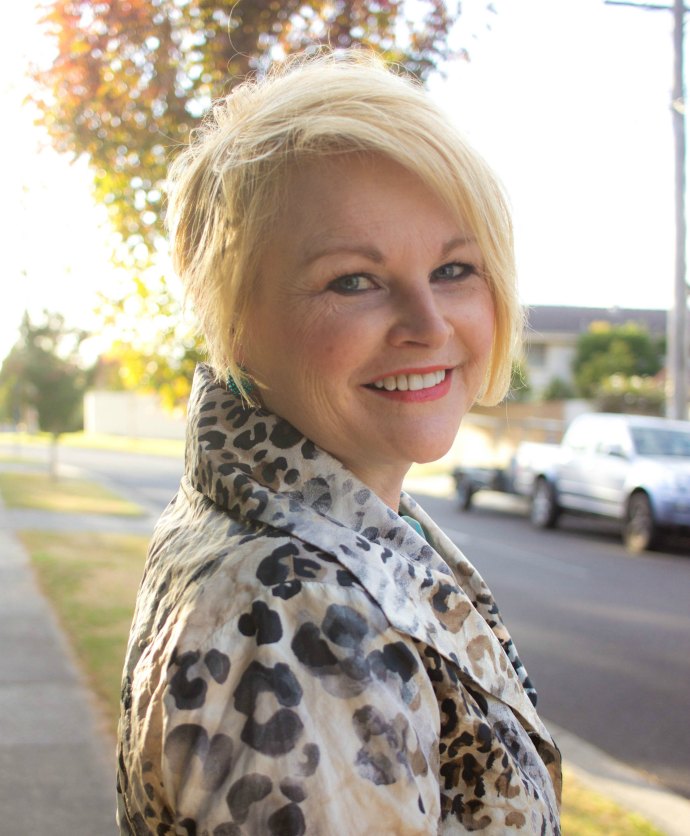 Jill Chivers uses leopard print to create harmony and unity with her freckled (patterned) skin. There is a relationship between the shapes of freckles and the shapes of animal prints which is why they work so well for her.
Colourful Print Scarves Make Great Linking Accessories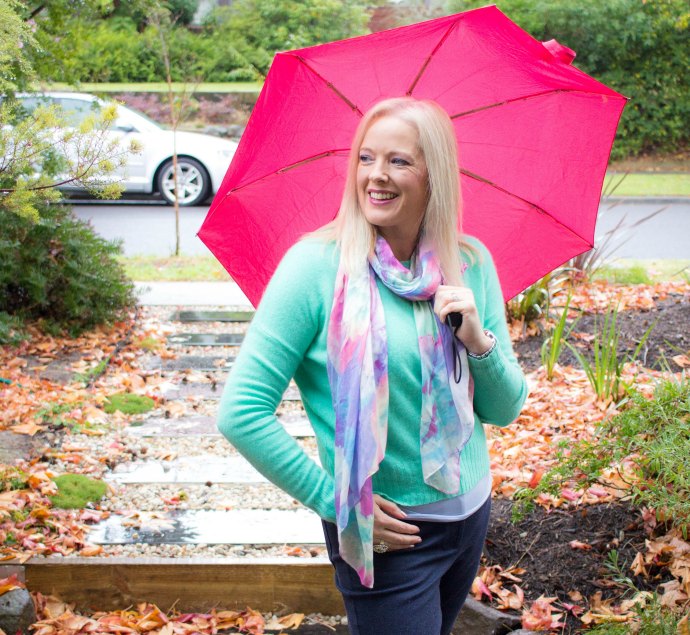 One of the easiest way of mixing colours in an outfit is to take your inspiration from a scarf (and I've got lots of examples here). Here the lighter blue of my under top and the mint green of my jumper are both contained in my scarf making it simple to put these garments together and know they work.
Jackets and Cardigans Make Great Linking Pieces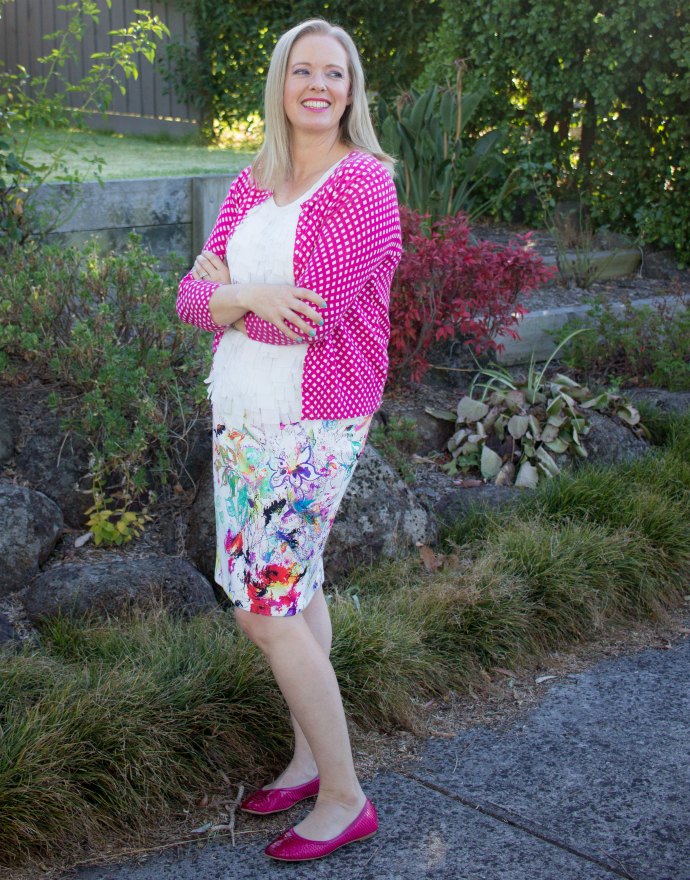 In this outfit the cardigan with its small white square on pink background links not only the square texture in my white top, but also the colour of my shoes and the pink elements in the skirt together (oh and also notice the nail polish links to the green in my skirt – totally – not planned, but so easy to do when you have a colour palette that you wear all the time and so everything co-ordinates – even your nail polish!).
Linking Your Shoes to Your Hair
Visual grouping can be done not only with colour but also with texture, sheen and pattern.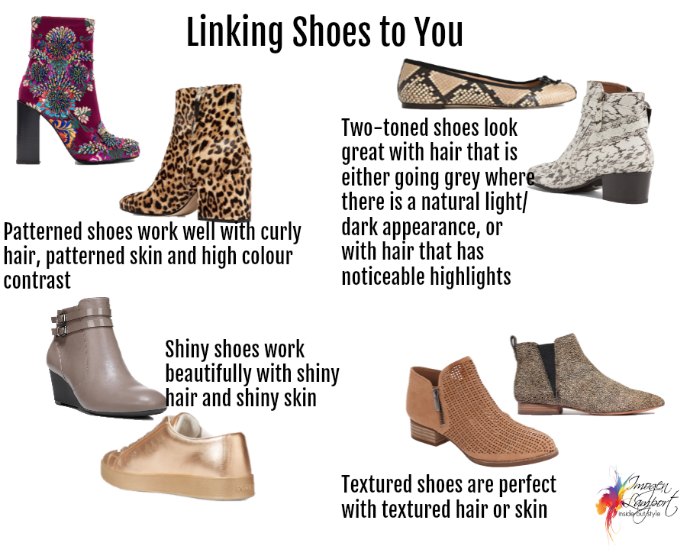 Print shoes – great for textured or curly hair or multicoloured (shades of grey, blonde and brown or dark roots with light hair or highlights), or if you have a higher colour contrast, then a multicoloured patterned shoe can also relate well.
Smooth and shiny shoes work perfectly with very shiny hair or skin that has a lot of sheen.
Textured finish shoes are great on those who have naturally more coarse or textured hair (or even a couple of wrinkles they'd rather people didn't notice so much).
So when you're thinking about putting your outfit together, consider what elements of your own appearance you'd like to coordinate with, as well as the other garments and accessories you're planning to put together in an outfit.
Get Your Style Education
Knowing the colour palette that works for you makes this whole process so much easier as you'll build a wardrobe of clothes that go together more naturally. If you'd like to discover the colours that suit you best – this is part of my 7 Steps to Style program – a colour analysis, and all the information you need on your body and it's particular features, to find out what elements of garments and accessories are the best for you.
More Tips on Choosing Garments and Accessories to Create Stylish Outfits
How to Wear a Multi-Coloured Item When You're Not High Colour Contrast