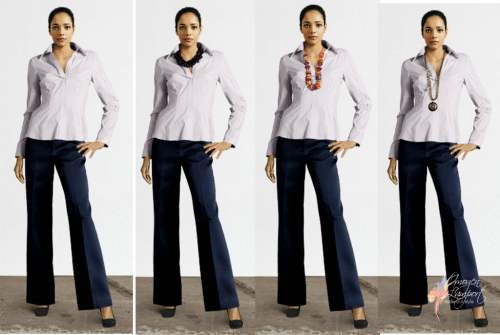 How to Choose the Right Length Necklace to Flatter Your Body
The other day I was reading something that said that if you wear a longer pendant that ends under your bust, then you will draw attention to the narrowest point on your rib cage and this is flattering for all. Sadly this is not true, as in fact as you can see from the pictures above, that where you end a necklace draws attention to that area.
Now we want to create a focal point and a necklace is a great way of doing that, you can see in the first picture that no necklace means that the eye keeps wandering around the body, you've given it no focus.
In the second picture you can see with a shorter necklace it draws the eye up to your face and neck.
The third picture creates a focus from the bust up to the face as it's longer, but will draw attention.
The last picture on the right has a pendant that ends just under the bust, and as you can see it draws attention to the mid-section which is not something many women who are H or O shaped (and some Vs want to do), if they are conscious of their tummy.
Ideally, if you have a tummy, wear a shorter necklace. If you have a slim waist (A or X shape), then you can wear the long pendant below the bust.
Advancing and Receding with Colour and Creating Focal Points
Download your free copy of my Top 5 Tips for Choosing and Wearing Necklaces now!