What are some of the considerations you should think about when choosing rings?
Scale of the Ring and Scale of Your Hands and Fingers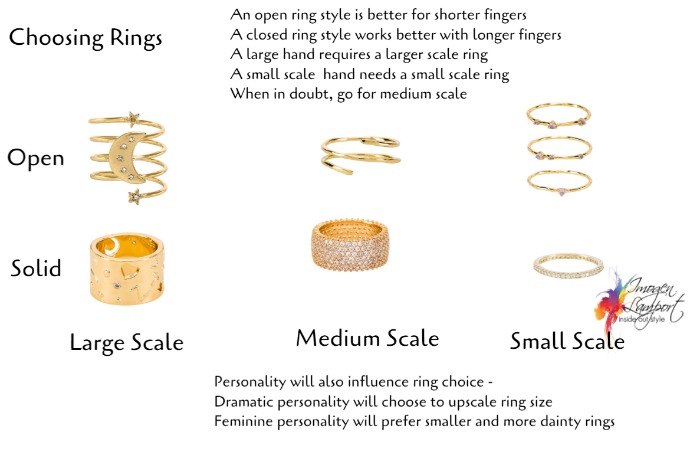 You will need to consider the scale of both your hands and fingers, and the scale of the ring.
The larger the scale of your hands, the larger the rings you can choose to wear. Remember that scale is about balance and harmony.
If you have very fine and slim fingers, smaller scale rings will work best.
If you have a fairly average hand, then go for medium scale (or if you're not sure, medium scale is always the way to go!)
An open ring never looks as big or large scale as a solid ring. So you can upscale with an open style ring if you wish to.
Then, of course, your personality will influence the scale of rings you choose.
You can upscale if you prefer a more dramatic look, or go for something finer if you are more feminine.
If you have a large scale hand or long fingers and your personality is feminine, why not stack a bunch of fine rings to create the balance and harmony?
How about a Dramatic personality and shorter fingers? Rather than upscale with a solid ring, upscale with a more open ring or multiple rings so that there is still some balance.
Your Personal Aesthetic
And then, of course, your personality and your personal aesthetic will come into play. What do you love? What materials do you enjoy? What do you like to look at? What speaks to your unique personality?
Whenever something is a personality piece, so many of the rules can go out the window as what you're wearing is an expression of who you are at your core. If you want to break scale rules, it's totally fine if you love the piece, if it speaks to you and represents who you are.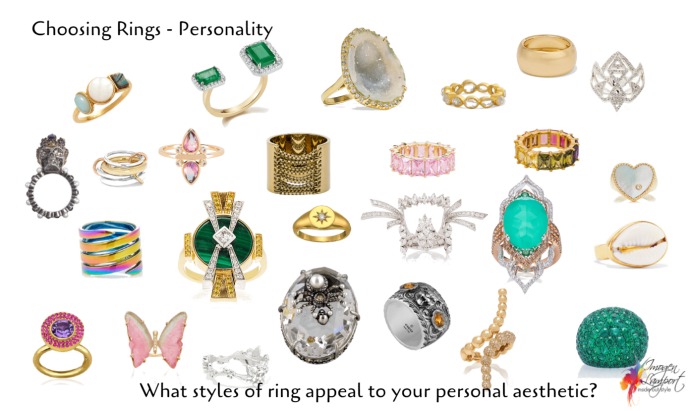 Here is a range of different ring styles – some you'll love, others you'll hate, some you'll just feel kind of "meh" about.
Which speak to your personality?
Which do you wish you owned?
What are they made from?
What do you notice in their construction or material selection?
What can you take away to apply to your ring choices?
Jewellery is such an expression of personality. As it's a finishing touch, it should be an expression of who you are and what you love.