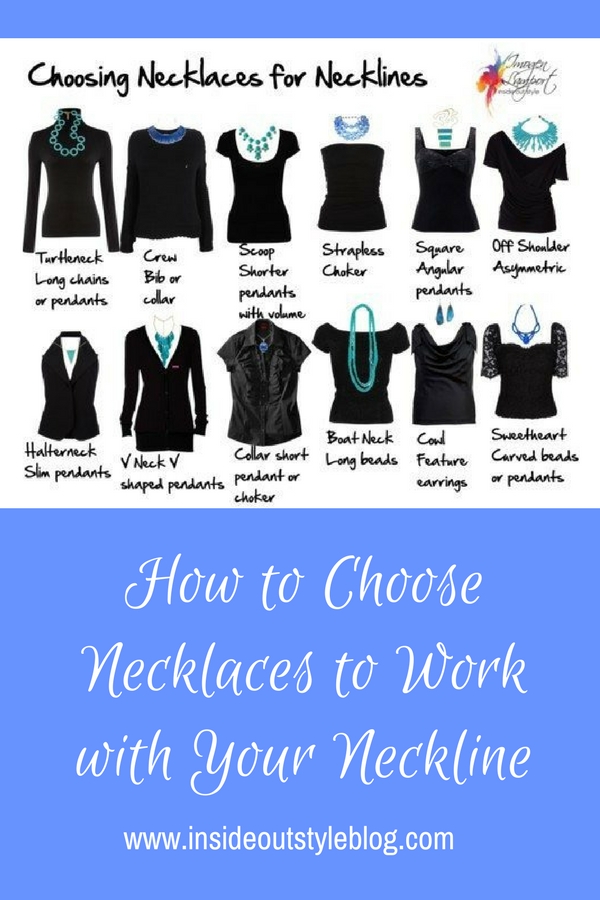 How to Choose a Necklace to Work with Your Neckline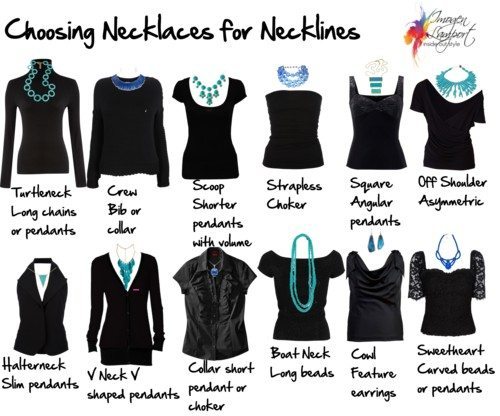 Different necklines look better with certain necklace styles.
Turtle necks – best with longer necklaces
Crew necks – best with short necklaces such as necklace 'collar' or bib styles
Scoop necks – fill in the space with multiple strands of beads or larger scale pendants
Strapless – look great with chokers or short pendants, leaving your lovely decolletage bare
Square necks – look for pendants with an angular finish to harmonize with the angular neckline
Asymmetric necklines – look for necklaces that aren't symmetrical, instead a necklace that has it's own asymmetry can work, alternatively a long string of different sized and shaped beads can work well.
Halter necks – these create a narrow V neck – so look for a narrow pendant with a sharper end
V neck – ideally a necklace that matches the shape of the V – depending if it's a wider or narrower V neck.
Collared shirt (button down) – there isn't much space for anything too wide, so a choker style works if you have a long neck, if not a slimmer pendant that sits above the last open button.
Boat neck – a long string or two of beads is ideal for this neckline.
Cowl neck – this neckline is already detailed and has volume, so either a short and small pendant or a pair of feature earrings instead of a necklace.
Sweetheart – a curved necklace that has width that will balance the open decolletage of this neckline.
Download this post as a printable PDF plus my other Top 5 Tips for Choosing and Wearing Necklaces.