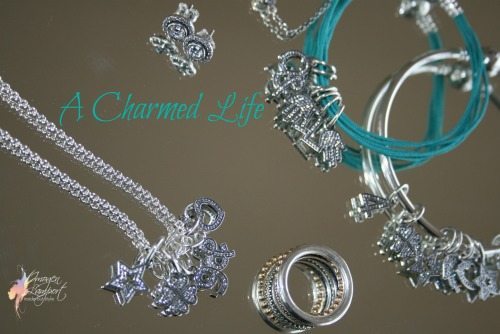 Who doesn't want to lead a charmed life?
Charms have been around for a long time. I bet you didn't know that people have been making and wearing charms for over 75 000 years! Originally they were made from shells, animal bones and clay. Later on from metals and precious gems (as they are these days). In ancient Egypt charms were used for identification and as symbols of faith and luck, and we carry on this tradition today.
I love jewellery, and I love to use it to wear it as an expression of who I am. You may have pieces in your jewellery wardrobe that are heirlooms or have sentimental value, so wearing them reminds you of things or people who are important to you. A collection of simple, elegant and minimalist jewellery is great as it can be worn separately or stacked together for a modern look with so many different outfits, from jeans to evening wear.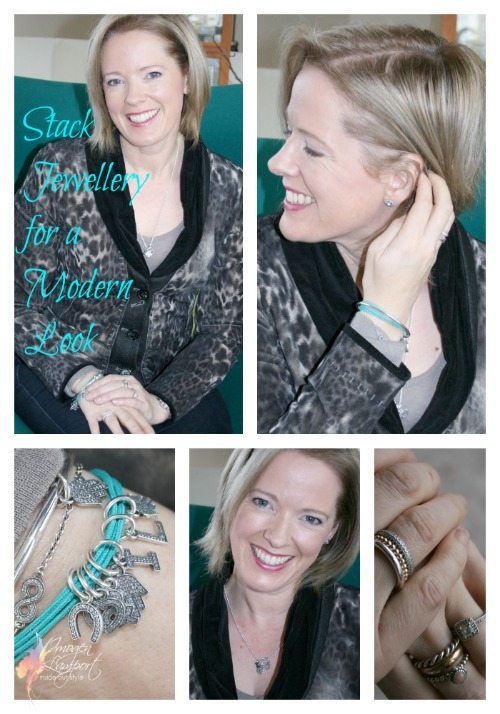 The right jewellery for you is something that you love, something that speaks to you and means something. If you're starting your jewellery collection from scratch, or looking for something new that has meaning, think about finding pieces such as these from PANDORA which allow you to create something unique that expresses something about you and the people you love. You choose the gorgeous sterling silver (or 14ct rose gold) and sparkling cubic zirconia letters, numbers and symbols that mean something to you and then add them to a bracelet, bangle or necklace. Maybe it's the birthdates of your children or partner, your anniversary or the first letters of your children's names. There are many ways you can quietly celebrate those who mean a lot to you. It's so easy to say it with PANDORA.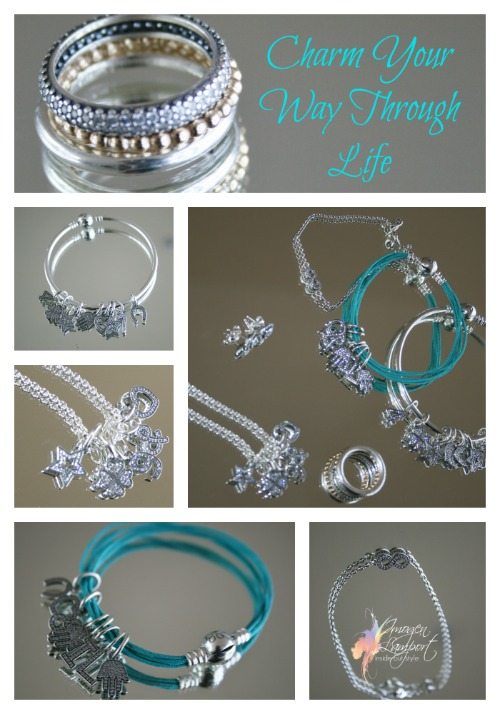 These charms are ideal as gifts for your loved ones. You can start with initials and maybe her date of birth, then when she graduates from school or university give her a star to celebrate. When she goes travelling alone for the first time, you can present her a four-leaf clover for luck. When she gets engaged add a heart charm, when married, give her a horseshoe charm to add to her collection. You can choose from sterling silver or 14ct rose gold or mix a selection of both.
Each charm will mean something special and significant to the wearer, the sentimental value alone will remind her of each precious memories.
How to Mix Metals
Not sure how best to mix metals? Think about having a 70:30 ratio of one to the other. If you have a warm complexion, wear more gold than silver. If you have cool colouring, choose the majority of your pieces as silver rather than gold. As long as it's uneven, one is dominant, it will work together.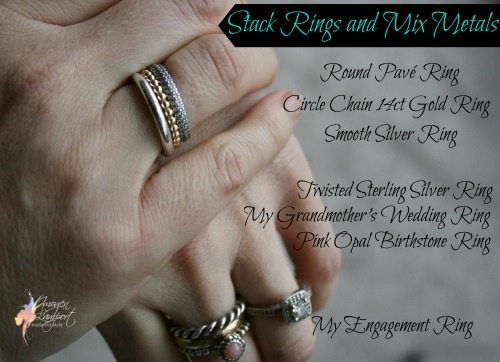 I love to wear my grandmother's gold wedding ring as it has specific sentimental value to me, she was the woman who had a huge influence on who I am today. When my mother was sick and dying (when I was three years old my mother was diagnosed with a brain tumour and died a couple of years later), my grandmother looked after my brother, and I until my father remarried. She was a fierce and determined woman. She didn't suffer fools, and she believed in discipline and hard work, but she instilled in me that I was capable and able to do anything that I put my mind to and took the action to achieve. Probably the most important lessons I could have learned in life that have helped me to succeed.
Keeping her ring on my finger is a daily reminder of these lessons, particularly useful whenever I doubt myself. Because I have cool colouring and find that silver is a more flattering colour on me, I need to mix her gold wedding ring with my silver PANDORA rings to create a harmonious and flattering appearance.
How to Stack Bracelets and Rings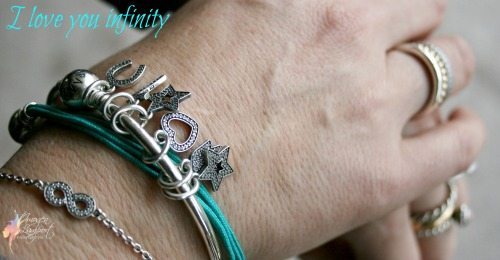 I love this infinity bracelet because my children always say to me "I love you infinity google Mum" and have done so since they were really young. It's a minimalist piece so I stack it with other bracelets like these charm bracelets which have a selection of other charms (including my initials) with glittering cubic zirconia (and I do love a bit of sparkle as it works with my sparkling personality, and shiny face).
When wearing jewellery, particularly small and more delicate pieces, don't be afraid to stack them together. Many people remember Coco Chanel's quote of "Before you leave the house, take something off" and they get scared of wearing too much. But when you look at photos of her, she's got layers of jewellery on (making me wonder just how many pieces she was wearing before she took something off!). Most people wear too little jewellery, rather than too much. They are scared of getting it wrong. When you choose pieces such as these from PANDORA you are guaranteed to have them working together. Not only can you find rings and bracelets that stack, they also make earrings and necklaces to finish your look.
With rings. If you have longer fingers, don't hesitate to stack rings like these. We love seeing collections in odd numbers, so three rings is a lovely number to try.