Hats come in all different shapes and sizes. They were very common back in the 1950s when it was polite and the right thing to do, to wear a hat when outside of the house. Here is the photo I mention in the video that my father took in 1958 at the corner of Russell and Collins Streets in Melbourne (Australia) one lunchtime.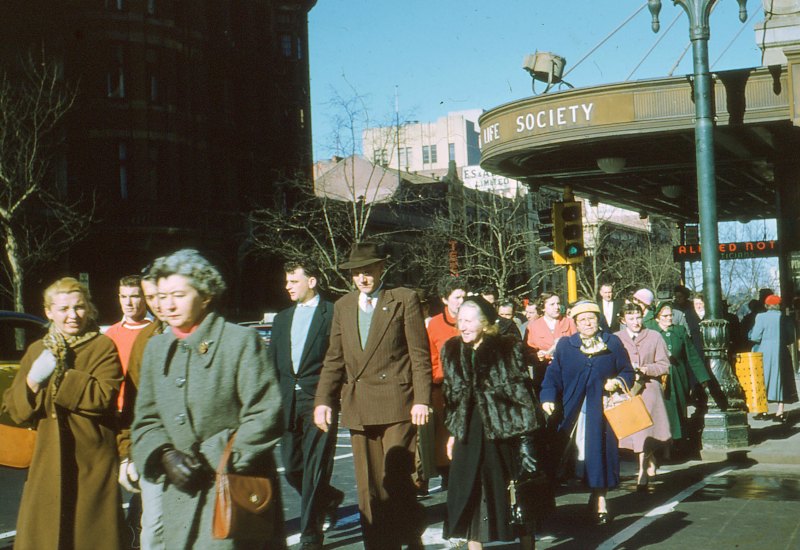 Hats went out of everyday fashion, but are coming back in, little by little. Not only the sun hat, that protects us from our harsh sun in summer, and the baseball cap that has long been a staple of the sportsperson. But now the fedora, the beret (that's coming back in a big way and I've been wearing them this winter too after I learned to crochet) as well as beanies, boho hats and fascinators.
In this video with Jill Chivers of Shop Your Wardrobe, we discuss hat and headwear options as well as hair accessories and how they communicate, the different dressing personality styles that different styles may appeal to.
How does your Hat communicate?
Which Dressing Styles are Most Attracted to Hat Wearing?

In my opinion, there are different hat styles that appeal to different personalities:
Creative – berets
Relaxed – baseball cap or beanie
Dramatic – fedora
Feminine – floppy boho straw hat
Dramatic – fur hat
Hats can make a statement and many of us, unused to wearing something on our heads, can feel conspicuous wearing them. But finding a hat that reflects your personal style will make a hat feel more "me" and therefore more mentally comfortable.

Head Pieces and Hair Accessories
Alice Bands – are associated with children, so can make us look younger
Decorated clips and bands are more feminine
Low Ponytail – More sophisticated
High Ponytail -More sporty, relaxed and fun
Feathers and fascinators are more feminine and fun
Up-Dos Personality Style
French Roll – Elegant
Messy bun – Relaxed feminine
Tidy bun – Classic
How to Create a Spring Racing and Melbourne Cup Outfits on a Budget