One of the other elements of choosing a necklace, along with the neckline, is creating harmony with the print or pattern or other design features of the garment it's sitting next to.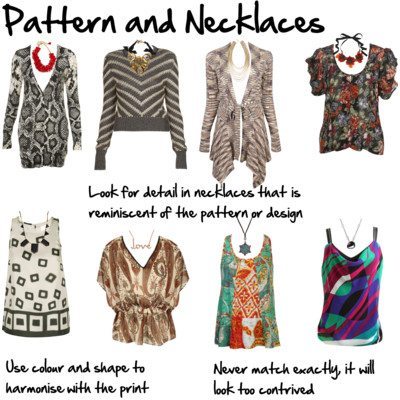 From left to right, top to bottom:
Snakeskin cardigan with multiple piece coral necklace – two naturally occurring shapes, made of many small pieces to make a non-symmetrical shapes and patterns.
Soft chevron design top with necklace that creates a triangular shape.
Drape cardigan with fine line pattern works with multiple strand fine necklace.
Floral top with different floral necklace, though colours work in harmony.
A geometric pattern needs a geometric necklace, if you put something fiddly and swirly, next to squares or plaid, it won't harmonise.
Paisley top in soft fabric with delicate cursive letter necklace in a colour that blends. Notice how the curve of the letters works with the curve of the paisley.
Taking a queue from the colours in the multiple pattern tank, and the shape of the dominant pattern in the centre front, works with the turquoise star made from multiple small pieces. Notice how the star pendant is not the same as the centre pattern, matchy matchy can look way too contrived.
Soft geometric inspired top works with the soft asymmetrical pendant with colour and shape harmonising with the pattern.
These are just a few ideas of the way you can choose necklaces to suit the pattern or print in your garment.
How do you choose what jewellery goes with your patterned garments?