Elevate Your Look with Informed Jewellery Decisions
Learn why there's no right or wrong choice in jewellery; it's about what you love and how it resonates with you.
In this interview with Carol Karl, the final in our current series (if you want more let us know in the comments and tell us what you'd like us to cover) we discuss all about choosing texture or smoothness in your jewellery and outfits
Watch the Video Now
What to Look For In Jewellery – Matte, Sheen or Shine?
What harmonises with your hair and skin, matte, sheen or shine? This is how you decide on your best textures and sheen for both clothing and jewellery.
If you have shiny skin, then jewellery and fabrics with shine work really well. Whilst if you're matte and have fairly matte hair, then matte jewellery finishes and matte fabrics are best.
It's important to remember that shine draws attention, and can make an area look more apparent – so don't wear shiny where you don't want a focal point!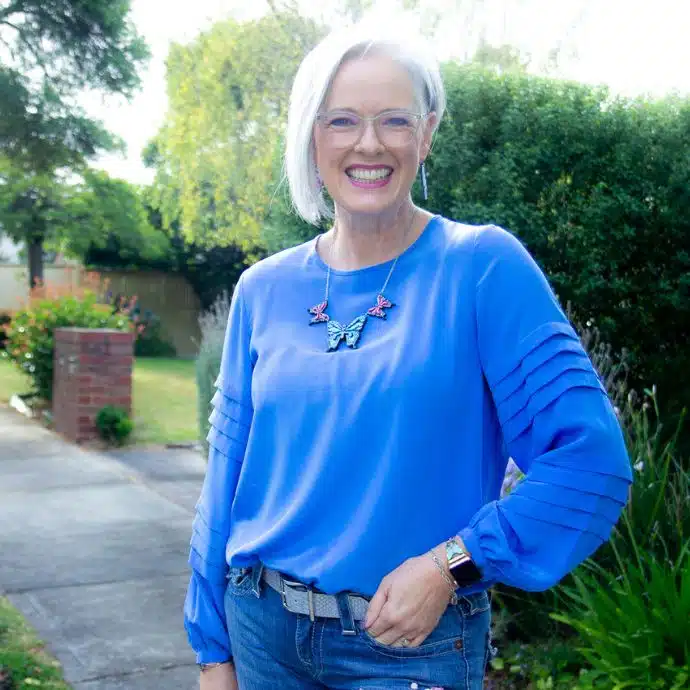 Here I'm wearing a silk blouse with a slight sheen that goes well with a necklace that also has a slight sheen.
Texture – Curly, Coarse, Smooth
Is your hair textured in some way? Maybe it's naturally curly or wavy, or maybe you have a textured cut or your hair is naturally more coarse. If this is so then look for faceted beads or textural elements in your jewellery and the fabrics you wear, rather than wearing all smooth fabrics and jewellery.
Remember this is a continuum, from highly textured all the way to completely smooth. You can find out more about choosing the right texture and sheen for your skin here.
There are finer textures such as lace to heavy textures such as boucle or boiled wool or even fur. With beads, facets create more texture if that's something you're after.
If you have smooth, flat hair, then smoother-surfaced beads and fabrics will look amazing on you.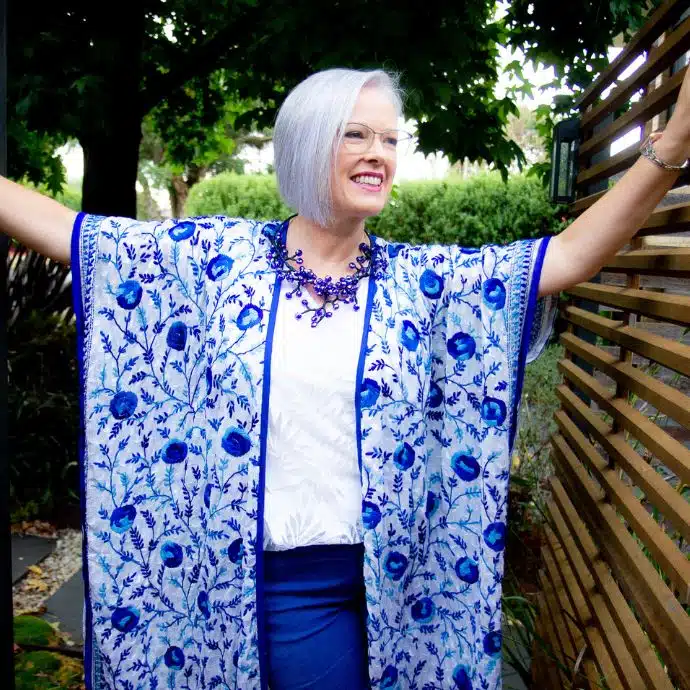 A pattern can add the feeling of texture as well and works well with textural jewellery.
Balancing Texture and Sheen in your jewellery choices
Particularly in jewellery, you'll find that you can have combinations of texture and sheen in one piece – such as a shiny faceted bead – which has both elements of texture and shine. Whilst a pearl is more sheen and smooth.
Finding your best balance will always make you look your best.
When choosing the right metallic for your palette, a more muted palette will suit a more brushed metal whilst a bright palette of colours suit a more shiny metallic.
How you wear your hair can influence what works, you can see how by changing my hairstyle I can easily add more texture in this post.
There is no one really right or wrong thing to choose!
You have to love it first, and if you do it may be related to your personality. When you repeat what you see in yourself in your jewellery and outfits you'll always look your best.
When you can make educated choices by getting the style education you need (that you never got growing up) means it's so much easier for you to shop or make the right selections of elements when designing and making your own clothes and jewellery. This is why you can find out more about this in my 7 Steps to Style program where you also get a colour analysis and body shape analysis which are integral parts of defining your personal style.