Perfecting the Art of Accessorising
Do you want to know the secrets of how to accessorize with style?
The Finishing Touch: perfecting the art of accessorizing is over 100 pages of useful and easy to apply information on how to add style to your outfits with accessories.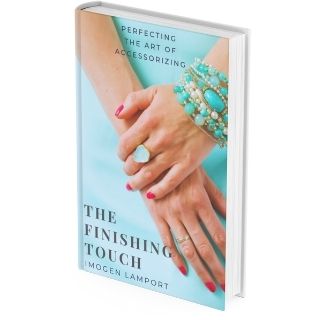 Perfect the art of accessorising today!
This fully illustrated eBook contains loads of colour pictures to help you choose the accessories that suit your body shape, flatter you, and work with your outfits. Watch a short video about the contents of The Finishing Touch.
Why accessories matter
How to change your accessories to change your look
Create focal points
What to splurge on what to save on
How to figure out your face shape
How to choose a necklace to work with your neckline
More than 20 ways to tie scarves
Not only that there are chapters that cover:
Shoes
Handbags
Glasses
Hair Accessories
Rings
Belts
Necklaces
Don't just take my word for it
"Think about the last accessory you purchased. Do you love it and are still wearing it frequently, or does it sit in your drawer or on your shelf, unloved and unworn? Many of us don't know what accessories work for us — our bodies, our personalities and our lifestyles — and are therefore worth investing in — and which ones we should save our hard-earned money on and leave in the store. In this comprehensive and colourful e-book, you'll learn all you need to know about creating the perfect finishing touch for your outfits. This is a gorgeous workbook, filled with helpful hints and illustrations. And all for less than what you probably paid for your last, unloved accessory! Imogen is a master and making people look and feel good – and this latest in her line-up of fabulous resources is worth the read!"
Jill Chivers, Shop Your Wardrobe, www.shopyourwardrobe.com
I was thrilled to receive the new e-book from Imogen Lamport, a colleague from Melbourne who is a total inspiration. Entitled The Finishing Touch, it's the book I wish I'd written – and I can't say more than that. Focusing on accessories, Imogen demonstrates how we can use them to give any outfit ( from the truly casual to the extremely elegant) that 'je ne sais quoi'. As it's chock full of explanatory photo's it's really easy to follow and so well explained that I might just be out of a job!! It's very comprehensive, covering everything you're ever likely to need and other things you never even thought about. Combining traditional expertise with up to date clothing and text with graphics means that every learning style is covered and every style personality too. A 'must-have' e-book that you'll use time and time again and I'll bet it will never let you down. It's a style guide that no-one should be without.
Sue Donnelly – author of The 80/20 Makeover, Heading South and Feel Fab at 50
The Finishing Touch is like a written down session with Imogen, there's heaps of useful information about different types and sizes of accessories to choose, how to pull together 'a look' and why certain styles work well together. I find Imogen's thoughts on scale & placement of accessories to be particularly helpful. I used to be too scared to wear accessories in case they weren't right for me, or I'd wear things that clearly didn't work – now I can accessorise with confidence!