Want to look taller and or slimmer? The column of colour is just one of the many illusion tricks I can teach you, so that you can become your own clothing magician. The column of colour is a great trick to elongate your body
When we think about using lines to create the illusion of length and/or slimness – vertical lines lengthen and horizontal lines shorten and broaden. Verticals lengthen because they go up and down (giving height) but also because our eyes move along them more quickly than they do on horizontal or curved lines.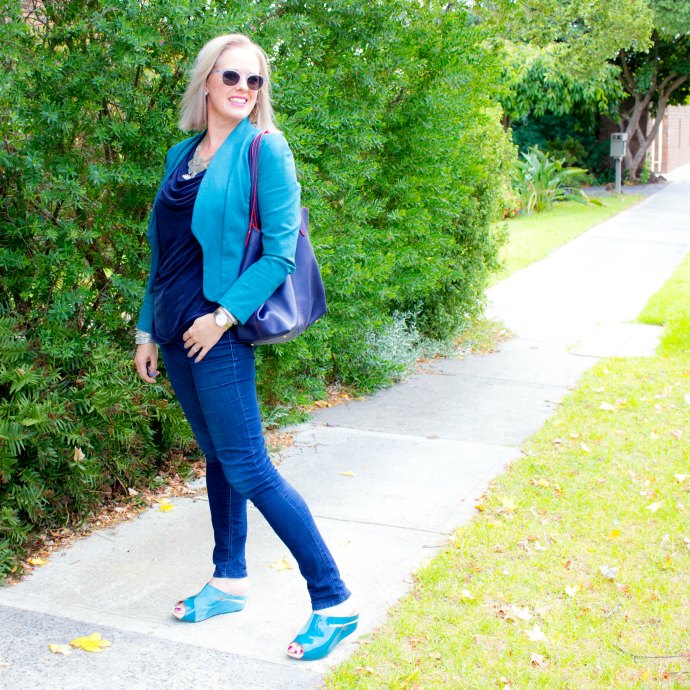 Creating outfits that use the column of colour concept is a simple way to look taller and slimmer. By using an unbroken line of colour in our upper and lower body, you are creating a longer vertical line for the eye to travel along.
A column of colour can be created in two ways:
Through the centre of your outfit using a dress or a top and bottom of similar colour and value

Through the outside of your outfit by choosing a cardigan or jacket that is a similar colour to your trousers or skirt.
Each type of column of colour creates a slightly different slimming illusion. For A, X, 8 shapes who want to draw attention away from their hips/bottom/thighs, an outer column of colour works best. For H, O and some V shapes who want to hide their tummy, an inner column of colour is ideal
Petite women have even more need to create the column as their canvas is smaller, too many details will overwhelm their smaller frame. Dresses are fabulous for you as they do that in one garment. Keep your dresses to either knee length, or go maxi, but remember if you go maxi, not too much fabric, a lean fluid line is what you require.
Choosing the colour of your column
A darker column will be more slimming (and remember it doesn't have to be black), but it's not the only way. The joy of the column of colour is that because it elongates, just by being an unbroken vertical line. There is no need to be completely one shade head to toe, as long as you create a column of colour through your body, you can use other colours to make your outfit more interesting.
The colours don't have to be exactly the same. You want to make sure that each of the colours isn't so different that you cut yourself up into two pieces. When you choose all colours of a similar value (that means lightness or darkness) you will find the eye is more likely to keep moving when the colours are related in value. Analogous colours of similar value don't create a widening horizontal line and neither do monochromatic patterns.
Here is a post with tips on how to create a column of colour using patterns including a third piece, and one where you just create the column with only 2 garments where one is a pattern.
It's very easy in the cooler months to add the third piece to create a column of colour. In summer or warm climates, it can be harder to elongate yourself with the column of colour, as we tend to dislike layering so much. You can add accessories to your portrait area to draw attention to your face or add a third piece such as a kimono, caftan and other sheer items to add variety to your column of colour.

Textures
If the thought of wearing one colour from head to toe seems too plain for you, then you might try adding a variety of textures to add interest. A combination of smooth and texture gives an outfit depth and adds an extra bit of sophistication, making it look more interesting, eye-catching and attractive.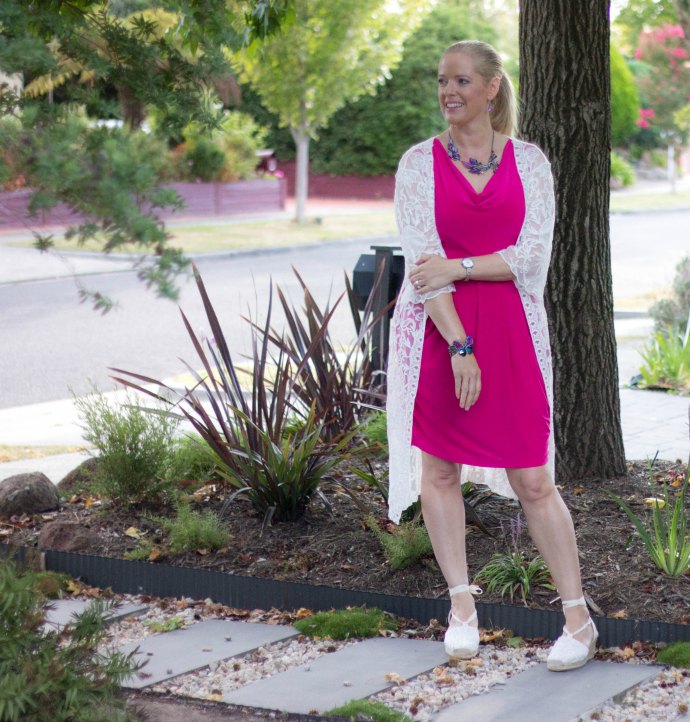 In this outfit, I'm wearing an inner column of colour to elongate and the bright colour highlights the texture and pattern of the sheer lace duster turning it into a feature.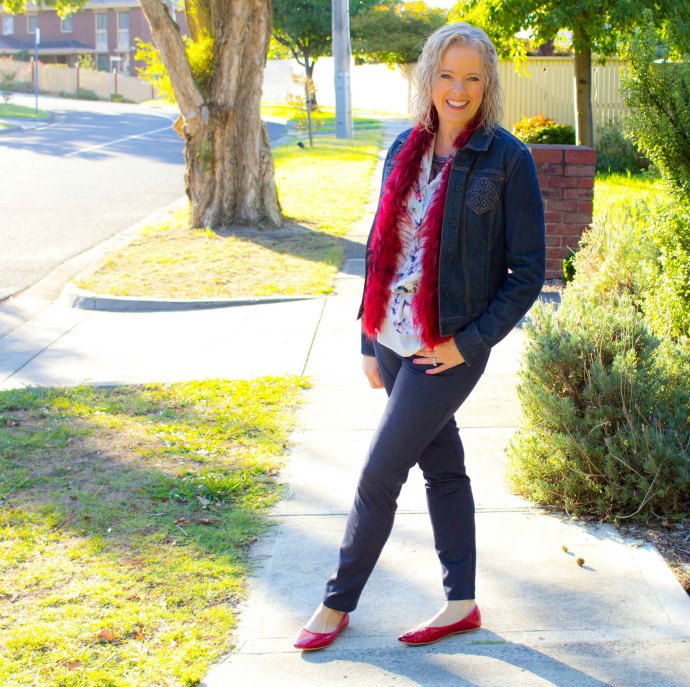 Here I'm wearing an outer column of colour. I've left my hair wavy, it helps add more texture to my outfit to create harmony so this textured furry vest worn under my denim jacket adds that element of fuzz that compliments my wavy hair.
What about footwear?
Don't forget that if you want the most elongation, you need to continue the unbroken line of colour through your feet . Your shoe color doesn't have to be the same as your outfit. But if you colour blend your shoes to your trousers or to your skin, you will create the longest, leanest lines.
With trousers, leggings or hosiery, this means matching the items so we don't notice the items as they blend into each other.
If you're wearing a dress, skirt or shorts, then choose a shoe in a colour that relates to your skin tone – the nude shoe, as it makes the legs appear to start from the toe, rather than the ankle.
Further Reading
How to Get the Right Contrasts and Value with an Inner Column of Colour
Creating a Trans-seasonal Capsule Wardrobe Using a Column of Colour