A column of colour is a great way to remove obvious widening horizontal lines from your outfits (find out all about how horizontals work here if you're not sure!).
Now a really great way to draw less attention to your tummy is to create an inner column of colour, which includes a third piece (topper/jacket/cardigan) of some nature that creates the right value contrast for you.
But how about in summer when it's too hot to add that layer, or just when you don't want to?
How do you create the right value and colour contrast with only 2 pieces with a column of colour?
The answer is simple – make one piece a patterned piece – you just have to get these elements of the pattern right for it to work!
How to Add a Pattern to a 2 Piece Column of Colour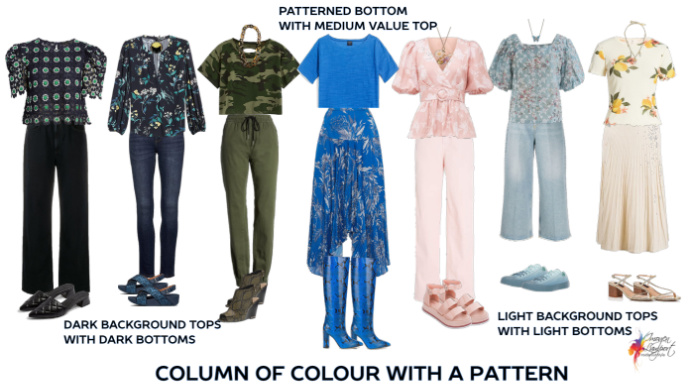 1. Print Background
Keep the colour and value of the background of the printed garment to both your ideal value and the same as the value of the garment you're pairing it with.
You can see in the image above I've selected prints with very similar coloured backgrounds (the negative space of the print) as the solid garment's colour.
2. Print Contrast
Ensure that the contrast of the print is in line with your own colour and value contrast needs. So if you are low-value contrast, the print is a low-value contrast. If you're high it's high etc.
If you look best in multiple colours with a higher colour contrast – the print needs to include more different colours.
If you look best in one or two colours with a neutral – then the print should reflect this too.
You can see will the illustration above that you want the eye to see that the top and bottom blend with each other really well so create the unbroken vertical with colour.
You can see a variety of examples in the illustration above – both higher and lower value contrasts as well as higher and lower colour contrasts.
The density needs to be sparse enough that what you notice first is that the colour of your solid garment blends well with the background of the printed garment. If it's too dense it may create too much of a difference between the two pieces you're putting together, particularly if it's a higher value or colour contrast.
4. Top or Bottom?
You can see it really doesn't matter if your print is on the top or bottom – though you will find that the print will draw more attention, so you may want to select your printed or patterned garment to be on an area of your body you're happy to draw attention to and make the focal point of your outfit.
5. The Cheats Way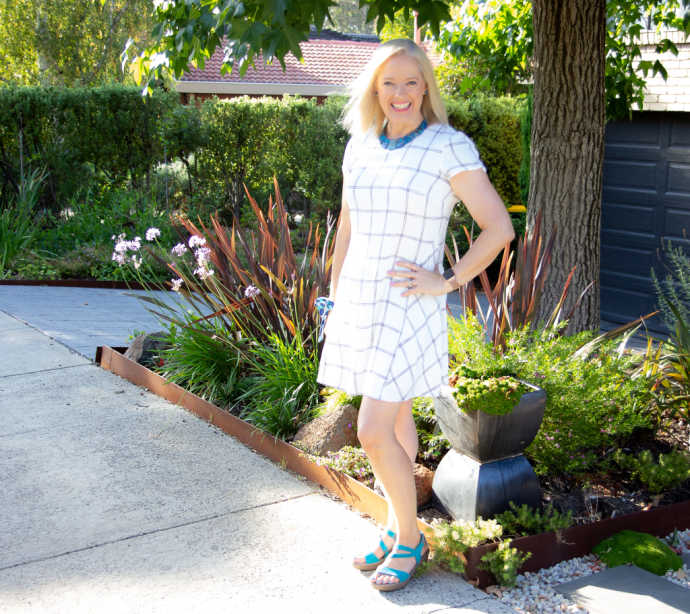 Instead of pairing garments together, just wear a dress! A print or patterned dress where the print is uniform over the whole dress is the simplest way to add that pattern and still use a column of colour in your outfit!
More Column of Colour Tips Here