Imogen,
Would you consider addressing the best way to create a column of color with some examples? I try to dress this way and wear mostly dark wash denim or black ponte knit pants. I would like to expand the my choices on the top. A bit more color and some shoe/ boot options. I get very boring and neutral on the top with my gray, black, navy palate. As autumn and winter loom I would like to add some rich color to my wardrobe and still keep that vertical mine connected. Thank you for any suggestions.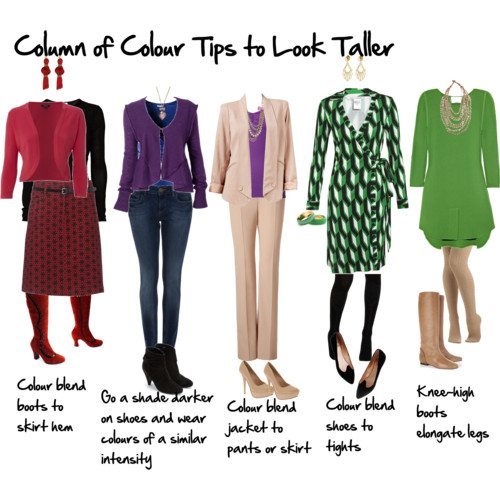 For someone who is petite, a column of colour (that's wearing similar colours head to toe) is a really great way of elongating your body and making it appear longer. Each time we change colour (from shoe to hem, top to bottom) we shorten (and widen) our bodies. Petite women have even more need to create the column as their canvas is smaller, too many details will overwhelm their smaller frame.
Here are some general rules on creating a column of colour :
1. Blend shoes to pants, or shoes to legs
2. Wear a dress, then blend or shoes to hosiery
3. Wear jacket and pants the same colour and colour blend your shoes, you can then add a different colour as a top to create interest
4. Choose colours that are similar in intensity and either monochromatic or next to each other on the colour wheel so that hemlines are less obvious
5. Wear knee-high boots when the weather is right for them.
Here are some more examples: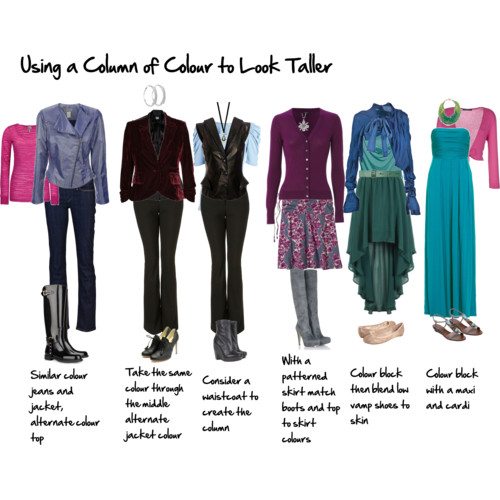 Petite Tips:
If you're petite don't wear lots of different jewellery, focus on one focal point with jewellery. Earrings, brooches and necklaces are all ideal as they draw attention up towards your face.
When wearing skirts and dresses always team with a low vamp shoe for maximum leg length.
Maxi dresses are a great way to look longer, just make sure it's not too voluminous for your frame.
Colour blocking is a fun current fashion trend, you can do it, but keep it more simple and choose 2 colours not more.