One of the easiest ways of creating a longer slimmer appearance is to wear a column of colour (and I've written extensively on this topic in multiple posts which you can look through here).
Now what I'm finding is that there are a lot of questions about how to create a column of colour that is the right ideal value and colour and value contrast. So here are some tips.
Dark Ideal Value and Column of Colour
Dark ideal value = dark hair
For many with a dark ideal value most of your bottoms will be dark naturally (in fact that's pretty much common for all of you). But if you don't want a light value topper and want an inner column of colour (which works best for H, V and O shapes).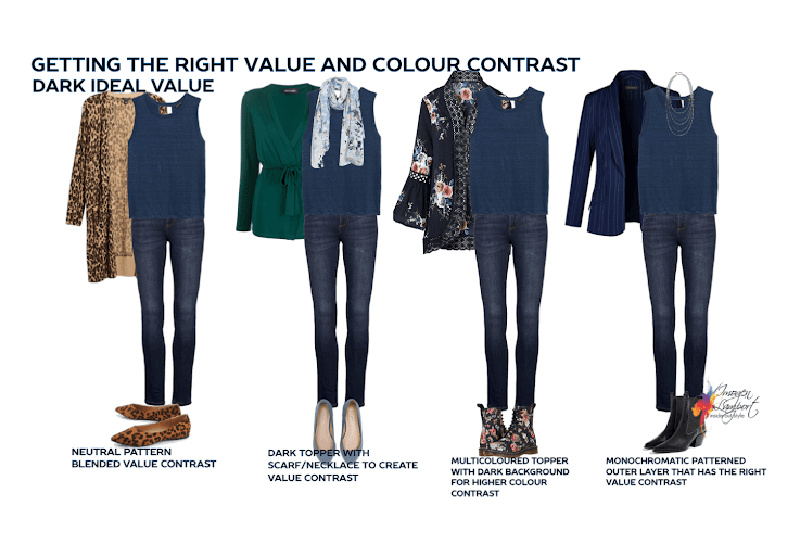 If you have a dark ideal value – look for a dark inner column then create your value contrast using an accessory such as a scarf or statement necklace, or a topper such as a cardigan or jacket.
You can also create your ideal colour contrast with your accessory or top layer (if you're wearing one) too!
Medium Ideal Value and Column of Colour
Medium ideal value = medium hair (neither dark nor light)
Light ideal value = light coloured hair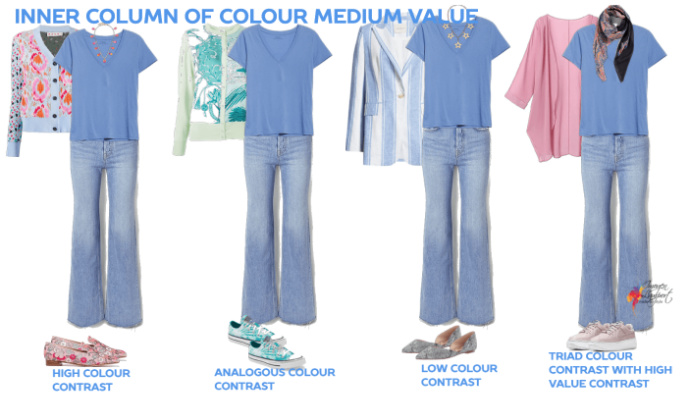 Here's an example of a medium to medium-light value column, what you put with it will create the contrasts – both colour and value.
I haven't pictured it, but you could add a dark topper if you have a darker ideal value as an option too!
Remember that it doesn't have to be garments that create the value – accessories such as scarves, brooches, necklaces can all do some of the heavy lifting for you!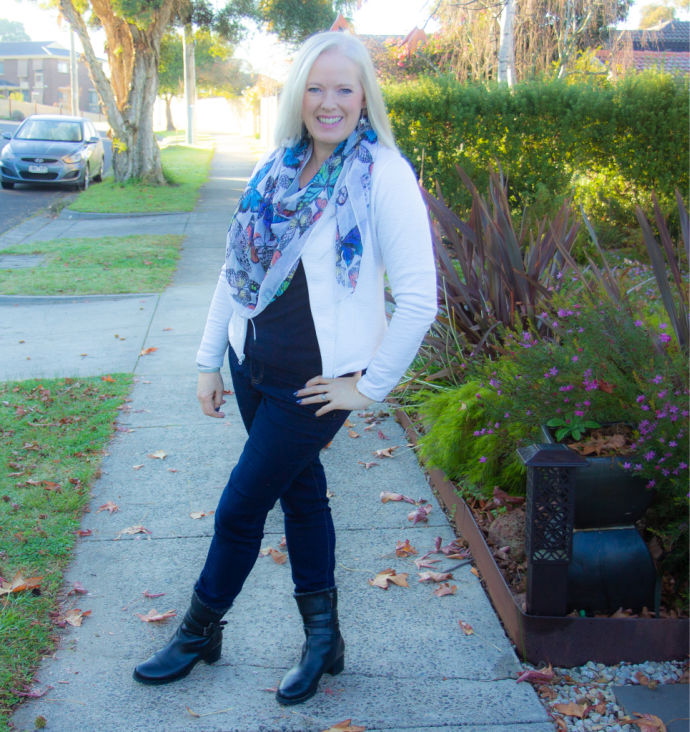 Here I'm wearing a dark inner column of colour, but I've put the right ideal value (light) for me as a top layer and them added the scarf which includes medium colours to step between the dark and light values and make the whole outfit wearable for me with a medium value contrast. The scarf also adds some colour contrast to the outfit as well.
Not Sure of Your Ideal Value or Contrasts?
Discover yours here with my simple 3 step process, or if you'd like my professional opinion I give it as part of my 7 Steps to Style program which includes a colour analysis and body shape analysis.
More Tips
Getting Your Head Around Value and Contrast – the Celebrity Version