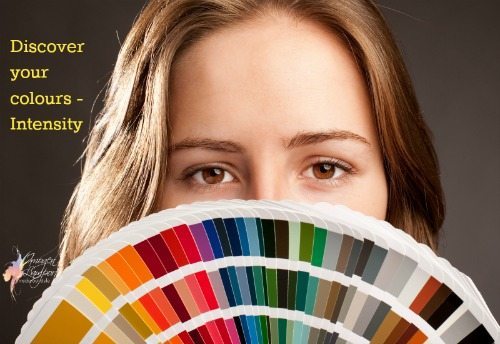 Ok, so hopefully you now have some idea of whether you are warm or cool and your undertone vs overtone from these posts. Now it's time to figure out your intensity – what is intensity? It's the saturation or brightness or dullness of the colour. Albert Munsell was the man who figured out that colour wasn't just one thing – but a combination of several elements, he called intensity the chroma.
What is chroma? Colours are called chromatic. Black/White/Grey are called achromatic. So the chroma scale is the gradations of a colour from it's brightest intensity (highest saturation or pure colour) down to the point where it's a version of grey with a whisper of that colour left.
From this picture, you can see the green going from the brighter end, right down to a dull grey. Whether or not you suit the brighter, middle or duller version of a colour is based on your intensity.
When we are about 20 we're at our natural brightest – if we have bright eyes and clear skin, and our hair is an intense colour (brown, black, bright blonde) then we are more likely to be able to wear bright or clear colours.
As we age and our hair starts going grey, the bad news is, not only are we losing pigments from our hair, we're also losing pigments from our skin and eyes so need to start softening down the colours, as the high-intensity colours start to wear us instead of us wearing them. This is why so many women of a certain age feel they are becoming invisible, as grey is a receding colour, they are less noticeable than all the bright young things whose colouring makes them advance.
So then you think, shouldn't I wear bright colours to make me more noticeable as I age? The answer lies in the concept of simultaneous contrast.
But wearing colours that are of a similar intensity to your colouring will actually make you appear brighter.Notice how the centre dots appear to be different intensity depending what they are next to. So the grey dot is brightest when next to a duller/darker grey, whilst the orange dot is brightest next to the cobalt blue (and this is a concept of complementary colours you can use to brighten your eyes and colouring, fodder for a future post).
So go and find a colour (in either a warm or cool range depending which suits you) in different intensities and try them on and do the 'blink test' that's where you shut your eyes then open them (standing in front of a mirror) and see what you want to look at first – your face or the colour. If it's the colour, the colour intensity may be too bright for you and taking away the attention from your face – so if you place that brighter colour on a body part that you don't want people to notice, what will happen – attention will be drawn there. If people are drawn to look at your face because the colour intensity works for you, then they won't notice that body part you're keen on camouflaging, instead, they'll notice your beautiful visage.
This is also why at 40 or 50 dying your hair back to your 'natural' colour may no longer suit you – your skin has lost the intensity that worked well with that natural colour you had at aged 20, your current natural colour is the colour of your hair as it grows from your head. So you may need to tone down the colour as you age so that it's not so harsh on your skin. For instance, I used to have black hair (which is a 1.0 in hairdressing terminology – also based on the work of Albert Munsell), now, I use a brown that is a 4.0 as I can no longer take that depth or intensity of colour as it completely washes me out.
Makeup colour choice is also reflected in your intensity – the bright lipsticks of your youth will glare on your face in an unflattering way as you age, choose a softer more natural colour for a flattering look. As we all age and our colouring changes at different rates, there is no one point where you can say – don't wear red lipstick – you can always wear a version of a red lipstick, it just might not be the super bright one you wore at 20.
Have you noticed that colours you used to wear and love no longer suit you? Which suit you bright clear colours, medium clear or softened colours?
If you're not sure about the colours that suit you and would like my professional opinion, you can get this as part of my
7 Steps to Style program
(it includes personal colour analysis as well as discovering more about your body shape, proportions, facial features and of course how your personality influences your style).
Discover more here.