I've been asked to show you some examples of using contrast – what is high medium and low contrast, so here are examples and the 7 essential elements you need to know about using contrast.  You need to understand your personal contrast levels to then choose the clothing/garments and create outfits using a similar contrast so that you are in harmony.
1.  Value Contrast
How the lightness and darkness of the clothes you are wearing together create contrast
Here are 6 outfits, created with a light top and dark (high contrast), medium (medium contrast) and light (low contrast) bottoms.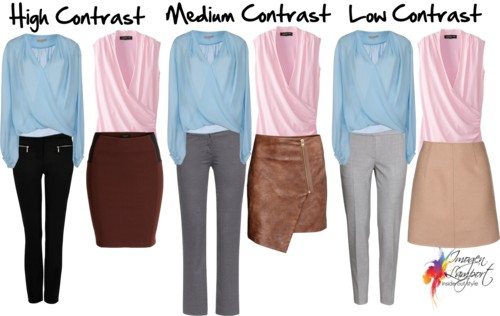 This is the easiest way to work with value contrast and to mix colours, using your neutral to create the desired contrast level.  It's very easy to create contrast:
High value contrast – light and dark colours or neutrals together
Medium value contrast – medium and light or medium and dark
Low value contrast – light with light, medium with medium or dark with dark
Simple!  But what about colour contrast?  Let's look at that next – click over to the next page
Click here to view in your browser if you are reading this in an email to see the rest of the post and the other 6 important factors of contrast