When the temperature soars or the humidity is high, being both stylish and comfortable can become really tricky, particularly if your body shape doesn't suit the wafty, floaty, waistless styles of clothing that end up the most comfortable in the heat.
So what kinds of tops work when it's hot, when a waisted style is what you need (A shape, X shape and 8 shape)? What about it you don't have a defined waist (H, I, V, O) but still don't want to look swamped by fabric? Then read on…
Summer Top Styles for Waisted Body Shapes
What about if you don't want to show your arms as you prefer to include a sleeve as well? It can be hard to find styles that flatter and make you feel good, as well as don't make you feel too hot! Here are some options to consider.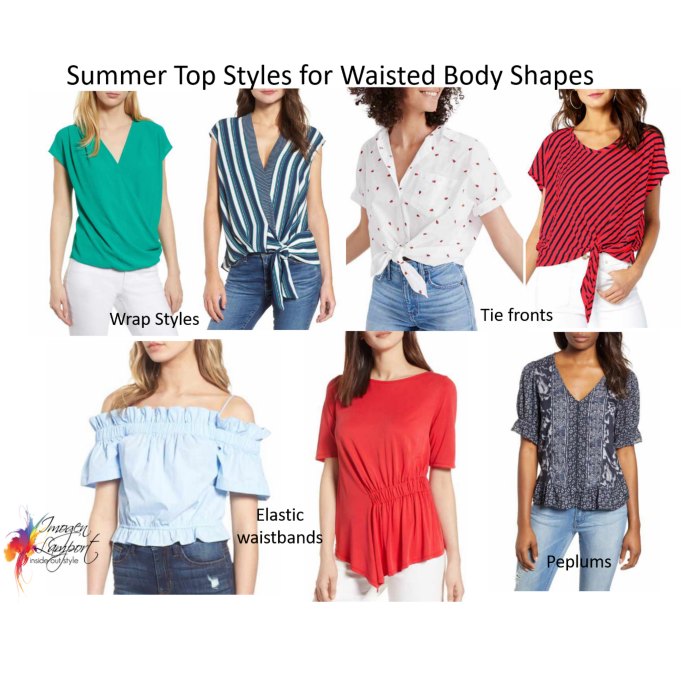 Some may find that regular tees are too hot as they sit very close to the body – so looking for top styles that are a little more roomy and airy is good, but then you have the issue that if they fall straight down from the shoulders, they hide your waist and are not flattering. So what to look for?
Styles that have some looseness to allow for air movement, but then come back in at the waist to highlight this great feature of yours.
Look for:
wrap styles
tie fronts
elastic waistbands
peplums
They all draw in the fabric at the waist. Alternatively, if you have a top that's just baggy and sacklike – you can add in shaping using a Kimtuck (find out what that is and how to do it here) or use your belt-loop to draw the fabric back into the body. And then, of course, you can tuck the top into your bottom as well if it has no natural shaping.
What about Summer Dresses?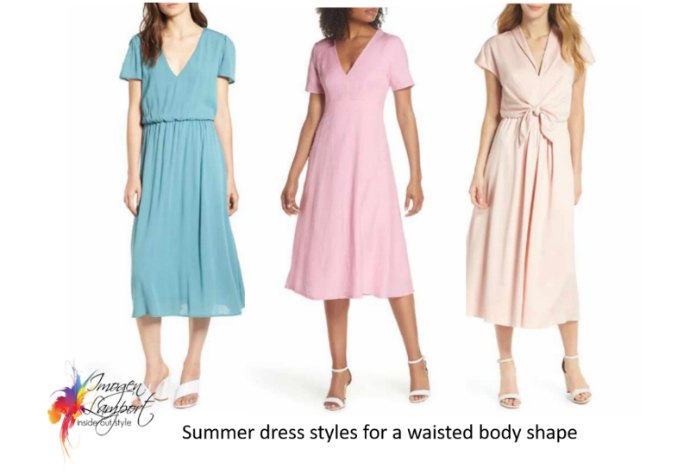 Again look for dresses that have some waist shaping, whether it's a wrap, tie front, empire or waist seam or elastic waist – or even that you can pop a belt over the top to draw the fabric back in, these will create a more flattering silhouette.
Summer Tops for a Straighter Body Shape
What about styles that suit a woman with a straighter and less defined waist?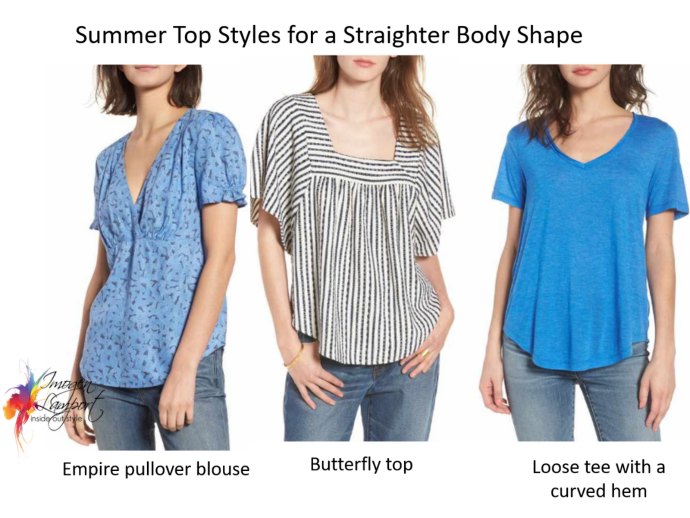 This is where you are luckier if you don't have such a defined waist, as you can wear looser more flowing styles more easily. Do look for some shaping where possible so that you don't look like you're just wearing a sack,.
Top Tip: A curved hem (like in the styles above) is always more flattering than a straight hem – particularly on a loose style of top.
Summer Dress Styles for Straighter Body Shapes
If you're an H, V, I or even O shape, you'll be looking for looser dresses and tops to wear. Here are some examples of different dresses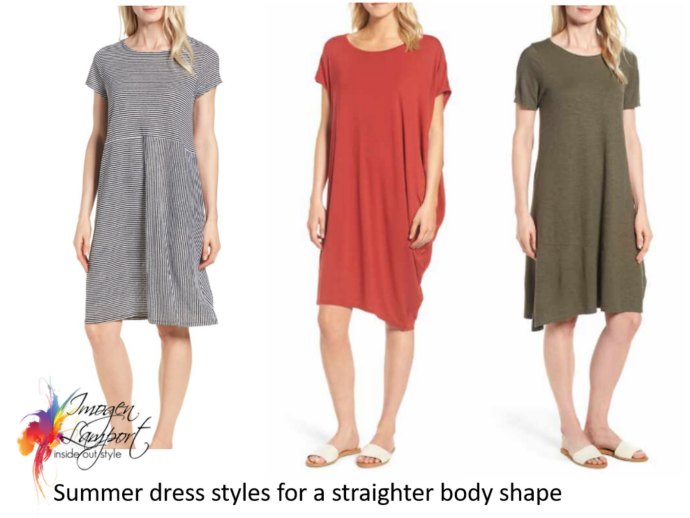 Some shaping is great, but you don't need the defined waist shaping that an X, 8 and A require
Fabric Selection
Summers is a time for lightweight fabrics that breathe. Linen (try Lithuanian linen) and bamboo are two that can be much cooler than synthetics. One of the things that I discovered when I was in Dubai, is that the Abayas are made from the lightest weight fabrics that allow for air movement and so keep their wearer cooler.
Discover Your Shape
Not sure of your shape? Then take my Body Shape Calculator quiz and discover your shape – then download your Body Shape Bible. Alternatively, if you'd like my professional opinion you can get this as part of my 7 Steps to Style program (which also includes a personal colour analysis).
All the tops and dresses in this post are from Nordstrom.