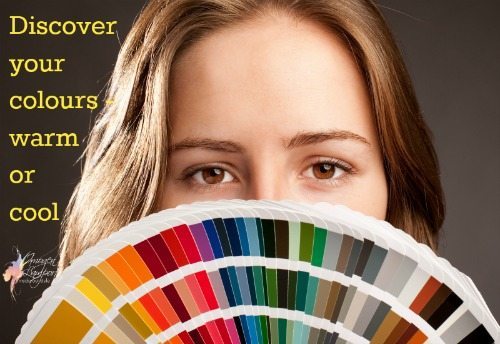 In honour of my new colour system (The Absolute Colour System of 18 colour directions) that I've been working on for the past few months, which has finally arrived from the printers, I thought that I'd do a week on colour concepts. Why does colour matter so much? It's the difference between looking your healthiest and best, to looking washed out and unwell. Have you ever had the experience when people ask "are you feeling OK?" when you feel just fine? That's the colour not doing you any favours. The right colours will liven your complexion, make you look healthy, draw attention away from your butt up to your face (making you look slimmer and taller), make your eyes pop and your skin glow, no need to pack on the makeup or tan (fake or not) to look your best.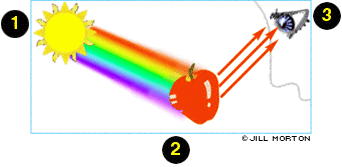 How does it work? Back to physics 101 – as illustrated in the picture above. So what is happening is that the colour is reflecting – as I always think of it like the Buttercup Principle – when you were a kid did you ever put a buttercup under someone's chin to see if they liked butter?
Everyone's chin glowed yellow (because of the reflection of colour), so every colour that you wear is reflecting onto your skin, whether it is flattering or unflattering is related to various pigments in your skin such as carotene and melanin.
The first step in any
colour consultation
is to work out if the client is warm or cool in their colouring as this one step can have the biggest impact on choices of clothing, hair colour and makeup.
Just knowing warmth or coolness will determine the makeup palette you choose (makeup is more general, less colour specific than clothing, we tend to wear softer, less intense makeup colours than we choose in our clothing).
For best results, get a mirror and place in on a window sill in good natural (filtered) light, not direct sunlight. If you dye your hair, tie it back or clip it off your face (sometimes I need to cover hair as the dye colour is unflattering and distracts from what the colours are doing to the skin). Now wearing a white top so that your clothing doesn't distract from the colours place just under your chin a few layers of coloured fabrics, a warm version, then a cool version of the same colour – Olive Green/Pine Green, Orange Red/Cherry Red, Coral Pink/Hot Pink, Gold/Silver (see pic for colour ideas).
Watch your face (not the colours), quickly move the warm colour away to reveal the cool colour, it's at the moment of change that you will see the biggest difference in the affect of the colour on your skin. Often it's easier to see on someone else, so ask a friend or family member to help you (or of course see a professional).
What you need to look at is the areas around your eyes – does the colour bring out shadows and dark circles or make them disappear?
Look at around your mouth – do you appear to get a 5 o'clock shadow (not something any woman I have met wants) or not? Sometimes the chin can go a bit green too with unflattering colours.
Look at your face as a whole – does your complexion look more even and bright, or does it look florid, or washed out?
These colour can only tell you so much, you're just trying to determine whether you're warm or cool, once there you will then need to figure out other factors like intensity of colour and best depth of colours, but this is the all important starting point.
If you would like my professional opinion on your colours (as well as your body shape) that's all part of my
7 Steps to Style
program – go check it out now!