Dear Imogen,
I would appreciate advice of some sort, if possible 🙂 I have a dramatic personality, I love striking colours – but I have a soft, muted, low contrast, slightly warm colouring ("Intriguing").
Is there a way how to express my inner me in spite of this antagonism?
Thank you very much, you are the best!!
With warm regards 🙂 Linda
This can be a tricky issue, not only because if you have had a lifetime of wearing brighter colours to find as you age that those colours no longer suit you them (read up here about how your colouring changes with age), and that those bright, bold and fun colours are now wearing you, rather than you wearing the colours. There is a big mental shift to deal with, along with finding the colours that now make you shine and you the star (rather than your outfit taking all the glory and you disappearing into the background).
One thing I always remind my clients, just because a colour may not suit you to wear, doesn't mean you can't enjoy it in your life. You can decorate your house with it, purchase a car in that colour, get a phone cover in that colour, and use it in many ways in your life, just not wearing it on your body anymore.
How do you make your more muted and smoky colours look more exciting and brighter?
How to Make Your Colours Pop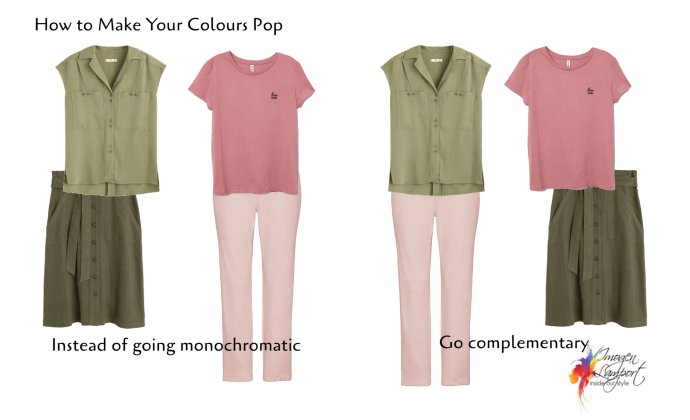 The most simple way to make colours appear brighter is to go for a higher contrast – a higher value contrast or a higher colour contrast. In this example above, you can see how choosing a complementary colour (that's an opposite colour on the colour wheel), rather than a monochromatic pairing, the colours appear more dynamic.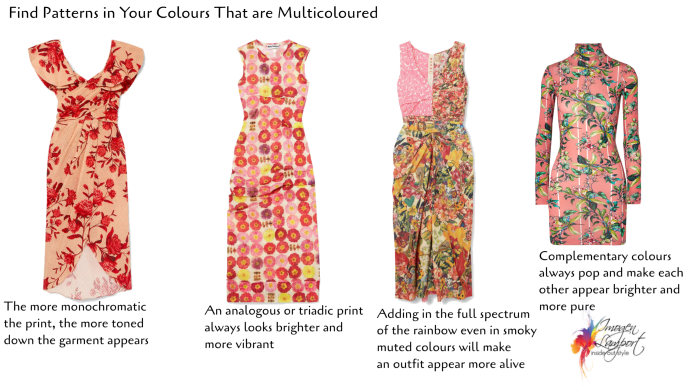 Why not choose a pattern or print instead of solids? Again, using colour relationships (which I've talked about here) the more colours are different from each other (triads, split-complementary and complementary colours) the more vibrant the pattern appears.
If your personality is more dramatic there are also other factors to consider that will make your outfit feel bolder and more like you.
Scale of the Print
The larger the scale of the print, the bolder and more dramatic it appears. It also will highlight any colour relationships that exist in the print as well, making the colours feel brighter.
Fabric Sheen
What kind of fabric the colour is on, also impacts how it appears. A shiny fabric will make a colour look brighter, as light bounces off it, whilst a matte fabric will absorb light and so not appear as bright or bold.
Background Colour
In a print, a darker background colour makes the value contrast appear higher than a light background.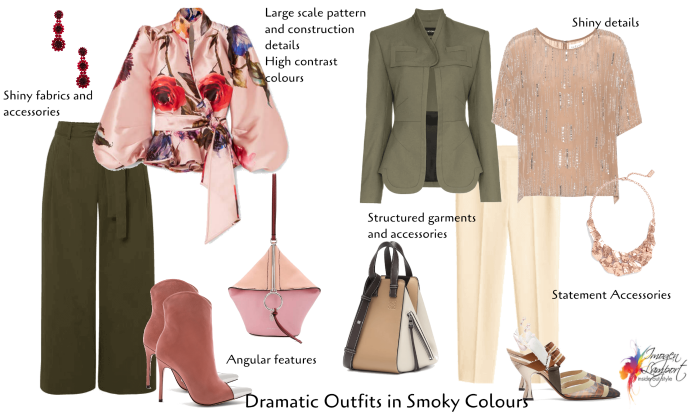 Don't forget, that there are lots of ways to add drama to an outfit, without it having to be in bright and vibrant colours.
There are also dramatic construction elements to include in your outfits:
Sharper cuts and structured garments.
Bolder or larger scale elements of design
Shiny fabrics
Shiny accessories
Statement accessories
Angular features on accessories
These are all simple ways to add drama to your outfit without having to wear an outfit in bright or bold colours that are no longer flattering (or maybe have never been flattering) to you.
Remember too that the Dramatic personality will break some of their style guidelines – in a way that reflects their personality – so going slightly higher in contrast to match your more Yang personality will work for you. But wearing the colours that flatter you most will always make you look healthier and more alive than wearing the wrong palette.
More Tips on Dramatic Dressing and Making Colours Pop
8 Tips Rose Byrne Can Teach You About Adding Dramatic Style Elements to Your Outfits
How to Interpret and Choose Prints and Patterns For Your Personality
Fabric – How your Personality affects your choice of prints and patterns