Pants – that's trousers for you UK folk (not underpants!), are a staple in most wardrobes. They are, the hardest garment for most women to fit. Really, I find that I can spend hours trying to help a client find a pair that fits well. The most common fit issues are around the depth and shape of the rise (the rise is that seam that runs from the front to the back between your legs).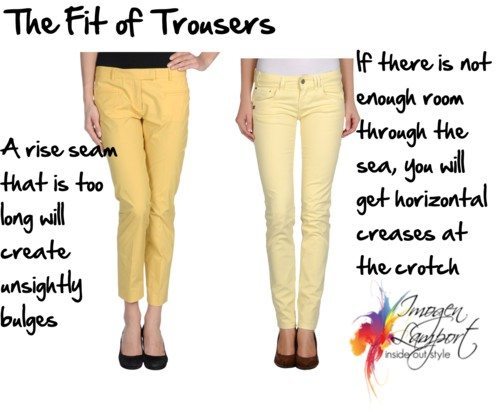 Commonly the rise is too long (you get that dropped crotch look)
There isn't enough fabric around the bottom and you get pulling across the crotch area
There is too much fabric and you get saggy bum
The rise seam cuts into you creating camel toe – too little fabric
Ideally you are after a trouser that sits flat when standing squarely on both feet, with no extra fabric and just enough fabric through the crotch area.
Other areas for fit:
If you have a small waist, you will need to have the waistband of most trousers taken in.
Ensure the trousers are a flattering length.  Have them hemmed for the shoes you plan to wear with them. Sometimes you may need a pair of trousers for flat shoes and a different pair for heels.
 If you have slim legs you may need to have the pants taken in at the thighs.
If you are an X, A or 8 shape you will probably need a higher rise trouser, otherwise when you sit down they will pull down too low.
If you are an H, I or V shape you are probably best with a mid-rise trouser.
If you can see the pocket through the legs of the trousers, have the pocket sewn close and cut it out