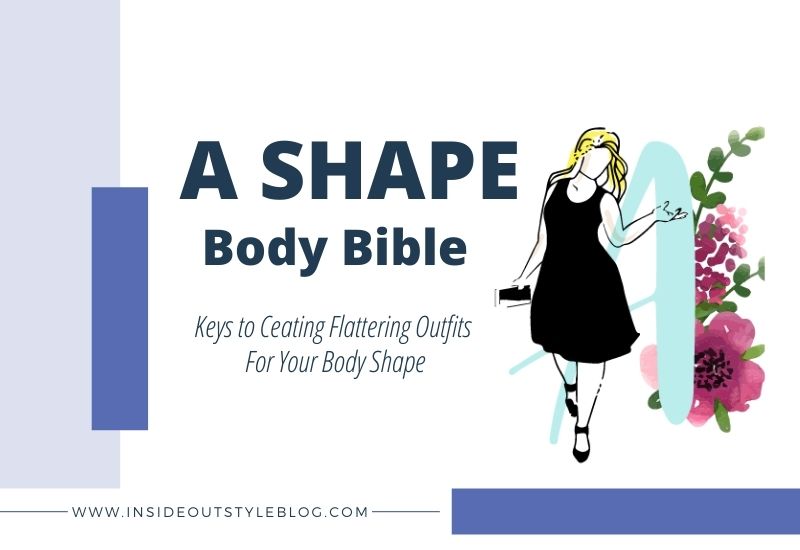 As I discussed here when I explained how lines work, body shape tells us:
Where to put the verticals
Where to put the horizontals to balance, broaden or highlight
Where to place detail
Where to keep boring/dull/plain/no detail
That's it! So let's look at the A Shape (commonly called the pear shape or triangle shape)
Let's have a look at some outfits and analyse them based on the criteria of what will work for an A shape. This dress is shaped just like your A shape, it follows the lines of your shape, which is the best way to dress it and then uses horizontal details to balance shoulders with your hips.
How about jeans and a top – here we are following the rules of boring down bottom and interesting up top. Horizontals above the waist, and waist shaping to show off your waist.
Let's have a look at the skirt, top and jacket outfit. Am I breaking the rules with a patterned skirt? Well yes, but you can still get away with detail below the waist if you include enough detail and colour above the waist and the pattern is more dense, so the eye doesn't stop and focus on elements of the pattern.
You can see when you use the simple rules here it's easy to find clothes to flatter your shape and create outfits that work.
More posts on dressing your A shape body
Don't waste your money on these clothing styles
Body Shapes Explained – A shape
How to wear a column of colour for your body shape
Print out this blog post and keep it as a handy reference to your A Shape Bible
Not sure what your body shape is? Then take my Body Shape Calculator Quiz and discover your body shape today.