Hi Imogen,
I'd love to learn more about altering store-bought clothes for different body types.
What are the alterations you may need to do based on your body shape?
Firstly, it's great to know what your body shape, body proportions and body variations are, so you can figure out which tips are most useful for you. You can do this free with my body shape calculator quiz, or if you'd like my professional opinion on your shape, you can get this as part of my 7 Steps to Style program (or with an individual consultation with me).
The Waisted Shapes
X shape, A shape and 8 shape will all find that frequently they need to take in the waistband on clothes. In particular, many trousers and jeans, but also skirts and dresses. When the waist gapes, it needs an alteration to make it fit.
It's best to buy a garment that fits across your hips, bottom and thighs comfortably, and then take in the waist, rather than buy for your waist, and have it too tight across the hips/bottom and thighs. If you buy too tight across the hips and thighs, it will end up with unsightly creasing.
Got a skirt that doesn't sit straight? It's too big in the waist which is allowing it to twist around your body. Take in that waist!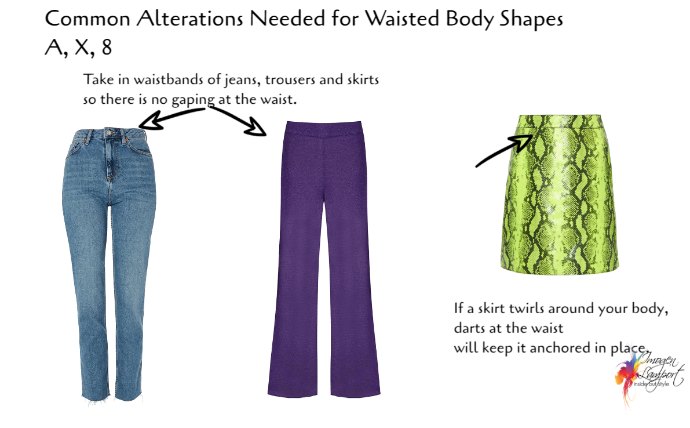 The Straighter Shapes
The H shape and I shape, some V shapes and O shapes may find that there is an excess of fabric in the hips/bottom and thighs of garments. Purchase your clothing to fit your waist and then take in the thighs. This is important as otherwise your trousers and skirts will look baggy and frumpy, really just ill-fitting. You can't bring in a pair of trousers more than around 4cm or 2″ without needing move pockets, so if you need this much alteration, consider finding a better fitting pant to start with.
If you happen to have a flatter bottom, you'll often find that trousers have saggy bums, this is pretty tricky to fix, and the only remedy is a seam down the back of the trouser leg (which can look odd if it's not part of the original trouser design). So instead, find pants with a high level of stretch in them as they are more likely to fit more easily.
If your skirts twist and twirl around your body, add some waist darts to help anchor it in place.
Another skirt alteration that can make it more flattering is taking an A-line skirt and tapering it so it becomes a pencil skirt, for some straight shapes this really enhances your silhouette.
Short Legs (and Longer Torso)
If you have proportionally short legs, the alteration that is most obvious will be that you need to take up the hems on your trousers, skirts and dresses so that they sit at a comfortable and flattering point. Never get your jeans altered before they have been washed and dried at least once, as they may shrink in the wash and end up too short.
Skirts and dresses look best with hems finishing on or just above the knee (unless it's a maxi) as this makes your whole legs appear longer.
What you might not think about so much, is that you may also find the sleeves on garments are a little long and need to be shortened. Did you know that if you wear a 3/4 sleeve top (or push up your sleeves) your legs will look longer! So if you prefer not to have sleeves hanging over your hands, why not consider doing this to your tops and jackets.
You're also best with having jackets and tops that end closer to the high hip, rather than the low hip, and one of the most flattering ways to do this is to have your tops hemmed with a curve, lower at the front and back, shorter at the sides (as this gives the illusion of longer legs).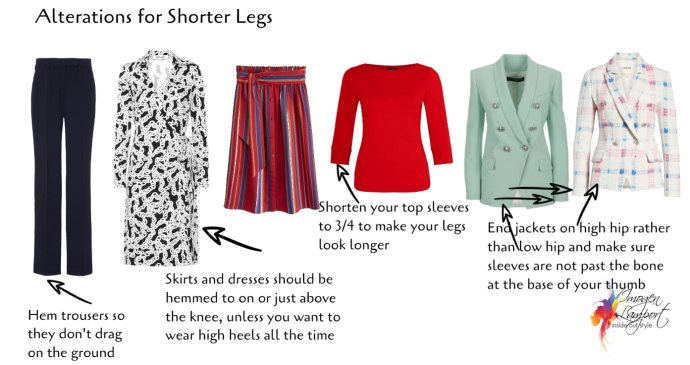 Get my tips on how to find your ultimate skirt or dress hem length.
Long Legs (and a Shorter Torso)
If you have long legs, then sometimes you may need to add a false hem to trousers to make them long enough (or just wear 7/8 length).
If you're going for a cropped trouser, taking the width in at the calf will make the trouser more flattering (unless it's a wider leg culotte style).
Long legs often come with a shorter torso, and this means that tops and dresses may be too long in the shoulder to bust proportion. Fixing garments at the shoulders is tricky unless it's a tank or sleeveless style garment. With these, you can take up the top at the shoulders, but it will also raise the neckline of the garment, so you might need to make an alteration to the neckline too (unless the neckline is too low as well).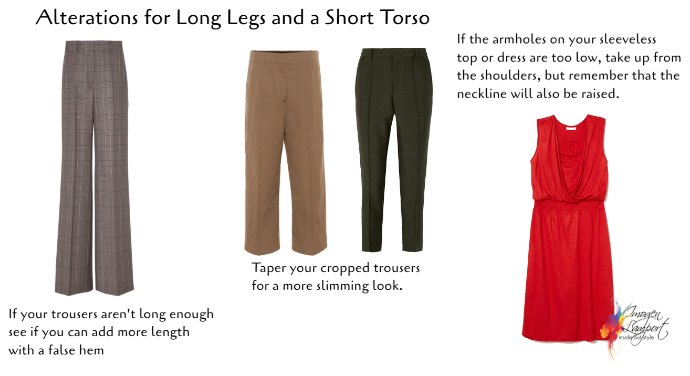 Broad Shoulders
V shapes with broad shoulders, and some X shapes who have square shoulders may find this tip useful.
You really need to purchase clothing to fit your shoulders, and then add darts in the back of the body of the jacket or shirt to slim down the garment, starting below the sleeve armhole and ending just above the hem.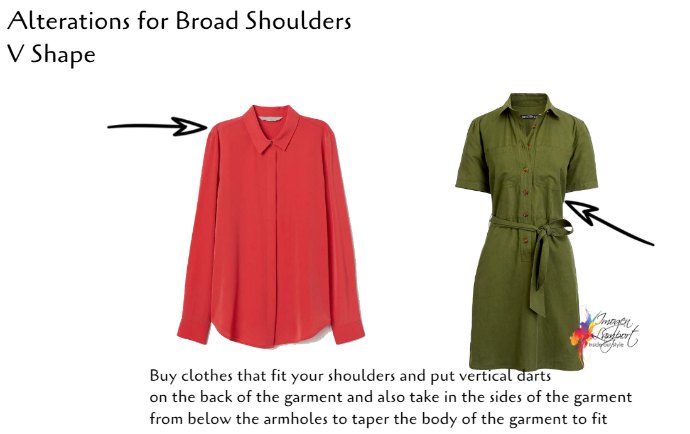 Slim Upper Arms
If your upper arms are slim, and your sleeves deep and wide, this can add bulk to your torso, so think about having them made narrower and taking out some of the fabric if there just seems to be too much.
You can take in a couple of centimetres (inch or so) easily from the underside of most sleeves (just make sure you don't take too much in and you can still bend your arms).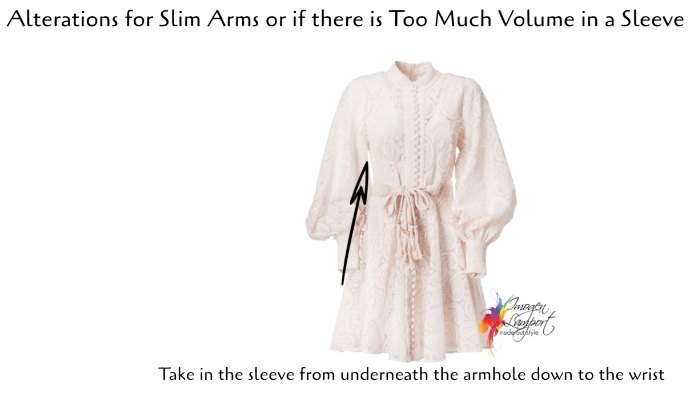 Petite (5'4″ and under)
Alterations are so important for petities, your stature means that it's super easy for you to appear to be swamped by your clothing.
Adding darts through the body that take away any bagginess, making sure sleeves, skirts and trousers are all hemmed to your best length, will make a huge difference to your appearance.
The easiest way to shorten sleeves on knit tops is to add ruching at the cuff which draws the sleeve up to the right length for you.
There are some great tips on alterations for petites on Alterations Needed.
Large Bust
Do the buttons on your blouses gape? Then get invisible snap closures sewn on between the buttons.
Or if you've bought a blouse that is large enough to fit across your bust and the rest of the blouse is swimming around your torso, add in some vertical darts below the bust (and on the back of the blouse) and also take in at the side seams below the bust to slim down the overall silhouette.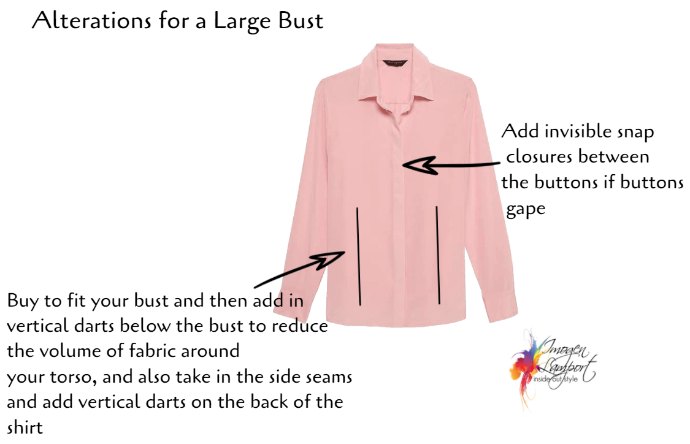 Remember that a lower neckline is always more flattering on a large bust, than a high one. So for knit tops have your necklines altered to sit at your first balance point (see below on New Necklines).
A Universally Flattering Shirt, Blouse or Knit Top Hem
No matter your shape, size or proportions, having a curved shirt-tail style hem (lower at the front and back, shorter at the sides) will make your top more flattering as you're removing one of those dastardly horizontal lines that are broadening (find out all about them here).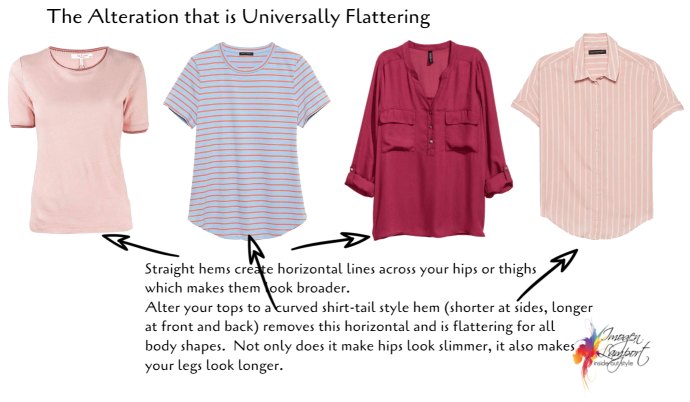 Here are some tips on where to end your tops and how to make your hips and tummy look slimmer.
A really easy way to create this curved hem on knits I describe here (and you don't even need a sewing machine).
New Neckline
Sometimes on tops and dresses, the neckline isn't right for you. The best shape neckline mimics the shape of your jaw (from the base of each ear).
If a neckline is too high, it's usually not too hard to have the neckline altered into something more flattering.
Always try and have necklines sit at one of your balance points (for a longer looking neck, smaller boobs, and an illusion of slimness, go for your First Balance Point).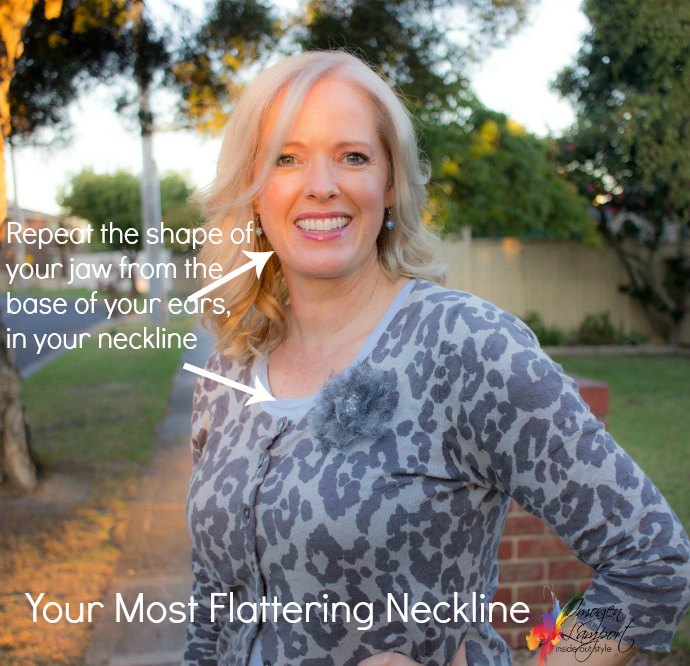 More Tips on Alterations