Yesterday I was having a conversation with a woman who mentioned that she finds, due to a medical issue that distorts her body shape, it incredibly difficult to find a pair of trousers that fits when she's out shopping.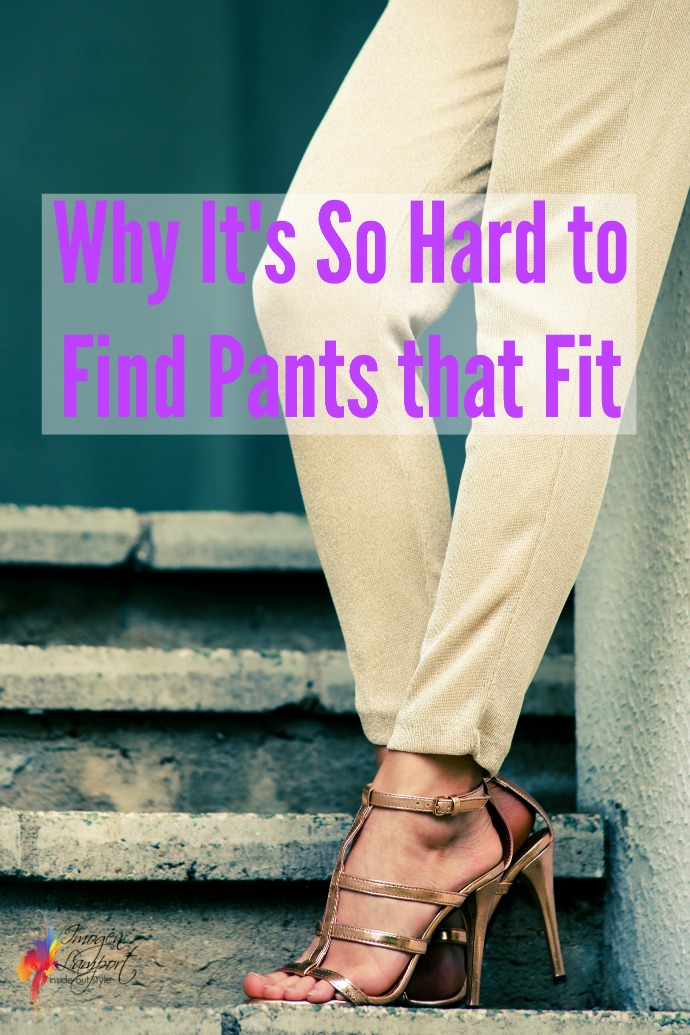 What she didn't realise, is that I think 80% of women or possibly more find if very difficult to find a pair of trousers that fit, and that's just with their regular old bodies. So why is it so hard to buy pants that fit?
I know from my many experiences taking clients on personal shopping trips that pants are a tricky garment to purchase. I remember on one shopping trip my client tried on 50 pairs of trousers and we didn't find any that fit her well at all! There are just too many fit points and women's bodies are too varied.
Clothing manufacturers are making for some generic body that really doesn't exist in more than 10% of the population. They tend to cut straighter lines because they are cheaper to make – remember fashion is not about making you look great, but selling clothes that will become quickly redundant so you have to buy more.
We have so many fit points:
Waist
Hips
Rise
Bottom
Thighs
Calves
Leg length
And we all vary. Each body shape has different issues.
H, V and O shapes often find that the waist is too tight, resulting in a nasty muffin top, but the hips/bottom too saggy. If they do find a pant that has a waistband that fits, because of their straighter shape, they slide down all the time and they spend the day hitching up their trousers.
8, A and X shapes find that the waists are too large, the rise too low and the hips and bottom too tight which creates nasty pulling across the crotch area.
Of course there is the length of the legs too.
Petite women find that even if they take the pants up, the proportions of the shape, where the knee should be, is out of whack and so the trousers don't look quite right.
Tall women have endless issue trying to find pants that don't look like they've grown out of them.
Pants are tricky garments to purchase and there is only so much you can alter a pair.
Having some stretch in the fabric helps with fit issues, but certainly doesn't eliminate them.
This is why, for many women I suggest having their dress trousers made by a tailor or seamstress, particularly one who can fit them to their unique shape. The cost is not near as great as most people imagine, but having a garment that fits and flatters makes you feel so much more confident, plus you don't waste hours of time trying on trouser after trouser and schlepping from store to store.
So next time you're in a store trying on trousers and they don't fit, instead of berating yourself (which is what most of us do with our negative self talk), instead just say to yourself "these pants were not designed for my unique female shape" and let them go back on their hanger.
I recently decided to make myself a new pair of pants, I cut a pattern from an existing pair of harem pants that are super comfy (I only sew easy things).
These are my sweatsuit/tracksuit alternative, as Tim Gunn would say. Something that I'm happy to wear out of the house!
Here are the original pants that I copied. The fabric I used is something I picked up from Spotlight, but it's a little less drapey than I'd like.