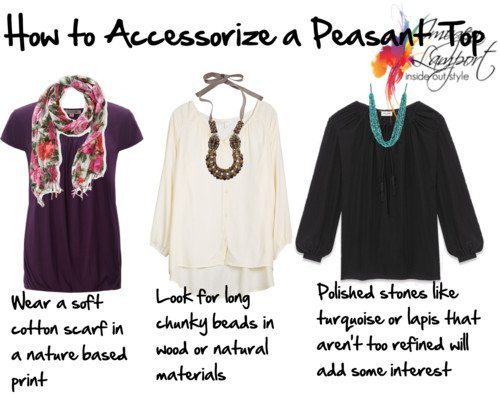 Hi Imogen,
I have an accessories question. I have several peasant/grandpa tops that I'm an absolute nut for, but I never quite know what accessories to wear with them. They are definitely on the relaxed side, & I tend to live in them with jeans in spring & summer, so I like to use different accessories to change the mood.
Can you please help with ideas?
Regards
Jo
Casual tops like peasant tops and t-shirts when paired with jeans are a comfortable and relaxed look, so you don't want to accessorize with any jewellery that looks more formal, such as sparkly cut stones or more formal shiny metallic jewellery. Instead look for brushed metals and more chunky necklaces made from natural materials such as wood, coral, turquoise or even larger plastic beads.
You can also wrap a scarf loosely around your neck. Find one in a soft cotton with a print that you love in colours that flatter.