Hey, Imogen, I've got a reader question for your data banks, perhaps you'll have a slow month over the holiday season or something. 🙂
…I've searched your blog and found very little joy for the long-torsos amongst us. (though the blog's fantastic, and I've really learned a ton!).
Here's the sitch: I've got a very long torso, with average waist length and very long rise (I'm a seamster, so I happen to know it's ~2″ longer than average–that's a LOT in a vertical body measurement!). I'm also very thin, so tall sizes are unavailable to me, and I have no bust to speak of, so it does nothing to balance the hips.
With my long rise, I have to wear lower rise pants, which are very low rise on my body. Higher rises give me instant long-bum, plus they are SUPER uncomfortable, because they expect my waist to be 2″ lower than it is! I imagine tall women have this problem a lot too. As a result, the distance between shoulders and the visual "waistline" is incredibly long and looks very strange.
I work in a nearly all-male, conservative, business casual environment, and I'm really having trouble making all this look halfway professional. I must wear long pants, sleeves, and close toed, low or no heel shoes. I feel my long-torso coping mechanisms just look sloppy (untucked button-down over a tucked shell) or ill-fitting (a blazer that shows a wide flash of white shirt above my belt every time I move).
I'm willing and able to make things to fit me, but I've about given up trying to figure out what to make. Any ideas to mitigate the long-torso pain?
Thanks for your question. This body shape can feel tricky to dress, and ideally one of the aspects you need to consider is finding (or making, have altered) jackets and pants to fit your shape, rather than accepting you currently have in your wardrobe if they are ill-fitting. Anything ill-fitting will not make you look professional.
A higher rise pant in a straighter cut (rather than something curved) is more likely to work better on you as it doesn't assume that the waistband is to sit on a narrower waist.
OK, a long torso and long rise will look something like the body proportions of Natalie Gruzlewski which you can see on the left below is wearing low rise jeans with an alternate coloured belt, which makes the torso look even longer. When she's wearing a skirt and top like on the pic on the right, you can see that suddenly her proportions appear balanced. I understand that many feel they need to wear pants, but really can't you wear a skirt every now and again as it will make you look professional very easily and also work better on your proportions. There are many skirts made of stretch fabrics that are easy to fit and don't look like suit skirts.
13 Ways to Flatter a Long Torso with a Long Rise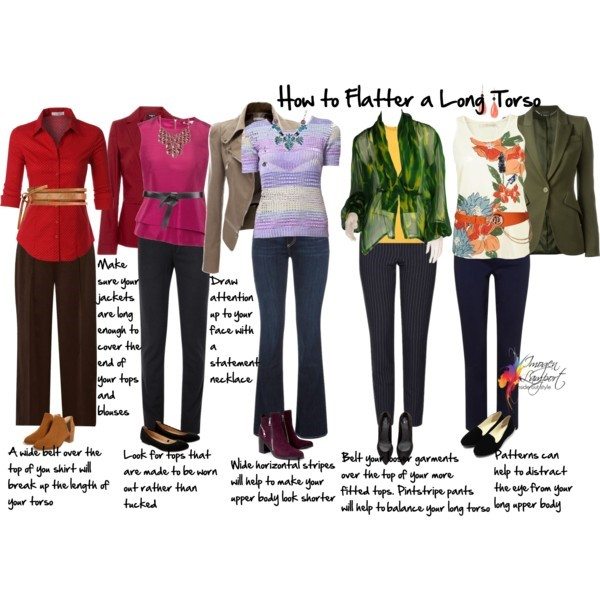 A long torso and in particular a long rise can make your upper body look unbalanced. Here are 13 tips on how to flatter your long torso and long rise.
Wide belts a the waist or even curved at the hips over the top of longer top or blouse will help to break up the space, of your longer torso.
Leave your tops untucked so you don't see the length of your rise.
Make sure your jackets are long enough to cover the hem of your tops
Draw attention up to your face with a statement necklace, brooch, scarf or earrings
Wide horizontal stripes on your top will help to balance your body shape.
Uneven hems – curved either concave or convex are also a great way of disguising your long rise without making your legs look short
Scattered patterns can help to distract the eye and make your torso look shorter
If you have shorter legs, pinstriped pants will make your legs look longer – balancing your long torso. Blending your shoes to your pant colour will also help to make your legs look longer
Look for tops that are made to be worn out rather than tucked in.
If you love to tuck, then ensure that any belt you wear tones in colour to your pants rather than your top
Wear a mid-rise – if you can find (or make one) that is comfortable for you rather than a low rise as it will break up the long rise proportion
Wide waistbands on higher rise pants also help to break up this space
Wear skirts rather than pants as you can't see the length of your rise at all – honestly wear skirts – it's way easier to get them to fit and your long rise issue will disappear