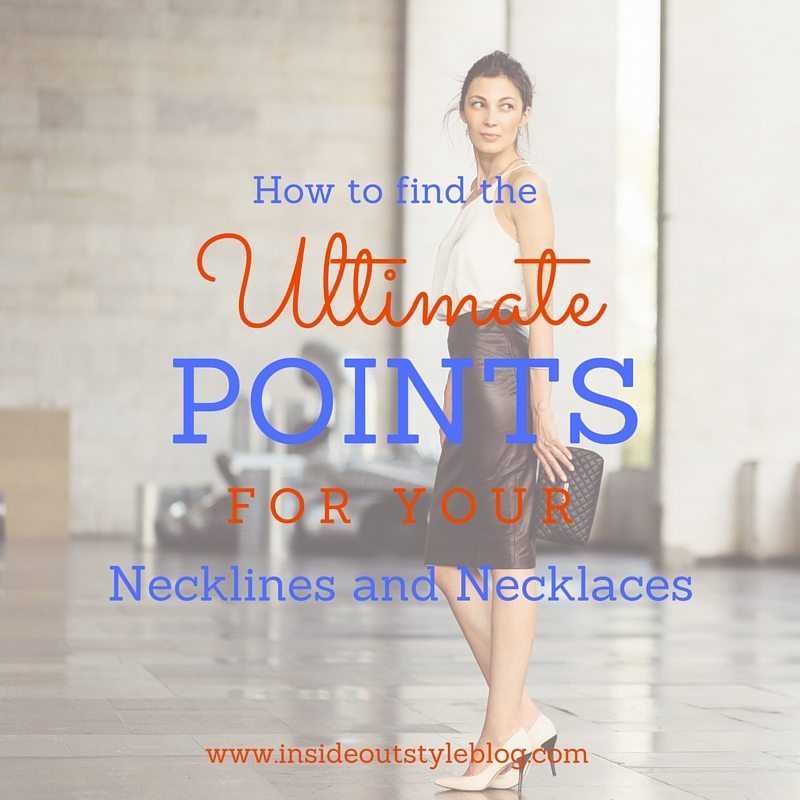 Often, when I'm with a client, they'll tell me that they have some necklaces that they like, but never wear. When they bring them out to show me, we discover that they're just not hanging in the right spot for them – and as soon as we put them on one of their 'balance points ' they look fabulous. A small alteration with the length of the chain can make all the difference to the look of a necklace.
What is a Balance Point for Necklines and Necklaces?
So what is this 'balance point'? It's a concept divised by the amazing Carla Mathis which she discussed in her book The Triumph of Individual Style: A Guide to Dressing Your Body, Your Beauty, Your Self who discovered it when studying portrait art – it's a set of measurements that create a look of 'balance' which we find attractive and appealing.
What is interesting, is that your balance points can help make a short neck look longer, and a long one look shorter.
I've done up a photo to help you understand.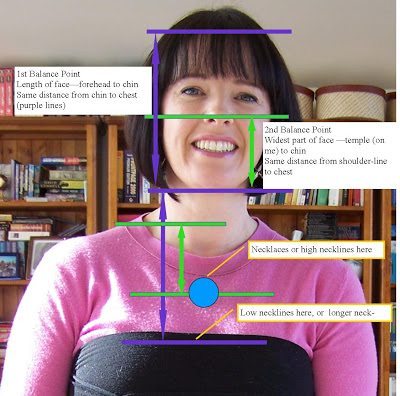 How to Find Your Balance Points for Necklines and Necklaces
So – in purple is the First Balance Point – to find yours, take a piece of string and visually measure the length of your face – forehead to chin, then take that same measurement from chin down to your chest – this is a great point to end tops, or start seeing skin if wearing a buttoned shirt (so you want the last button done up slightly lower than this point). Necklines look best within 1/2″ of this point – it doesn't have to be exact. Or if you're wearing a higher neckline, this is a nice place to have a piece of jewellery sit.
The in green is the Second Balance Point – to find yours, find the widest part of your face – for many people it's across the width of the cheekbones – but for some it may be the forehead, and others it might be your chin. Draw an imaginary line across your face (like the green line that goes across my nose), and measure from this point to the chin, then from the shoulder line down – this is a great place to end tops or put a necklace.
The First Balance Point will make your neck look longer (if you wear your necklines ending at this point) if it's shorter, or shorter if it's longer.
The Second Balance Point stops you from looking choked by your necklines and breaks up a long decollete.
I often wear jewellery that actually goes between both balance points – which is a good strategy if you are long through this proportion (not sure, check out this post on Body Proportions).
Use this measurement when working out where to button up a shirt to – just because they put buttons all the way up to the neck, doesn't mean you have to use them! Ideally, use the First Balance Point as where you start to see the skin of your decolletage.