One of the most important and integral parts of choosing prints and patterns is to make sure that the print is one you love. Prints, more than any other aspect of style and clothing choices, are based on personality. Body shape and figure flattery are important elements of the style puzzle, but if you don't know how your personality influences your style choices, you'll still make shopping mistakes, as there is more to a garment than just the shape and style.
have you ever had that experience when you walk into a store and wonder who would wear that ugly print? This is your personality talking because there will be someone else who will love it!
This is why Personality is my Step 1 in 7 Steps to Style – my online colour, style and wardrobe consultation program – as it's more important than body shape, more important than colours and contrast levels, more important than scale, and texture, and fabric …. without understanding the impact of your personality, you can't make great clothing choices!
What kind of prints do you love and which ones do you just think are ugly?
How to Choose Prints for Your Personality
Do You Love It?
I don't care how well it suits you, or other people like it. It doesn't matter if it's totally in fashion right now and everyone else is wearing it.
If you don't love the print, if you don't think it's gorgeous. If it doesn't speak to you, you won't wear it, or you just won't feel comfortable in it.
Understand the Personality Dressing Styles and How Each Expresses Itself through Prints and Patterns
Classic Personality Dressing Style Prints and Patterns
This style comes from traditional men's suiting and businesswear. So what are the patterns that fit this criteria? On the whole, Classics prefer solids over prints or patterns. But if they do choose a pattern it's most likely to be:
Fine vertical pinstripes
Fine check
Houndstooth
Relaxed Personality Dressing Style Prints and Patterns
This is a more casual and easy-going personality. Frequently, a Relaxed person may prefer solids, and also texture over patterns and prints.
Marle
Larger checks
Horizontal/Breton stripes
Tartan
Dramatic PersonalityDressing Style Prints and Patterns
Think bold and brilliant, think dynamic and exciting. The Dramatic likes to be the star, to be seen, nothing they wear is shy, small-scale or retiring.
Animal prints – leopard, snake, zebra etc.
Overscale prints – large and bold prints
Creative PersonalityDressing Style Prints and Patterns
Looking for the more quirky, more artistic, more different, the Creative likes to think outside of the box, and be different from others.
Mixing prints is also an expression of the Creative personality dressing style! Here I've mixed stars with checks.
Rebellious Personality Dressing Style Prints and Patterns
Here the prints and patterns are about being seen as a risk taker, and being more dangerous. Think edgy, unconventional and anti-establishment.
Skulls
Tattoo
Animal prints – snake and leopard
Slogans

I'm not really a rebel, so this is as rebellious as my prints will ever get!
Feminine Personality Dressing Style Prints and Patterns
Smaller and more delicate curvy prints and patterns
Florals
Paisley (stylised floral print)
Butterflies
Polka Dots and Smaller Spots
Textural patterns such as lace and Devoré (burnout)
Elegant Chic Personality Dressing Style Prints and Patterns
A grown-up feminine with a hint of the Dramatic and a soupcon of the Classic calls for a more ordered print with some straight and some curved lines.
Geometric and smaller repeating patterns
Ordered prints
Stylised prints
Chainmail
Hermes style scarf prints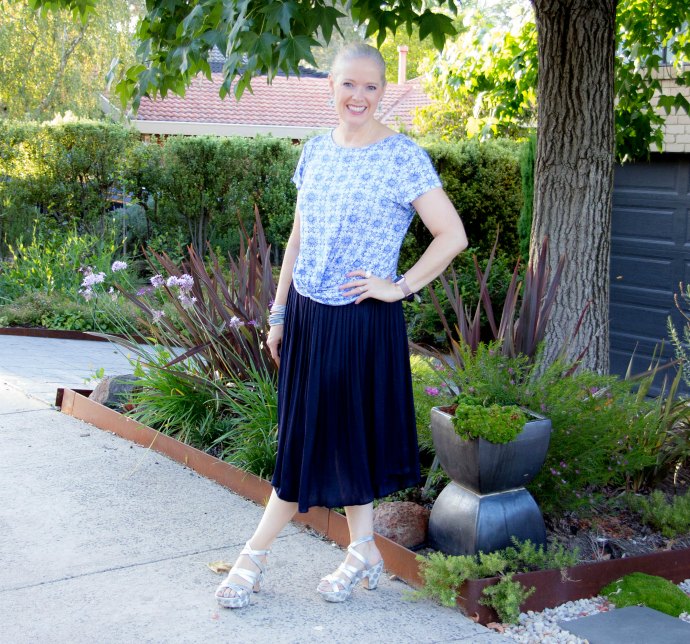 Combination of Personality Dressing Style Prints and Patterns
Many prints do not fit into just one of the personality dressing styles, they are a combination of styles and like most people, you too will be multi-dimensional and don't have to fit yourself into just one of the personality dressing styles. In my experience, most people choose from 3-4 of the styles most of the time, with some more dominant and others as accents in their outfits.

This skirt is a combination of creative (looks hand painted) and feminine (floral design).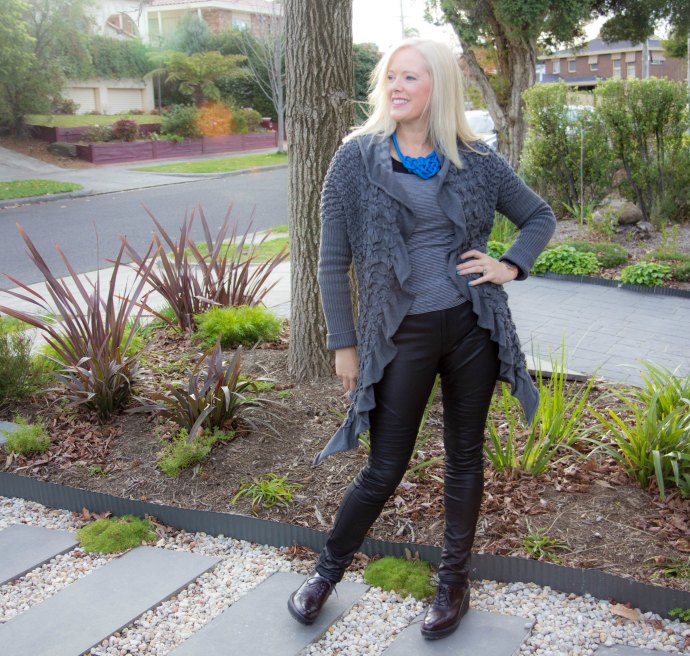 Here I'm wearing Relaxed patterns and textures – a horizontal striped tee and then a textural knit cardigan.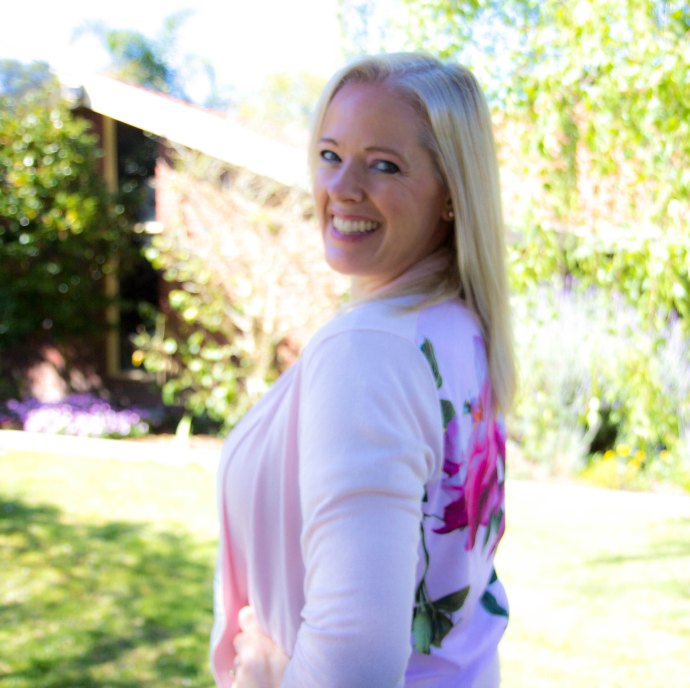 This is an example of a Dramatic Feminine floral – the scale of the floral is oversized, which takes it away from being just Feminine, and moves it into the Dramatic category.
How to Figure Out Which are the Prints and Patterns You Love Best
Look in your wardrobe and notice which prints and patterns you already own.
Look in your laundry basket and notice which prints and patterns you wear most frequently.
Take note of the style of your favourite prints, are they :
More blended or stark
More abstract or realistic
More modern or old-fashioned
High or Low value contrast
Monochromatic or multi-coloured
Delicate or bold
Once you've discovered what your favourite prints and patterns, the common themes they have and what you love, you're then armed with the knowledge to help you make good clothing-pattern choices in how you like to express your personal aesthetic through your clothes.
If you'd like to do my quiz to help you really understand your personality and how it influences your style, then check out my 7 Steps to Style program, you'll find that what you learn in this program will save you thousands over the coming years as you make fewer and fewer purchasing mistakes. Find out more here.
More Tips on Choosing and Wearing Prints and Patterns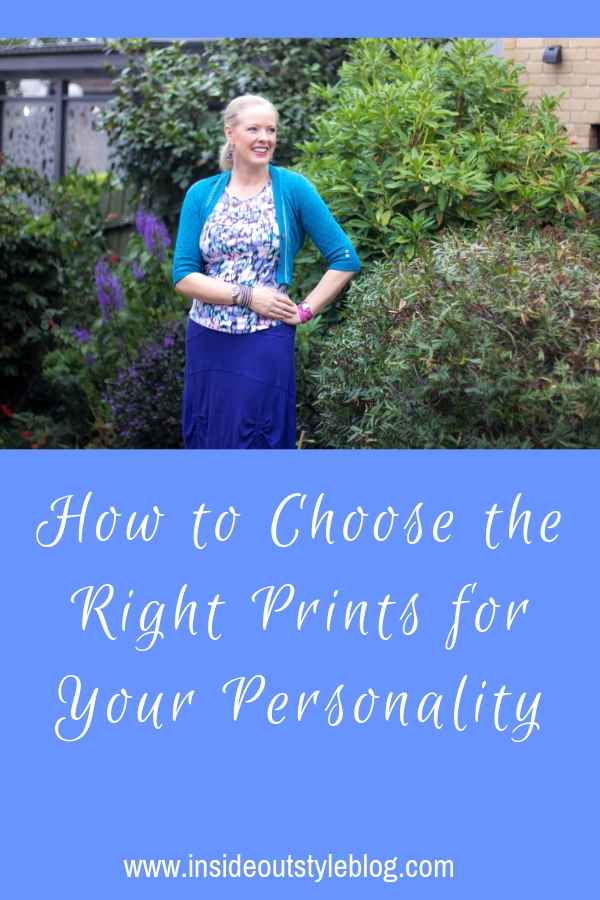 Linking Up to:Not Dressed as Lamb, Style with a Smile, Thursday Fashion Files, Ageless Style, Visible Monday