Imogen, what do you suggest for petite and skinny girls. As you may have guessed, I'm really tiny, and am tired of people thinking that I am still in college, while I have been working for over 6 years. Any advice on how to look more professional and less small would be great. Thanks a ton!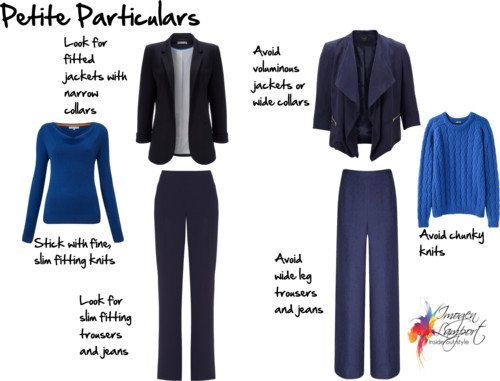 1. Make sure your clothes fit perfectly. A too long sleeve will emphasise your lack of stature. Any clothing that doesn't fit you well will look 'borrowed from your bigger sister'. Expect to have all your clothing tailored to fit your unique size.
2. Avoid 'little girl' clothing styles. If it's a fashion commonly found in the kids department you don't want to be wearing it.
3. Wear more neutrals and more muted colours. We associate bright colours with children, neutrals with grown ups.
4. Stay away from clothes with volume. Too much fabric will overwhelm your small frame and make you look even smaller.
5. Wear more structured clothing, a jacket (even one made from a fabric with some stretch for comfort) will make you look more professional than layers of knits. A shirt with a collar, tailored trousers, a simple, elegant shift dress all go to making you look more mature.
6. Be careful of the scale of collars. A huge collar next to your face will make you look smaller.
7. Look for shoes and accessories that say sophisticated rather than student. Quality leather rather than vinyl or nylon.
For more Petite Tips check out
Formal Wear for the Petite and Busty
What to Wear – Petite and Busty
Top 5 Tips for Petite Dressing
Stylish Thoughts – Alterations Needed